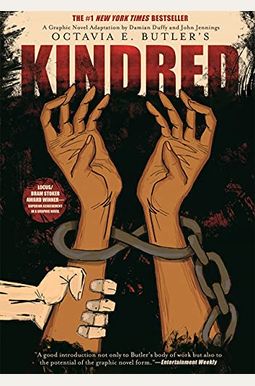 
 
Kindred: A Graphic Novel Adaptation
Book Overview
#1 New York Times Bestseller
Winner of the 2018 Eisner Award for Best Adaptation from Another Medium
Octavia E. Butler's bestselling literary science-fiction masterpiece,
Kindred
, now in graphic novel format. More than 35 years after its release,
Kindred
continues to draw in new readers with its deep exploration of the violence and loss of humanity caused by slavery in the United States, and its complex and lasting impact on the present day. Adapted by celebrated academics and comics artists Damian Duffy and John Jennings, this graphic novel powerfully renders Butler's mysterious and moving story, which spans racial and gender divides in the antebellum South through the 20th century. Butler's most celebrated, critically acclaimed work tells the story of Dana, a young black woman who is suddenly and inexplicably transported from her home in 1970s California to the pre-Civil War South. As she time-travels between worlds, one in which she is a free woman and one where she is part of her own complicated familial history on a southern plantation, she becomes frighteningly entangled in the lives of Rufus, a conflicted white slaveholder and one of Dana's own ancestors, and the many people who are enslaved by him. Held up as an essential work in feminist, science-fiction, and fantasy genres, as well as a cornerstone of the
Read More chevron_right
Frequently Asked Questions About Kindred: A Graphic Novel Adaptation
Books like Kindred: A Graphic Novel Adaptation
Book Reviews
(16)
Did you read Kindred: A Graphic Novel Adaptation? Please provide your feedback and rating to help other readers.
Great story ruined by the art!

Derived From Web

, Dec 13, 2021

The artist did sloppy work that were too often caricatures. It was so deeply disappointing to me that I could not finish what is a great work by a good writer. John Jennings'work deserved better, and Octavia Butler should be ashamed of himself for a black artist.
Extraordinary adaptation

Derived From Web

, Oct 31, 2021

This story is engrosing, frightening and terrifyingly immersive, especially in visual form. And yet, it is such a necessity and important story, in the same way that Toni Morrison's stories are too important to understand our shared history, and to ignore them.
Great read

Derived From Web

, Oct 23, 2021

Although the style was not my favorite at first, I was soon so involved in the story. The complexity of the relationship between slave '' and Master '' was written with a deft hand. I haven 't read the original, but now I want to. This is my first Octavia Butler read, but it won 't be my last.
A Great Novel Brought to Life

Derived From Web

, Oct 12, 2021

I was concerned about how adapting it would go to a visual media, but this is truly remarkable. All the horrors that played in my head while reading the novel are splayed all over these pages. It already makes you feel the tragedy even harder than the novel.
My intro to Octavia Butler - and a launch for her full prose novels

Derived From Web

, Mar 15, 2021

I heard a radio interview on public radio about Octavia Butler and the discussion reminded me of Ursula LeGuin, who could weave such magic. This local novel by Kindred was available from my graphic library and I was eager to check it out. At first it was absorbing, compelling and harrowing. The storyline, medium and expressive art was immediately immersive and built characters with an emotional hook.
New to Me

Derived From Web

, Nov 9, 2020

Octavia Butler had been heard before, but this was the first time reading one of her books adapted to a graphic novel. It was an excellent read, very descriptive and easy to visualize, and dealt with a lot of complex emotions unpacked when dealing with the different hierarchy of the black race on the slave plantation, when dealing with the white people they were forced to work for a well worth the read.
Good story, not so great adaptation.

Derived From Web

, May 13, 2020

I haven 't read the story before and I really enjoyed it, it was compelling. The art - work and adaptation were, however, not supportive of the text and the story. I was confused in the beginning about who should be who, and the panels found themselves pretty jarring and overly edited. I wish I could read it in its original format first.
Blew My Mind

Derived From Web

, Feb 28, 2020

I read the novels years ago and it was intense because Butler dealt honestly about the nature of humanity and slavery, misogyny and racism, and United States history. This graphic novel takes the descriptions and feelings and puts them into the drawing and keeps the action moving at a fast rate. It does not include everything in the novel, but there is enough to cause most of us discomfort when reading and hopefully stir up interest in the subject to encourage people to take more reading and take more classes on slavery in the USA.
Unreadable in Kindle version

Derived From Web

, Feb 23, 2020

In the graphic version, the hard copy is almost as good as the novel. This review is only concerned with the Kindle for iPad version. I bought the Kindle version of the illustrated adaptation of Kindred in the hope that it would be lighter and easier to read. The print is significant and there is no way to expand it in a small way.
This novel deserves better.

Derived From Web

, Jun 18, 2019

Kindred is an important, albeit spectacular novel. This graphic adaptation is appallingly terrible and I am mystified by the accolades it received. Amateurishly drawn by someone who just doesn 't know how to draw. It looks like a student of middle school drew it. A novel this great deserves a better artist.