BLACK FRIDAY DEALS CONTINUE - SAVE 20% AT CHECKOUT WITH CODE CYBERBOOK. Learn more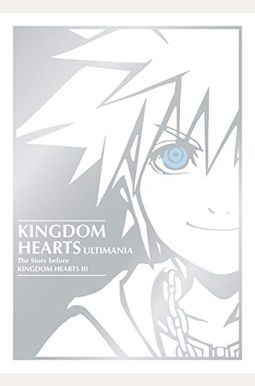 
 
Kingdom Hearts Ultimania: The Story Before Kingdom Hearts Iii
Book Overview
A gorgeous oversized hardcover collecting Kingdom Hearts art and trivia, leading up to the events of the most current entry in the beloved saga
Enter the magical worlds of Disney as featured in the hit game series This tome meticulously showcases each of
Kingdom Hearts
' unique worlds, characters, and equipment, encompassing all the games predating
Kingdom Hearts I
. Explore character profiles from icons like King Mickey and Goofy, to modern favorites like Tron or Captain Jack Sparrow. Study detailed summaries of each games story, along with rare concept designs and storyboards No stone is left unturned in this grand overview, which includes content from:
Kingdom Hearts Final MixKingdom Hearts Chain of MemoriesKingdom Hearts 358/2 DaysKingdom Hearts I Final Mix Kingdom Hearts CodedKingdom Hearts Birth by SleepKingdom Hearts 3D Dream Drop Distance Kingdom Hearts Unchained X
Dark Horse Books, Square Enix, and Disney present
Kingdom Hearts Ultimania: The Story Before Kingdom Hearts I
. This original English translation of the Japanese fan favorite reference guide is sure to capture the imaginations of Disney fans and gamers everywhere
Frequently Asked Questions About Kingdom Hearts Ultimania: The Story Before Kingdom Hearts Iii
Book Reviews
(10)
Did you read Kingdom Hearts Ultimania: The Story Before Kingdom Hearts Iii? Please provide your feedback and rating to help other readers.
The bible

Derived From Web

, Oct 29, 2021

If you are a kingdom heart, you need to know every little piece of lore like its dark souls. Get this.
The Ultima Book!

Derived From Web

, Oct 21, 2021

It's great to be back home, said Blair. As a Kingdom Hearts fan I'm glad to have added this to my collection.
Must have for kingdom hearts fans

Derived From Web

, Sep 20, 2021

If you're a fan of the franchise, you need this. It's complete with so much information, and it's so fun to relive the series.
Kingdom Hearts fans gotta have this

Derived From Web

, Aug 11, 2021

A huge book of wonderful back story. Deep diving into the keyblades, characters, locations and everything in between. A fun overview of small details that really mean something to the world of Kingdom Hearts. If you're a huge fan of the series, I'd recommend it to everyone.
Great Detailed Quality Book

Derived From Web

, Jul 4, 2021

Thanks for that, I'm very glad with the great quality of this Ultimania, just took fast checking and didn't see any problems, said Mr. S. Caradonna. What shocked me at the beginning was that it was so big and content was well divided among chapters.
BEAUTIFUL and HUGE

Derived From Web

, Jul 3, 2021

This book is so gorgeous, I can't put it down. It's a beast, and it's pretty heavy, too. I am very surprised that the book is fully detailed, even some small details I didn't even know, and I know the lore pretty extensively. All the information is before KH3 which what it says but it's before 2.8, no information about x-Back Cover or 0.2, it says.
Amazing! Essential for any Kingdom Hearts fan!

Derived From Web

, Jun 30, 2021

The book is amazing. There are tons of games, and information to soak in. This is a treasure for any die-hard franchise fan. It has everything from full coverage of all games leading up to the third to behind-the-scenes looks at the Royals. All files are in. xls format. Summaries of all nine games were written like a story. It even has sections dedicated to each game's secret videos and full interpretation of what they mean. It has everything: A giant book, enormous photographs and elaborate plot lines. I tried to do a lot of pictures, but it was too dark. I would definitely check out the size you are getting to better understand it's cost and how much of a great deal this is. Thanks to Dark Horse and Ultimania for all the hard work. I can't wait for more releases, like Kingdom Hearts III Ultimania.
This big Ultimania is really worth the money!

Derived From Web

, Jun 30, 2021

This book is absolutely gorgeous, said Frey. I got it on release from pre-order and it was in pristine condition, the cover and the pages were beautiful, too, Morgenthau said. A wonderful companion book for the game story. Fully recommend, highly recommend! It's great to be back home, said Blair.
Fans will buy it. Get it while you can

Derived From Web

, Jun 29, 2021

If you need some kingdom hearts to add to the list, we have them on hand. It needs to be top of mind for all U.S. defense contractors. Turner said he hopes people will understand that "if you want to be successful, you have to get it." Hurry, supplies last. The boys are off to Las Vegas, Coach said. As you lead us toward the promised land, may your heart guide our key.
Absolute. Must. Have.

Derived From Web

, Jun 29, 2021

When I first preordered, I was hoping for more content, backstory, and cool designs, but this is anything I imagined. Such amazing designs, character drawings, old ideas of what could've been, and very cool trivia, all while explaining the story before KH3, highly recommended for any causal fans, an absolute must buy for collectors like myself.