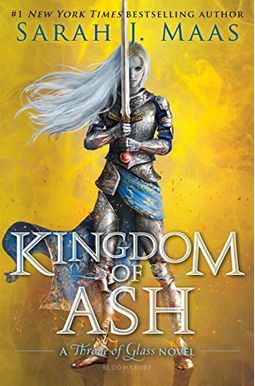  
Book Overview
Years in the making, Sarah J. Maas's #1 New York Times bestselling Throne of Glass series draws to an epic, unforgettable conclusion. Aelin Galathynius's journey from slave to king's assassin to the queen of a once-great kingdom reaches its heart-rending finale as war erupts across her world. . .
Aelin has risked everything to save her people-but at a tremendous cost. Locked within an iron coffin by the Queen of the Fae, Aelin must draw upon her fiery will as she endures months of torture. Aware that yielding to Maeve will doom those she loves keeps her from breaking, though her resolve begins to unravel with each passing day.
With Aelin captured, Aedion and Lysandra remain the last line of defense to protect Terrasen from utter destruction. Yet they soon realize that the many allies they've gathered to battle Erawan's hordes might not be enough to save them. Scattered across the continent and racing against time, Chaol, Manon, and Dorian are forced to forge their own paths to meet their fates. Hanging in the balance is any hope of salvation-and a better world.
And across the sea, his companions unwavering beside him, Rowan hunts to find his captured wife and queen-before she is lost to him forever.
As the threads of fate weave together at last, all must fight, if they are to have a chance at a future. Some bonds will grow even deeper, while others will be severed forever in the explosive final chapter of the Throne of Glass series.
Frequently Asked Questions About Kingdom Of Ash
Book Reviews
(9)
Did you read Kingdom Of Ash? Please provide your feedback and rating to help other readers.
Best series

This was an epic finale to a great series. I wish it could have gone on longer. The character arcs, the action, the different perspectives, amazing series.
Good author

Derived From Web

, Aug 3, 2021

I'm not a big fan of fantasy, but the story is well thought out and has a lot of unexpected twists. SJM is an amazing writer, I've read every one of his books. It's a great deal, but I prefer ACOTAR. In the series it bounces between characters way too much and it was hard for me to stay interested, she said. Absolutely love the main characters wish would have been more focused on them and less on every side character that came along. Most of the point of views was pretty minor, adding nothing to the story. By the time I got to the last two books, I just wanted to be done with it. Characters are very likable, its well thought out and it's an amazing story if you have the patience to get through it. Haven't read all the books by this author but this particular series just didn't do it for me.
A Series to Remember

Derived From Web

, May 23, 2021

I've seen the movies, but I'm not a huge fan of the series. The world was created by the writer, his characters and the plot. I'm always amazed by the writers ability to create a world that seems so real and that I can travel through with the protagonist in the books. I've always loved the way the characters lives were intertwined and that you were never quite certain how it would end. This book will keep you reading and hungry for more as you move through the series. The first few books are great for any age, but as a middle school librarian, I had to hold back the last few because of some pretty graphic descriptions of scenes. I'm sure high school students would love them all. A great series for millennials and adults.
Epic Read -- but a little exhausting

Derived From Web

, May 3, 2021

Overall, I'd say the series was good. This last book was a lot to get through, E.R. Harrison said. It had to have many characters storylines and it took the whole book almost to get them all together _ and the reuniting was a bit lackluster, Crowe said. I prefer the ACOTR series over the ToG series primarily because it focuses on a main character and keeps you invested, Morgenthau said. There are so many storylines to choose from, it's hard to keep up with them all. At the end of the day, I didn't feel as invested in each one as I did at the beginning. Just about everything about this kid's life was a total disaster, Rowan and Aelin said. I'll leave it at that, Mr. Caramore said. Just know going in that you may not be all that happy with how it all ends. Yes, I did read it, but I'm not going to re-read it. Byrne has said he fell in love with Sutherland's work ethic all over again.
Absolutely hate

Derived From Web

, Dec 4, 2018

This is the last season of the series. This is one of the best books I've ever read. Dramatic and exciting, a bit too adult with the intimate scenes, great for older kids. If I complain about any part of this ending, I feel like a main character could have given up a happy ending for the sake of being a bit more. Yes, I did expect the death of a main character. Of course, the ones that did die at the middle-ish-end definitely brought some tears to the survivors. A really great adventure, Mr. Snow said. I'm not a professional editor or critic, nor do I have any other professional interest, but I enjoyed a good series, he said. Thanks for all the support, SJM.
So sad that the author couldn't deliver

Derived From Web

, Oct 31, 2018

I was really hoping that everything would have come together well, said Blair. The story had such potential, Mr. Rule told the judge. The author, for example, copped with cliches, out of character decisions and drawn out of nonsense, said Dr. Goin.
If you want to keep your fans then give us quality, not quantity, Ms. Maas

Derived From Web

, Oct 29, 2018

This was one of my favorite series, and I will be the last book I read by this author. Maybe it was the length of time between books, but I just didn't care. It was all over the place, and I felt rushed, Mr. Dhaliwal said. It ended up skipping over pages because it lacked the tension and "saucines" of the former books. I should have known better, since the previous book was also a complete disappointment. I had such high hopes for this writer, Gillian.
❤❤❤

Derived From Web

, Oct 26, 2018

5 stars dont seem that high. He also criticized the book's cover, which he said was "not very good." The emotions I felt reading this book, man, were anger, frustration, sadness, joy, and love, Raymond said. I'm truly sad that this series has ended, but I could not be happier about the ending. This is, and will be forever, one of my all time favorite series. Thank you for giving us this chance to experience this world.
No Spoilers: Amazing novel that is brilliantly crafted

Derived From Web

, Oct 24, 2018

Sarah Maas has created an immersive world full of characters who feel as real as your family. The sentence structure of the stories is so exceptional, I can't help but wonder how many other people would have written them. A true master of creative storytelling. HBO's "Treme" series followed suit with "The Glass." Before you can get into the second part of the game, you must read the first three books in order. It's just that we don't start here. You will deprive yourself of one of the great novels of all time. Because, you know, why are you still reading reviews? Go get book one and see what all the fuss is about. Only a few people will regret not having started the second part of the story earlier.