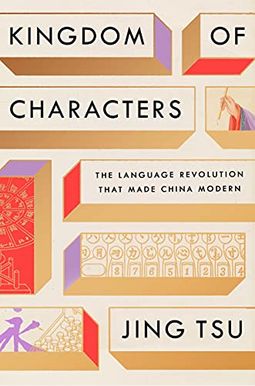  
Kingdom of Characters: The Language Revolution That Made China Modern
Book Overview
What does it take to reinvent a language?
After a meteoric rise, China today is one of the world's most powerful nations. Just a century ago, it was a crumbling empire with literacy reserved for the elite few, as the world underwent a massive technological transformation that threatened to leave them behind. In
Kingdom of Characters
, Jing Tsu argues that China's most daunting challenge was a linguistic one: the century-long fight to make the formidable Chinese language accessible to the modern world of global trade and digital technology.
Kingdom of Characters
follows the bold innovators who adapted the Chinese language to a world designed for the Roman alphabet and requiring standardization, from an exiled reformer who risked a death sentence to advocate for Mandarin as a national language to the imprisoned computer engineer who devised input codes for Chinese characters on the lid of a teacup. Without their advances, China might never have become the dominating force we know today. With larger-than-life characters and an unexpected perspective on the major events of China's tumultuous twentieth century, Tsu reveals how language is both a technology to be perfected and a subtle, yet potent, power to be exercised and expanded.
Frequently Asked Questions About Kingdom of Characters: The Language Revolution That Made China Modern
Book Reviews
(6)
Did you read Kingdom of Characters: The Language Revolution That Made China Modern? Please provide your feedback and rating to help other readers.
Terrific tour of the problems that had to be solved for China's language to work in the modern world

Derived From Web

, Mar 14, 2022

I was not aware, and I doubt that most Westerners are aware of how big a barrier the ideographic writing system of China has posed to its development. What makes this book fantastic is that it explains how China overcame this barrier not just the Chinese in general, but also the individual innovators who came up with solutions. It is an incredibly important topic for anyone who wants to understand Chinese culture. By showing you how the problems looked to the people who addressed them and telling you about those people, the author makes the subject pop, crackle and pop. It is hard to put this book down once you start it.
Eye opening reveal of the Chinese language. Clearly explains the challenge of learning it.

Derived From Web

, Mar 11, 2022

The book has been loved. I learn more about the Chinese language in the first two chapters than I ever knew. The book was both readable and a wonderful source of little-known information. She highly recommends this product.
A thorough review of a grand task

Derived From Web

, Mar 4, 2022

As Mandarin immersion programs become ubiquitous throughout American schools, this strange language created thousands of years ago in the Middle Kingdom remains an enigma for most of us. This book details the transformation that this character-based language had to go through, as the handwriting was replaced by typewriters, based on the alphabet system. If you know some Chinese, you will find it very interesting. If you don 't, this book may interest you enough for you to start learning.
Good but needed more illustrations

Derived From Web

, Feb 28, 2022

A lot of political history and how character simplification has been an interesting issue. This book would have greatly benefitted from having more illustrations of the various proposals for simplification and romanization. With one exception, the examples given are so new that it is hard to see all the differences between old and small. Likewise, it would have been interesting to see examples of the initial steps towards computerization. That is probably because of my unfamiliarity with Chinese names.
Book showed to me how little I knew about the modernization of China.

Derived From Web

, Feb 8, 2022

Wished to know how the Communist Party authorities promoted change in the writing system of the Chinese. The book tells a much wider story of the efforts to adapt modern technology to mesh with Chinese characters from the development of a standard typewriter to the development of matching characters to corresponding numbers so that messages could be sent by telegraph. All these efforts were made during the period of extreme political upheaval in the 20th century in China, the overthrow of the Qing Dynasty, the War of Resistance against the Japanese, and the Civil War that followed. In spite of the complex material, the book is easy to understand, one must pay close attention only.
A book about Chinese typewriters, with only five illustrations?

Derived From Web

, Jan 27, 2022

I have worked in China and played with various typewriters of Chinese design, so I looked forward to this book. But it has only FIVE FIGURES!! What is the first thing that a Chinese typewriter wants to see in a book about Western typewriters? You guessed it, a photo, a working diagram and so on. Don 't bother to look for one in this book.