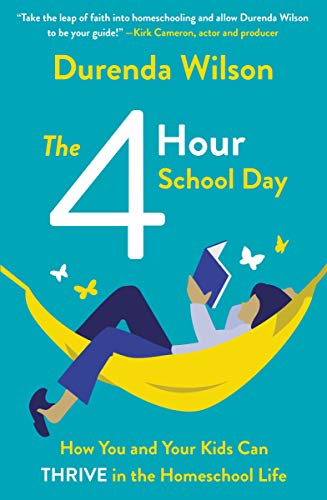  
The Four-Hour School Day: How You and Your Kids Can Thrive in the Homeschool Life
Frequently Asked Questions About The Four-Hour School Day: How You and Your Kids Can Thrive in the Homeschool Life
Book Reviews
(7)
Did you read The Four-Hour School Day: How You and Your Kids Can Thrive in the Homeschool Life? Please provide your feedback and rating to help other readers.
Without a doubt, the best book on homeschooling

Derived From Web

, Sep 13, 2021

Durenda Wilson is the author of two books that I recommend to anyone who is considering home school. Her first book, The Unhurried Homeopath, is a must- read, as is The 4 Hour School Day. Her wisdom has been used in a very profound way. There is a need for this kind of simple, focus- on- what's- important approach to home school in a time when there are so many options. We' ve changed our approach completely because we' ve focused on the basics and left room for children to explore their interests, learn hard work, learn skills and find their passion. This book is full of wisdom and inspiration and has helped me free myself from the pressure of having to do all the things, burning myself out, and squashing my kids' love of learning.
Not really a homeschooling book...

Derived From Web

, Aug 9, 2021

The book is a parenting book or how to be a good parent book. There isn't much about it. The theme seems secondary. I couldn't read the whole thing because it wasn't my cup of tea. This book is not for anyone who lives in a state of rigidness where every child needs a portfolio with every t crossed and dotted I for an evaluator. The state I am in is one of the worst. She said not to worry about science and history. Her methods won't fly in a state of strictness. I was looking for a book that talked about structure, schedule and a pep talk. This did not fit the bill for me. Unschooling type Charlotte Mason. If you' re a Classical or Traditional person, look elsewhere.
Encouraging but the title was misleading.

Derived From Web

, Jul 28, 2021

Durenda has so much to share with us mom's who aren't as seasoned as her. The last book she wrote, The Unhurried Homeopath, was very repetitive. I thought the book would give more information about the structure of a 4 hour school day.
A Shot of Encouragement for the New or Seasoned Homeschool Mama

Derived From Web

, Jul 27, 2021

I am not the typical new mom that this book is targeted towards, as our ninth year of home education will be this fall. You need a book. Durenda does an amazing job of covering all the stages of home economics. This book gave me the encouragement I needed to get started for the year, and will be on my re- read list each year from here on out.
Favorite Homeschooling Book!

Derived From Web

, Jul 15, 2021

I have been reading book after book on home economics for many years as a mom of twelve. I don't understand why I would read another. I always seek to improve what I am doing and glean support and encouragement for living a life that seems different from the status quo around me, yet one I know in my heart is right. Durenda Wilson's " The 4- Hour School Day" is at the top of my list for encouragement, practical application and wise advice. The lifestyle of home education is examined in this book. If you want to discover what home educating your children can look like all the way from start to finish, or if you need a boost in your confidence to take the next step, this book is for you. Let it breathe life into your home.
Title is a misnomer

Derived From Web

, Jul 10, 2021

The content of this book is not faulted by me. It has good advice and encouragement. I bought the book because it didn't mention how to get school done in four hours.
Great Reminder

Derived From Web

, Jul 7, 2021

A great book to review why you' re doing it. It was a great reminder of things I already knew, but lost sight of after many years of home school. It was a great course on how and why we go to school in the first place. If you' ve been at it for awhile and you' re just starting out, this is a great book to read. The title of the book suggests that it will teach you how to schedule your day to be only 4 hours. It isn't that. It's more like general principles of home education, rather than a specific schedule to pack everything in.