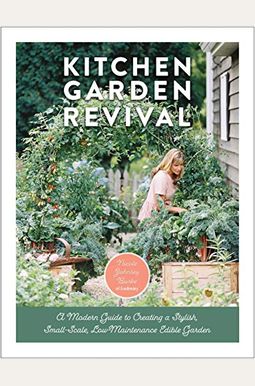 
 
Kitchen Garden Revival: A Modern Guide to Creating a Stylish, Small-Scale, Low-Maintenance, Edible Garden
Book Overview
Elevate your backyard veggie patch into a work of sophisticated and stylish art. Kitchen Garden Revival guides you through every aspect of kitchen gardening, from design to harvesting--with expert advice from author Nicole Johnsey Burke, founder of Rooted Garden, one of the leading US culinary landscape companies, and Gardenary, an online kitchen gardening education and resource company.
Participating in the grow-your-own movement is important to both
reduce your food miles
and
control what makes it onto your family's table
. If you've hesitated to take part because installing and caring for a traditional vegetable garden doesn't seem to suit your life or your sense of style,
Kitchen Garden Revival
is here to show you there's
a better, more beautiful way to grow food
. Instead of row after row of cabbage and pepper plants plunked into a patch of dirt in the middle of the yard, kitchen gardens are
attractive, highly tailored food gardens
consisting of
easy-to-maintain raised planting beds
laid out in an organized geometric pattern. Offering both four seasons of
ornamental interest
and plenty of
fresh, homegrown fruits, vegetables, and herbs
, kitchen gardens are
the
way to grow your own food in a fashionable, modern, and practical way. Kitchen gardens were once popular features of the
Read More chevron_right
Frequently Asked Questions About Kitchen Garden Revival: A Modern Guide to Creating a Stylish, Small-Scale, Low-Maintenance, Edible Garden
How long does it take to read Kitchen Garden Revival: A Modern Guide to Creating a Stylish, Small-Scale, Low-Maintenance, Edible Garden?

It takes about 4 Hours and 35 minutes on average for a reader to read Kitchen Garden Revival: A Modern Guide to Creating a Stylish, Small-Scale, Low-Maintenance, Edible Garden. This is based on the average reading speed of 250 Words per minute.

How long is Kitchen Garden Revival: A Modern Guide to Creating a Stylish, Small-Scale, Low-Maintenance, Edible Garden?

Kitchen Garden Revival: A Modern Guide to Creating a Stylish, Small-Scale, Low-Maintenance, Edible Garden is 208 pages long.
Book Reviews
(8)
Did you read Kitchen Garden Revival: A Modern Guide to Creating a Stylish, Small-Scale, Low-Maintenance, Edible Garden? Please provide your feedback and rating to help other readers.
Good information

Derived From Web

, Sep 26, 2020

Admittedly, I was not able to create the projects in Kitchen Garden Revival : A modern guide to creating a chic small-scale, low-maintenance edible garden by Nicole Johnsey Burke. But while it was not feasible for me to try the projects in this book, it was still a great read. There is a lot of edible information about what it takes to create a useful garden. I liked it enough that I ended up giving the book to a family member who does have the space and was looking to start gardening since we spend more time at home. Not only is she attempting the ideas in the book, but so is her mother. They also enjoy it.
The book that started it all! A must buy!

Derived From Web

, Aug 11, 2020

Kitchen Garden Revival is the perfect book to walk from start to finish. Nicole shares so much garden knowledge and has all her secrets. The book is written with stunning photos beautifully. If you're looking for more of what Nicole has to offer, you can find her Kitchen Garden Academy online and take her online course while reading her book. I am amazed at what I thought would be a simple project has turned into a little bit of life style change and change in mindset towards the foods I buy for my family. And if that is not enough, she has a podcast called Grow Your Self, which dives so much deeper into the surprising stories of the food we eat. In my opinion, she is a super human and I love being part of the Kitchen Garden Revival community!
It's inspiring and helpful!

Derived From Web

, Jul 10, 2020

I love, I love this book. It is beautiful, informative and inspiring. Our back yard is nearly fully shaded, and when my husband suggested building a vegetable garden in our front yard a few years ago, I couldn t catch a vision for it. Once I saw Nicole's creations, I knew that her style garden was something I would proud to show in our front yard. I started following her social media accounts and soaking up all her podcasts. I couldn t wait for her book to arrive. It is as incredible as I hoped. Full of clear and specific instructions, helpful guides and gorgeous pictures that can not inspire you, but inspire you. I recommend it to everyone who asks about my garden, and I use it as a reference as I planned my fall plantings. It is well worth the time and money spent.
Simple and Straightforward

Derived From Web

, Jun 1, 2020

I heard this author speak on a podcast on Spotify and was inspired to think about kitchen gardening. From there, I bought her on IG and followed her book. I like what she has to say, she is simple and keeps it fun. If you are looking for a great way to get started, she is a tried and true advisor. I have read many gardening books and Nicole's approach is simple and striaght forward and breaks it in a way that is achievable. If you look at the pictures in her book, she gives you lots of inspiration and helps you to think more outside our normal garden boxes. I didn't have to guess my second decisions and money spending becuase she did all the dirty work for me! JOB - thanks Nicole, awesome!
Coffee table worthy book

Derived From Web

, May 30, 2020

This book is aesthetically laid and perfect for setting at your leisure on the coffee table to thumb through pleasantly. I read it cover to cover, but look forward to reading it again through the garden inspiration. If you want to create a kitchen garden aesthetic, this book will help you determine how to place your garden, build it and fit it into your current architecture and style.
Beautifully Done Book

Derived From Web

, May 29, 2020

I never thought I could garden until one day I found this lady on Instagram and then came her website. I did not think that we could grow much in this climate. I couldn 't wait to buy her book. I highly recommend this book to all your friends or loved ones that love gardening or just plan to start like me!
Great Book to Start or for the Experienced Gardner

Derived From Web

, May 29, 2020

A great guide for a beginner that is just starting and looking for some direction or for someone with a true green thumb who is looking for support with planning and progressive plantings. As you read each page, you feel like you are part of a community of other kitchen gardeners...a unique feat for a book to share, but it happens with this one. Don 't expect this to be a plant variety textbook, although there are some deep diving elements, but a guide of general set up, maintenance and enjoyment. If you are just starting out with it, if you need help planning your plantings and annual schedule, buy it, and if you are a master gardener who finds people jealous of your own garden, buy it and gift it so that you can start a garden of their own without being intimidated.
This is the voice of experience!

Derived From Web

, May 14, 2020

Kitchen Garden Revival is the voice of experience at the kitchen table. The book has everything to create a traditional kitchen garden, and discusses new and more traditional products, methods and solutions for problems. Maintains a focus on cost-effective what is affordable as well as the skies the limit. The illustrations and charts are accessible, pleasing to the eye, with easily superior information. This is a restful and peaceful read that inspires me to explore my own garden space and pursue a vegetable Eden. Plant family classification is one of many standout sections, providing descriptions, lists and charts breaking the different vegetables into group characteristics - something that a new gardener will use and appreciate. Photography is so beautiful and could be its own book standalone!