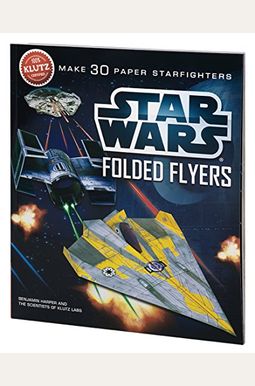 
 
SW Folded Flyers: Make 30 Paper Starfighters
Book Overview
You can fold Star Wars(R) flyers that speed through the living room as well as they do through outer space. Each of the six Starfighter designs has been rigorously tested by the Klutz Aerodynamics Team, and they look as great as they fly because they're made from full-color, custom-designed papers that are authentic to the last bolt. And each paper is specially coded to make folding easy. Designs include a Jedi Starfighter, Darth Vader's Tie-fighter, and the Millennium Falcon itself. With five copies of each of the six designs (that's 30 paper flyers in all) you can have a fleet of Y-wings and X-wings at your command.
Comes with: 60 page book, plus 40 sheets of custom-designed paper, tape, 6 foldable display stands
Frequently bought together
Frequently Asked Questions About SW Folded Flyers: Make 30 Paper Starfighters
Books like SW Folded Flyers: Make 30 Paper Starfighters
Book Reviews
(15)
Did you read SW Folded Flyers: Make 30 Paper Starfighters? Please provide your feedback and rating to help other readers.
Love this kit!

Derived From Web

, Apr 20, 2022

While looking for something else, I stumbled upon this product. I think it's a good price for how many sheets you get. This would be great for a family with multiple kids or just a group of kids, because there are several of each flyer. They do work, but they all fly different ways. It's definitely not your traditional paper plane flyer. Some of the reviews said that kids can make their own things. It depends on the age and patience of the child, you have to build these just so. It reminds me of something. It's doable for a person who can follow directions.
They really do fly

Derived From Web

, Apr 20, 2022

Two men are operating at our house. It's good if Grandpa is here, he's good at folding. A kid pulls the pages out of the book and reads the directions. The kid folds and tapes it up. They switch. There are enough papers in the book to make multiple flyers. Yes, yes. They can fly.
Tons of fun

Derived From Web

, Apr 20, 2022

The year our boys discovered Star Wars, they were making starships. The paper is printed like the starships, which is better than coloring them yourself. The instructions are easy to follow. A great find for young boys.
Love this!!

Derived From Web

, Apr 20, 2022

My husband and I bought this book at a museum, and my son adores it. My son is only six years old, so my husband helps him do these on his own. My husband sent one to his brother because he liked it so much.
makes great paper airplanes

Derived From Web

, Apr 20, 2022

My 6 year old boy loves this book and we have made some really cool paper airplanes. If you follow the instructions you can make them fly. I would recommend this book to anyone who is a fan of Star Wars and paper airplanes.
They actually fly!

Derived From Web

, Apr 20, 2022

It's cool because each airplane has a different flying method and they can fly as oppose to regulate paper planes. Every little boy will love it.
Super Cool, 7year old loved building them

Derived From Web

, Oct 7, 2021

My second graders likes to build paper airplanes. He enjoys picking them up and building them. Some of them are flyable and some of them are collector pieces. This is the first step in introducing your child to the art of folding paper.
Review

Derived From Web

, Dec 3, 2020

I would purchase this again. My husband is a pilot and a Star Wars nerd. He was more impressed with this book than any other gift. The pages are thick and glossy. It will take a long time for them to fall apart. The instructions for most of the airplanes are a little complicated, but I found no interest in trying to do it. She would probably be able to read the instructions more clearly if she was interested in the projects. My star wars obsessed husband received it as a gift. I think it's great for any Star Wars fan.
Worth it!

Derived From Web

, Aug 13, 2020

I was not expecting much, but I was still positive with the reviews. I bought this for my 10 year old who likes to play with paper. I was surprised by the quality of the paper. The book and non-airplane pages are very nice. The instructions were easy to understand. I appreciated that there were more than one per ship. It was a little too easy for him, but he enjoyed it. They only fly as much as an average paper airplane would. It was worth the price!
High quality and so fun!!

Derived From Web

, Jun 13, 2019

I like this book. I bought this for myself when I was in my 40s. The quality is very good, the book has lots of interesting information about star wars, and it's fun to do. It would be hours of fun for a kid or a person in their 40s to fold a bunch of airplanes.