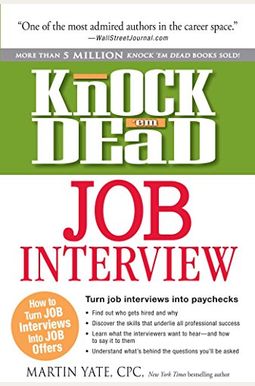 
 
Knock 'Em Dead Job Interview: How To Turn Job Interviews Into Job Offers
Book Overview
Land the job you want
The interview is one of the most crucial moments of the job search experience and your chance to show your potential employer that you have what it takes to succeed in the position. In order to do that in today's highly competitive job search environment, though, you'll have to find a way to stand out from the crowd. Using his twenty-five years of experience,
New York Times
bestselling author
Martin Yate
has established a set of rules for job interviews that is sure to get you noticed. Instead of memorizing canned answers, Yate provides you with an explanation of the thought behind more than 300 questions and answers, so that you'll always know what the interviewer is really asking and how you should respond. Packed with information on handling stress questions and weird interview venues, this book also teaches you how to keep your cool--and confidence--from the moment you step inside the building. With
Knock 'em Dead Job Interview
, you will finally be able to differentiate yourself from the competition and score the job
Frequently Asked Questions About Knock 'Em Dead Job Interview: How To Turn Job Interviews Into Job Offers
Book Reviews
(12)
Did you read Knock 'Em Dead Job Interview: How To Turn Job Interviews Into Job Offers? Please provide your feedback and rating to help other readers.
Looking Forward To My Interview

Derived From Web

, May 21, 2022

Unfortunately, I have recently found myself back in the job market, and it seems that I am not doing too well in the interview process. I picked up this book last week and is full of great tips and tricks. I think one of the biggest takeaways from this book is that I need to turn the job interview into a job offer. I have always been in a test like I am in a book, and I think I have been way too nervous. I took many notes from this book on different areas of interviewing that I fight with and feel that I am now much more prepared for the next interview that I have coming up tomorrow. Thank you for helping me to ease my fears of interviewing again in the job market after being pushed out in the job market.
Martin Yate is a Job Hunter's Guru

Derived From Web

, May 21, 2022

This is a great book and is not for the shy or timid. Yates does a good job of giving you the hard core realities behind hiring decisions, career success and the Granddaddy of them all Understanding what you are selling and what your customers are buying '' and my favorite Sealing the Deal ''. After three and half hour face-to-face with departmental managers, I was home in bed when I realized that I hadn't prepared a formal follow-up letter. I wrote my notes and took a letter. I forgot to receive individual emails, so I handed out thank you notes to the front desk for each manager the next day. The hiring decision was to be made one week from the time I interviewed, but I received a call from the corporate recruiter the next business day with a great offer! The job hunt was fun and satisfying for the first time in my life!
Job interview help

Derived From Web

, May 21, 2022

This book is a must read for anyone who needs help preparing for an interview. This book provided great insight as well as helped me put my brain on the right track before my interview.
Practical, effective, readable

Derived From Web

, May 21, 2022

I think that everybody preparing for an interview should read this book. I appreciate the thought and professionalism contained in this book.
One of the Best Books Out

Derived From Web

, May 21, 2022

He knows better the interviewers than they know themselves. It is perfect for navigating the most intense situations.
Great book

Derived From Web

, May 21, 2022

For more insights, thanks!
worth the read

Derived From Web

, May 21, 2022

Great book to prepare for interviews... it gets your mind thinking and prepared for the many questions that come your way during an interview.
This book is a NEED to get those offers!

Derived From Web

, Aug 30, 2021

I was getting job interviews left and right, but not landing any offers. I would go on job interviews the next after another, going all the way to the end until they say they went with another candidate. My friend told me about this book, so I bought a book that not figuring why. I swear to you that I read this book after I swear. Job offers 2. This book is a must if you want to land that new job.
Totally astonishingly outstanding book... about relationships!!

Derived From Web

, May 26, 2019

Extremely tightly '' written
To the point book

Derived From Web

, Nov 2, 2017

It has been recommended by an interviewer who mentioned to us that you should be prepared before an interview and she usually knows who is prepared for the interview and who is not. Actually, I read most of it, it helped me during job search and interviews. You can use it for any job and in any specialty. You do not have to follow it step by step, this is by far the most helpful book I ever bought. I do not like to read a long book, and this book offers that as it is to the point. In your interviews, good luck!