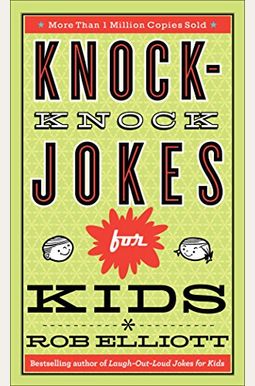 
 
Knock-Knock Jokes For Kids
Book Overview
Knock knock.
Who's there?
Weirdo.
Weirdo who?
Weirdo you think you're going?

Knock knock.
Who's there?
Ben.
Ben who?
Ben away for a while but I'm back now.

Kids can't get enough of laughter--so they can't get enough of Rob Elliott's hilarious joke books! Now the author of the bestselling Laugh-Out-Loud Jokes for Kids offers this all-new collection of knock-knock jokes that will have kids and kids-at-heart busting a gut and asking for more.

Rob Elliott is the bestselling author of Laugh-Out-Loud Jokes for Kids and Zoolarious Animal Jokes for Kids and has been a publishing professional for more than fifteen years. Rob lives in West Michigan, where in his spare time he enjoys laughing out loud with his wife and four children.
Frequently bought together
Frequently Asked Questions About Knock-Knock Jokes For Kids
Books like Knock-Knock Jokes For Kids
Book Reviews
(16)
Did you read Knock-Knock Jokes For Kids? Please provide your feedback and rating to help other readers.
I hate it. They love it.

Derived From Web

, Apr 24, 2022

I'm not a huge fan of the book, but the kids LOVE it. I am so sick of saying who's there in the car, that I'm going to scream. It's just that we don't know everything." The kids LOVE IT! I have a third grader who reads them out loud in the car and a kindergartener who repeats them off the top of her head if she can. There are some old timey names that the kids have never heard before, so that makes the jokes not funny to me. Yes, they don't care! The kids, for example, don't care if the names are obscure. It's going to make me get into a car accident, Tunick said.
So many fun jokes!

Derived From Web

, Apr 24, 2022

I bought this book for my husband for Father's Day. My daughter loves to make jokes and they always do knock jokes together, she said. The book has so many jokes, Margaret said. It's all for the whole family, said Janet. My daughter is 5 and some of the jokes she doesn't quite understand, but she still laughs. It's great to be back with your family, said Blair.
Yay, for more knock knock jokes.

Derived From Web

, Apr 24, 2022

The book was requested by my grandson, who has autism and ADHD. It's very difficult to understand jokes. A French designer who works with Yves Saint Laurent, Manon Henri takes things literally. After hearing about why the chicken crossed the road and one other joke, I thought he would like this book. Or maybe I would like to have the book signed by him. I'm partial to the second one. It was quick and easy to order through Amazon Prime. Shipping was fast and free, and the price was great, too. It is a great book for kids or anyone who likes knock jokes.
Introduction to the world of nerds

Derived From Web

, Apr 24, 2022

Kids, you see, really don't get knock-knock jokes like these, based on puns. It's just that they're not that good at it in the tender years. I'm guessing 9-10 year olds might be ready, perhaps later, if they have the odd gene for word play. Even if they do get them, they might not think them good jokes. It's time to dodge the tomatoes and banana peels. Or, a book.
It is OKAY!

Derived From Web

, Apr 24, 2022

My 8 yr. old found some humor in about 14 of the jokes in this book. Young readers, I say, should be able to pick up the book from the library. I find it to be at least okay, Mr. Rule told the judge. If you're serious about this, I would highly recommend Dr. Goin's surgery. It's a good coffee table book if you like to at least smile all the time." The book arrived within two days of ordering, in perfect condition, Mr. Dhaliwal said.
Great to Get Kids into Books and Reading Out Loud

Derived From Web

, Apr 24, 2022

No they are not all winners and some really need to be explained to the kids before they go ohh... but for $3 it is a great book to have around. We wanted to get something that would help the kids read out loud and show that reading is fun, too, Raymond said. The DVD said: "This did exactly that." Then they giggle and pass it to the next person to read. It's just that you probably won't see kids fighting over a book more than this one. More than 60% of the jokes were understood by our 5 and 7 year olds - so we consider it a win. Pros kids have fun reading, they read out loud, they work on enunciating and delivery of words, sometimes just aren't understood by the kids.
Good Source for Knock-Knock Jokes ...

Derived From Web

, Apr 24, 2022

Rob Elliott's Knock-Knock Jokes for Kids is exactly what I needed to satisfy my grandson's request for a knock-knock joke, Grandma. As someone who never remembers jokes, this book has been a real help in providing them that youngsters find funny. Yes, by adult standards, a lot of the jokes are corny, but youngsters think they are hilarious. Some of the jokes are more difficult to predict than most kindergartners have, but there are still plenty of jokes they can appreciate. If you need a repertoire of jokes suitable for youngsters, this book may be just what you are looking for.
Great for kids

Derived From Web

, Apr 24, 2022

Sheey Green's book was one his grandmother gave him as a present. Once he had a chance to look it over, he declared it Great! The youngster doesn't realize it, but the exercise helps him with his reading and speech. He is 7 and is able to read a good amount of the jokes and is learning timing and believe me, delivery, Mr. Cowger said.
My daughter LOVES this book.

Derived From Web

, Apr 24, 2022

My daughter absolutely adores the book. Each day we read three pages. Some of the jokes are over her head and aren't that funny, but for the most part, she gets them and thinks that they are. Rob Elliot will probably buy one of his other books for her.
Wow, this is a terrible book

Derived From Web

, Mar 4, 2022

My daughter, who has a severe form of epilepsy, adores knock-knock jokes. When they came in, I thought this would be a hit. If that's not a comedy, then I must be at the wrong meeting." Example knock, who's there? This is a smash, especially when you consider that Joe, Sam, Jane, and Hayley are all British. The book was originally titled "The Age of Innocence." The whole thing made no sense to me.