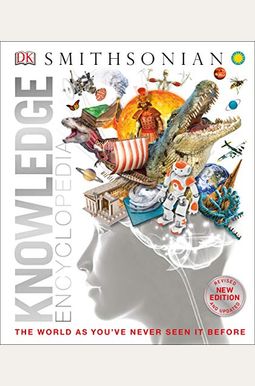 
 
Knowledge Encyclopedia (Updated and Enlarged Edition): The World as You've Never Seen It Before
Book Overview
This brilliant children's encyclopedia is informative, diverse in subject matter, easy to read and brimming with ground-breaking CGI graphics that make it a truly immersive reading experience, revealing the world as you've never seen it before.
An incredible, educational journey through space and time on planet Earth and beyond. This is the perfect educational book for a young explorer. Experience the Big Bang at the beginning of the universe and travel through our world's rich history right up until the digital world we live in today. This magnificent general knowledge book will entertain and educate. A breath-taking comprehensive guide to planet Earth and the universe that is guaranteed to boost your child's brainpower. It covers the complexities of space, science, nature, technology, art, history, and culture, which are broken down into bite-sized chunks supported by statistics, maps, timelines, and cutting-edge graphics to make even the most complex subjects easy to understand. Look inside an Apollo spacecraft, a volcano, or the body of a T-rex Learn about the Big Bang and the science behind fireworks. Then explore the galaxies and stars back to Earth, and in and around the mechanics of the human body. This fully updated edition of
Knowledge Encyclopedia
is the perfect fact book for kids of all ages to go on an adventure through its
Read More chevron_right
Frequently bought together
Frequently Asked Questions About Knowledge Encyclopedia (Updated and Enlarged Edition): The World as You've Never Seen It Before
Book Reviews
(16)
Did you read Knowledge Encyclopedia (Updated and Enlarged Edition): The World as You've Never Seen It Before? Please provide your feedback and rating to help other readers.
Well done!

Derived From Web

, Apr 25, 2022

My 7 year old has been pouring over this since she was about 3. Only in the past two weeks have we seen him with a book. It's a big, heavy, and definitely not a travel book. It's fine to sit on a table and the illustrations are well done, too.
Fun facts

Derived From Web

, Apr 25, 2022

My boys absolutely love it. Yes, there is a Google. But I love seeing them read through this and tell me they have learned some facts. Great pictures and great info. Fast shipping.
Amazing must have no matter what age.

Derived From Web

, Apr 25, 2022

OMG MY GRANDCHILDREN FILLED THEIR EYES WITH DEARNESS, AND I HAD TO HOLD THEM BACK ALONG FOR A COUPLE MINUTES. MUST ORDER TO SEE FOR YOURSELF, YOU WILL NOT BE DISAPPPOINTED ', AS A MATTER FACT MAKES FOR GOOD FAMILY TIMEILY, AFTER THEIR HOMEWORK DONE, he added.
Wonderful

Derived From Web

, Apr 25, 2022

The pictures are beautiful, the book is a must-have. There is a wealth of information available on this site, Sosa said. You could probably Google "Wikipedia" but, you won't find the experience books. It helps to pique curiosity, Sosa said. For example, when reading a section on average life expectancies in each area of the world, I became curious of the how and why and branched out searching elsewhere for more information. If I had seen that page in the book, perhaps that curiosity would have never crossed my mind. My daughter loves looking at the pictures and hearing me explain what we are learning about on each page. If you have a love of learning or are simply curious, this book is for you.
I hate this book

Derived From Web

, Apr 25, 2022

Not that it's not an amazing book, because it is, but because my 6 year old is OBSESSED with it. He drags the thing everywhere! I'm a huge fan of Dr. Goin's work, and I want to read it every day.
Good content but got a damaged version!

Derived From Web

, May 4, 2021

Television images could not be loaded. The book is very good, Graham said. However, the new version I received does not seem to be new, damage quite a lot on sides. If you have any questions, please get in touch with us.
Such a beautiful book

Derived From Web

, Apr 29, 2021

Television images could not be loaded. This is a wonderful encyclopedia of all things. Generous size, great binding, made of great quality paper, and beautifully illustrated. The six-part series includes space, earth, nature, human body, science and history. It's just that she has a book worm and she loves reading it. It's great to be back home, she said, sitting there reading a book without moving. I bought another copy for her friend as a present, and I think kids at their age will benefit from this book for many years, since they are still a bit young for some content. The book comes with a dust cover, no doubt.
Fantastic book for both kids and adults alike

Derived From Web

, Mar 31, 2020

It is very well maintained and has all the information that kids of all ages will love to read. The book quality is amazing and my son loves to hang on to it all the time!
Excellently written and laid out

Derived From Web

, Jan 29, 2019

A passionate Catholic, Dell'Oro is also a lawyer who specializes in intellectual property law. She reads this book and often discusses what she's learned or asks questions about some of the more confusing topics. Ms. Kennedy said the new technology had expanded her knowledge and curiosity.
THE Collectible, highly recommended, encyclopedia.

Derived From Web

, Apr 19, 2018

Thanks for the reference. Every DK book I've ever purchased has been of interest to everyone in the house, regardless of age. The illustrations, which are so attractive-to-the-eye, jump right out at you and pull you in.