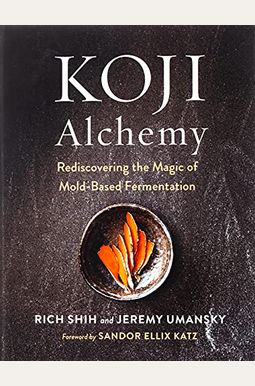 
 
Koji Alchemy: Rediscovering the Magic of Mold-Based Fermentation
Book Overview
This book is remarkable.--David Zilber, co-author of The Noma Guide to Fermentation

Next level fermentation fodder--The Boston Globe
The perfect next step--NPR's Science Friday
For viewers of Salt Fat Acid Heat, the first book devoted to processes, concepts, and recipes for fermenting and culturing foods with koji, the microbe behind the delicious, umami flavors of Japanese cuisine
Koji Alchemy chefs Jeremy Umansky and Rich Shih--collectively considered to be the most practical, experienced, generous educators on the culinary power of this unique ingredient--deliver a comprehensive look at modern koji use around the world. Using it to rapidly age charcuterie, cheese, and other ferments, they take the magic of koji to the next level, revolutionizing the creation of fermented foods and flavor profiles for both professional and home cooks.
Koji Alchemy includes:
A foreword by best-selling author Sandor Katz (The Art of Fermentation)

Cutting-edge techniques on koji growing and curing

Information on equipment and setting up your kitchen

More than 35 recipes for sauces, pastes, ferments, and alcohol, including stand-outs like Popcorn Koji, Roasted Entire Squash Miso, Read More chevron_right
Frequently Asked Questions About Koji Alchemy: Rediscovering the Magic of Mold-Based Fermentation
Book Reviews
(7)
Did you read Koji Alchemy: Rediscovering the Magic of Mold-Based Fermentation? Please provide your feedback and rating to help other readers.
Wow, koji is boss!

Derived From Web

, Jan 8, 2022

This is a very detailed book on how to grow up Koji and how to use it in all sorts of ways. Umansky explained with great clarity old and new ideas. This is not a cookbook, but contains recipes as well as encouragement, the sky is the limit. Recommended to those who want to learn as well as experienced Kooji'sts.
Good for people that read pop ups and have short attention span.

Derived From Web

, Jan 3, 2022

I am an active fermenter and an avid reader. I am only 50 pages in and there is valuable information, but skipping through the authors'information while reading through pictures and other authors'papers inserted into the book is very distracting. There are many points that the author goes off topic for a few paragraphs by saying things like speaking of beer '' after mentioning a spit based beer made in South America. There are also points where they explain 3 techniques over and over again after only mentioning 2. As I said, I've started just fine, but it feels like watching my grandsons YouTube videos about video games. Some one with a short attention span might be able to locate all the information, but I find the lack of direct information distracting. I rewatch this after I finish it. Book by Salvador Katz on fermentation are much more direct, I 'll see if he has one on Koji after I'm done.
This is not a recipe book.

Derived From Web

, Dec 4, 2020

Ok, it doesn 't claim to be a recipe book, but anyway gave it 3 stars. While there are a few recipes included, this book is basicly what it says about fermenting with Koji. If you want to investigate and experiment with Koji and want a kind of science book to lead you on this path, then the book would be great. While I enjoyed reading much of the information, it wasn't exactly what I had been hoping and wanting. By the way, I made the Rye bread and found it not much different from the Rye bread I have been making. ( def )
Get this book!!!

Derived From Web

, May 14, 2020

Book is great! It is so informative. My understanding of Koji and how to use it has exponentially expanded.
Become less intimidated by Koji

Derived From Web

, May 13, 2020

At first, I was turned off by the lack of pictures and all the reading, but it turns out to be perfect for me. I like how it is broken down, constantly reminding me that this book is encouraging, insightful and that Koji has so much potential in many ways. It is less mysterious and magical because it is okay for Koji to remain intimidating and magical. Just know the basics and see what happens, what comforts me. It is an on-going discovery and relationship. I'm happy. I like the paper novel style and feel of it.
Stepping up fermentation

Derived From Web

, May 9, 2020

One of the most complex themes in gastronomy writings, delivered in a simple and comprehensive way of understanding.
Comprehensive guide to using koji in the kitchen and pantry

Derived From Web

, May 8, 2020

This is a fantastic compilation of koji knowledge, not just teaching recipes, but teaching history, mycology and technique behind koji culture. I have been following Jeremy Umansky since I first found links and posts about using Koji in charcuterie, watched the launch and success of Larder DB and had the opportunity to taste his success with Koji in a wide food palette in person. This book combines that success with a focus on teaching and preparing others to be successful as well as a true sharing of his passion for mycology, fermentation and food. This is the book that I have been waiting for over 5 years to be written.