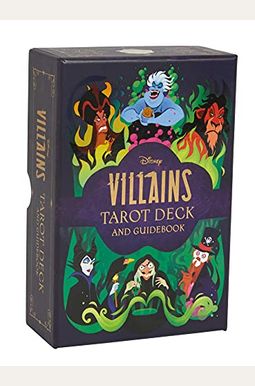 
 
L'amministrazione Della Giustizia Nella Repubblica Romana Del 1798-99
Book Overview
Let Maleficent, Captain Hook, and other classic baddies guide your tarot practice with the only official tarot deck featuring Disney's most wicked villains.
Disney's most iconic villains have taken over tarot in this dastardly take on a traditional 78-card deck. Featuring the notorious ne'er-do-wells from classic animated films like
101 Dalmations
,
The Little Mermaid
,
Sleeping Beauty
, and more, this tarot deck reimagines Cruella de Vil, Ursula, Maleficent and the whole motley crew in original illustrations based on classic tarot iconography. Including both the Major and Minor Arcana, the set also comes with a helpful guidebook with explanations of each card's meaning, as well as simple spreads for easy readings. Packaged in a sturdy, decorative gift box, this devious deck of tarot cards is the perfect gift for Disney fans and tarot enthusiasts everywhere.
Frequently Asked Questions About L'amministrazione Della Giustizia Nella Repubblica Romana Del 1798-99
Book Reviews
(10)
Did you read L'amministrazione Della Giustizia Nella Repubblica Romana Del 1798-99? Please provide your feedback and rating to help other readers.
Perfectionism

Derived From Web

, Jan 7, 2022

I like my new set. It arrived in time, and is more beautiful in person. I would recommend this set to anyone who is looking for a fun deck.
Absolutely Worth it!

Derived From Web

, Dec 28, 2021

The media couldn't load. Absolutely love them. A great book with a couple of spreads and not damaged in any way. It was on time. Couldn't be happier.
Amazing!

Derived From Web

, Dec 26, 2021

The cards are beautiful and the work is amazing. I received this as a present and the person wants to keep it in another pack.
So many defects

Derived From Web

, Nov 11, 2021

The deck came with a stain on it. Several people have received theirs with defects as well. I'm worried that my replacement will be worse than me. I love the art work, box and book, but I am not happy with the card stock quality. It is terrible. It's worse than the cheaper ones from China. For $24, I was expecting a better quality card stock. Two of the coins don't fit in and the art work on the cups cards needs a little more work. The artwork goes from full picture to some of them being pips and then back and forth on some cards through the deck.
Defective

Derived From Web

, Nov 10, 2021

The deck is enjoyable to flip through. The choices for certain cards were a bit confusing, but still fun. There are three cards that are damaged in the box. There are lines running through the images. The reviewer had the same issue. The card stock is cheap, and the cards don't shuffle well. It seems like a novelty buy and not a deck that I'd use a lot. I returned this deck because I'm a fan of Disney Villains, but this really isn't as impressive as I had hoped.
Beautiful artwork and includes lesser-featured villains!

Derived From Web

, Nov 10, 2021

The deck is beautiful with thick cards. It's a bit tricky to fan out the thick cards. I'm happy that the box has a ribbon to help lift the deck without damaging the cards. I got that feature on my first deck and it was appreciated. There are many villains from lesser known and older movies. I loved finding and remembering so many villains. I understand why frollo wouldn't have been included. I don't know how well these cards will work out for daily use, but at least as a collector piece, this was definitely a gem.
Perhaps laminating them 🤔

Derived From Web

, Nov 10, 2021

I love the artwork and the deck. I like to read with Flyer cards. It is hard to shuffle that way because of the card finishing.
Absolutely Worth The Wait

Derived From Web

, Nov 9, 2021

I was so frustrated by the wait for this item. I felt like they were never going to come after they changed the release date, but they did today. The artwork of the Disney villains is outstanding. I love all the cards. I yelled excitement for a few of them. I was brought back to my youth. The card stock is not thin. It is a pretty box with a ribbon. There are good explanations of card meanings in the Guidebook. This is the first deck I've bought. My first gift was a gift that I didn't like at all, but I am so excited to finally have this deck, it's been a long time since I've had one. The bad side of Disney was depicted on these cards. The wait and money was worth it. It's!
So so disappointed

Derived From Web

, Nov 9, 2021

I waited for another deck. I received them today after I ordered them on April 7th. Only to open them with two cards that are bent. They won't last long when shuffling. Cheap material and cards are the same. The titles in the deck are great. Overall quality isn't what it should be. This is a collector item, like the last deck. I don't want to collect them. The book quality is not good. It was so disappointing.
My new favorite deck

Derived From Web

, Nov 9, 2021

The media couldn't load. Excellent condition and beautiful cards! The paper stock is a little thinner than normal tarot cards, so be careful when shuffling, they are very bendable. I'm excited to see other products, maybe some oracle cards to match.