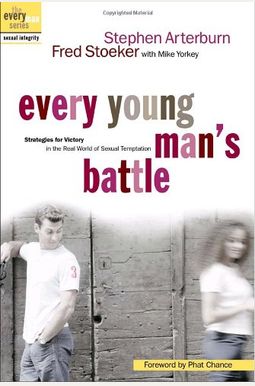 
 
Every Young Man's Battle: Strategies for Victory in the Real World of Sexual Temptation
Book Overview
This Description may be from another edition of this product.
Can any young man escape the lure of sexual temptation in today's world?
You're surrounded by sex constantly--in movies, on TV, video games, music, the Internet. Is it any wonder that it feels impossible to stay sexually pure? How do men survive the relentless battle against the onslaught of lust? With powerful ammunition. The authors of the hard-hitting mega-bestseller
Every Man's Battle
know the temptations young men face every day. The fact is, you can achieve victory over sexual compromise.
Every Young Man's Battle
shows you how to rise above today's debased, self-seeking culture by examining God's standard, training your eyes and mind, cleaning up your thought life, and developing a plan. With extensive updates for a new generation of men, this is the award-winning guide to practical resistance. Bottom line: these strategies are biblical and they have worked for millions of men. Experience real hope for living the way God designed. Enter the battle.
Includes comprehensive workbook for individual and group study.
Frequently bought together
Frequently Asked Questions About Every Young Man's Battle: Strategies for Victory in the Real World of Sexual Temptation
Books like Every Young Man's Battle: Strategies for Victory in the Real World of Sexual Temptation
Book Reviews
(11)
Did you read Every Young Man's Battle: Strategies for Victory in the Real World of Sexual Temptation? Please provide your feedback and rating to help other readers.
A must read for any God fearing young man

Derived From Web

, May 17, 2022

Seller sent on time and in an amazing condition. The book is a great read and very informative. It is rather graphic sometimes, but needs to be explained to the content properly. I would recommend this book to any young man.
Eye opening!

Derived From Web

, May 17, 2022

I recommend reading this one honest approach by the author of his own life experiences. I'm still unsure if I want to read my thirteen year old, or not yet. Another year waiting might be another year.
My son loved it!

Derived From Web

, May 17, 2022

It is very good that every parent should buy to his teen child. Do not trust Christian parents to worldly teachers regarding sexual education.
Nothing less than a imaginary porn reading. Offers NO GODLY ADVICE.

Derived From Web

, May 22, 2021

To write a review, I had to give a star. It is not worth a single piece of that star! It tells in detail of other young men's fights told to the author! If your son is in need of direction, DO NOT GET THIS book!! There is NO HELP, ADDS the STRUGGLE! I would advise a serious reading BEFORE you give it to any young men! If the thoughts were not there before, there will be added ideas after reading this book.
Be On Guard!

Derived From Web

, Sep 3, 2020

I didn 't read the reviews, that was my first problem! Fortunately, he read only one page. Starting with PAGE 1 and continuing through Ch 1, this book is extremely graphic and in my opinion not appropriate for boys who are just learning sex and learning puberty. I was very sad by this and wished to all parents out there to be on guard. You know your children. I work in alternative education and juvenile halls, so that would be great for a lot of my children I serve at work, but not my sheltered son.
Disappointing: Good info but too graphic

Derived From Web

, May 15, 2020

My teenage son and I read it in parallel, and then we would do the questions at the end of the chapter. After several chapters, however, I got really uncomfortable with how graphic the descriptions of the author's previous sexual sins were. I understand that you have to explain what sin is, but I thought they went too far to the point of putting ideas in the reader's head that would not have been there otherwise. The book's purpose is to help your teen develop purity, not to provide titillating ideas. We stopped reading and now I'm just talking to him about the relevant Bible passages and concepts.
The concept is spot on but the authors are to graphic

Derived From Web

, Jun 13, 2019

These book sounds like it was written by a 15 year old boy who wants to have sex. I understand the need of the book, but the amount of detail they use to descripe their fantasis reads of that out of a hustler article.
Educate - Enlighten - Empower

Derived From Web

, Aug 9, 2018

In this world, you are surrounded by sexual images that open the door to temptation. They are everywhere! God, however, expects his children to be sexually pure. How can you survive the unending battle against temptation? There is powerful ammunition here :
Excellent book, it works!

Derived From Web

, Oct 19, 2017

It gave me a new perspective on sexual immorality. They also worked and were rewarded. Now I have gone for six months without masturbating, and it has been great. It is no longer a distraction in my life. We can achieve the victory over men. It is not an easy journey by any stretch, I have failed many times on the way. Sexual purity is within our grasp with the right focus and techniques, but with strong faith and desire to follow God's, but with the right focus and techniques.
Great for sons and parents!

Derived From Web

, Jun 24, 2017

My husband died and this book not only helped me understand my son better, but also brought a lot of healing because of the conversations we have. I never thought I would talk to my 15 year old about sex so easily, but I can give the tips the author gives to open the conversations.