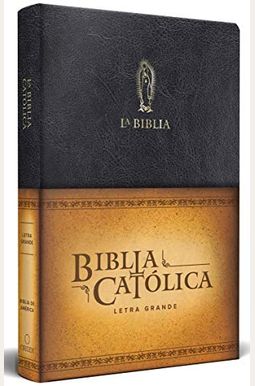  
La Biblia Católica: Tamaño Grande, Edición Letra Grande Piel Negra, Con Virgen de Guadalupe
Frequently Asked Questions About La Biblia Católica: Tamaño Grande, Edición Letra Grande Piel Negra, Con Virgen de Guadalupe
Book Reviews
(8)
Did you read La Biblia Católica: Tamaño Grande, Edición Letra Grande Piel Negra, Con Virgen de Guadalupe? Please provide your feedback and rating to help other readers.
Regular size font - NOT BIG FONT

Derived From Web

, Mar 7, 2022

Very disappointed ''. This was a regular size font, not big font, as the description said.
Get yourself a real Bible this is a perversions of the Holy Scripture

Derived From Web

, Oct 16, 2021

In John 1 verse 2, take a look at yourself that she was created in the beginning with God, not John 13 states that she is not God John 14 states that in her was life she can not give life, not Jesus. I say no more because its comical to think that this is a Bible that you can trust. John is clearly different that he is specking Jesus the word and that he was in the beginning with God, He created everything and without him noting, was life in HIM. This kind of crap was approved by the Catholics in Mexico, who should repent and come to Jesus. Understated in your reading are perversions of the text. I can 't believe that I bought this crap for my mother. I did not look into other passages because I know where this Bible belongs, in the fire maybe you 'll enjoy the heat it can bring. Buy another Bible for yourself and test everything you buy.
Bibles can still give that special feeling.

Derived From Web

, Apr 17, 2021

I gave my husband this Catholic Bible ; in his words, he said : This is the best gift that anyone can give me.
Beautiful Catholic Bible.

Derived From Web

, Mar 19, 2021

This was a gift to my mother. When I received it, I had to open it, and it was very beautiful, and the Virgin Mary was very nice on the outside of the Bible.
Fulfilling my mother's requests.

Derived From Web

, Feb 17, 2021

It comes in a time of need to comfort my mothers, she lost her beloved daughter and my sister just lost.
Correct catholic bible, good quality

Derived From Web

, Mar 2, 2020

The pages are thick to make it lighter, but are sturdy enough and readable. The descriptions and notes within some of the paragraphs make reading better to follow. Approved Bible for all conscious Catholics who need accuracy and ease to read. I recommend this Bible to everyone.
Not Accurate

Derived From Web

, Feb 27, 2020

My complaint is about the statement in the title, which says the print is in Letra Grande big letters '', which is not true. The print consists of three or four letter types. To say that it is printed in large letters is confusing, to say the least. For my opinion, more accuracy is required. In order to be good seller, you must define what are the big letters! And whether this type of letter is used throughout the issue! To understand Einstein's theory, one does not need to figure out this!
Edicion de regalo de la Biblia catolica

Derived From Web

, Nov 25, 2019

Me parece muy apropiada regalo o pues uso propio pues se ve que es muy duradera.