Buy 3 Get 1 Free
Our Best Sale Yet! Add 4 Books Priced Under $5 To Your Cart     Learn more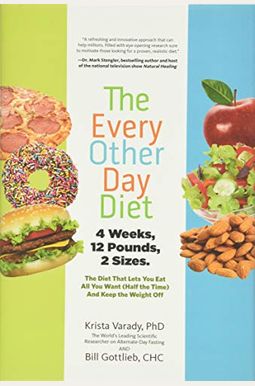 
 
La Dieta Del DíA Siguiente: Pierde Peso Comiendo Todo Lo Que Quieras (La Mitad Del Tiempo)
Book Overview
The Every-Other-Day Diet is the perfect diet for me.
That's the satisfied declaration of a dieter who lost 41 pounds on the Every-Other-Day Diet. (And kept it off ) You too can expect dramatic results with this revolutionary approach to weight loss that is incredibly simple, easy, and effective. Created by Dr. Krista Varady, an associate professor of nutrition at the University of Illinois, the Every-Other-Day Diet will change the way you think of dieting forever. Among its many benefits:
It's science-tested, science-proven. Dr. Varady has conducted many scientific studies on the Every-Other-Day Diet, involving hundreds of people, with consistently positive results published in top medical journals such as the American Journal of Clinical Nutrition and Obesity. Unlike most other diets, the Every-Other-Day Diet is proven to work.
It's remarkably simple-and effective. On Diet Day, you limit calories. On Feast Day, you eat anything you want and as much as you want. You alternate Diet Day and Feast Day. And you lose weight, steadily and reliably.
There's no constant deprivation. The Every-Other-Day Diet doesn't involve day after day of dietary deprivation--because you can still indulge every-other day.
It's easy to keep the weight off. With other diets, you lose Read More chevron_right
Frequently Asked Questions About La Dieta Del DíA Siguiente: Pierde Peso Comiendo Todo Lo Que Quieras (La Mitad Del Tiempo)
Books like La Dieta Del DíA Siguiente: Pierde Peso Comiendo Todo Lo Que Quieras (La Mitad Del Tiempo)
Book Reviews
(12)
Did you read La Dieta Del DíA Siguiente: Pierde Peso Comiendo Todo Lo Que Quieras (La Mitad Del Tiempo)? Please provide your feedback and rating to help other readers.
Great Plan... Easy to follow

Derived From Web

, Jun 3, 2022

I ended my first two weeks on this diet and I have lost 8 pounds. It is, really, the easiest diet I have ever done. Because I know that I can have tomorrow whatever I crave, I don 't feel deprived. The crazy thing is that when tomorrow comes I don't even want the food I craved. The appetite has greatly decreased. I have added three days a week in the week 2 cardio and strength training. I have updated the site again soon. April 25 -- 10.6 pounds lost and 5.75 pounds total lost April 18 -- 23 pounds.
FINALLY a plan I can and WILL use for life - so easy!!!!!!

Derived From Web

, Jun 3, 2022

I have done Weight Watchers, and while it worked for me, it took 12 weeks to lose 12 lbs and it was a pain to track everything. I also made Body for Life, which was very effective but the preprazing was my eventual downfall. Every other day - Diet is AWESOME!!!! I have lost 10 lbs already in 21 days! The hunger on dieting days is definitely diminished and I find myself more full on free days. Even when the Diet Day is a little hectic, I just remember that I can eat and stay strong and even excited! I recommend that you try the meal times for Diem Day. I am always a grazer and the 400 Cal Nutrition - snack plan recommended in the book is the hardest for me. Instead, I usually eat 5 cal snacks 2 hours apart, starting at noon. This has worked for me the best - everybody is different! I wish that this had been discovered years ago! I 'll give copies of this book to friends, etc... Howe ''!
It is easy to maintain

Derived From Web

, Jun 3, 2022

This is the only diet that has worked for me, it is also the only diet I have found that works on a low income budget. I currently have 45 lbs and have another 40 to go. It is easy to maintain, I have been able to eat the foods I enjoy, its not loaded with rules and regulations, I have not lost energy or muscle, but I lost lbs. With restaurant menus and calorie counts available on line, I have been able to maintain the diet while eating out when I need to. I am super pleased with this product and the outcome. For an easy, low pressure, managable diet that creates a change of life, this is excellent! I also did not follow the plan completely, I was on rotation 2 off 2 and it still worked.
Made a believer out of me!

Derived From Web

, Jun 3, 2022

I saw a few bloggers discussing this diet and decided to give it a try to see what all the hype was about. It has already been about 5 days and I only lost 4 lbs without really trying! I love the simplicity of it all!
I'm down 15 pounds so far (started first week of ...

Derived From Web

, Jun 3, 2022

So far I'm down 15 pounds and this seems to be the first diet that is manageable. I'm definitely sticking with this.
We love it! Anyone can cut back for one day ...

Derived From Web

, Jun 3, 2022

My husband and I read the book and started the program. Anyone can cut back for a day - it does give us great hope. We have never been great junk food fans,so on our 500 cal. The next day we count calories and have found it a breeze. Our daughter has just started it, she thinks the same as we do. Do not eat junk food if you don 't want to. People, use your brain!
sign me up!

Derived From Web

, Jun 3, 2022

Finally, a weight loss program with good science at its core and a follow-through pattern for retaining the loss. Thus the 5 stars No more bad foods or food groups, instead a clear declaration that a calorie is a calorie, we lose body fat by metabolizing more moe than we take in. Achieving the goal of lowering the total calorie intake in a way that does not burn muscle and burns out is the genius of EOD. The authors integrate sound nutritional advice and a thoughtful understanding of obesity, with well planned recipes and a shopping guide to prepared frozen entrees, illustrating how workable food can be on the modified fast day. The plan for the feast days sounds very easy, choose what you like and enjoy. I have dusted the scale and am planning my 500 calorie days.
The every other day is easy with the information provided by the authors

Derived From Web

, Jun 3, 2022

With the information provided by the authors, every other day is easy. The weight loss is a little slower than stated in the title, but still continues. In four weeks, 10# will be released.
good Plan - but could've been an essay rather than a book

Derived From Web

, Jun 3, 2022

Good solid information and plan, lots of meal plans for those who need them, but boils to eat 500 calories every other day. You lose weight. Of course, there are lots of other details such as the best times to eat, the best times to exercise, and how to modify the diet once you get to your goal. I have already studied the alternate day fasting... it works for me... but this is an excellent book on the subject if you are new to the only real long term way to take weight off and keep it off.
Easy, quick read for a sensible, sustainable diet and lifestyle.

Derived From Web

, Jan 4, 2020

If you are considering an alternate day approach, this is a good book packed with easily digestible research and a basic plan of action. There isn 't much to fasting - that is the great thing about fasting, no gimmicks - but I do think it is important to understand how it works so that you get the optimal benefit. Too many people view fasting as starving themselves. You are not. Say instead, Time Restricted Eating ''. And it is very helpful in understanding the science of how your body works and how fasting enables you to embrace it without suspicion. This book is a short, concise read and probably the only thing you have to buy to do this diet '', so I recommend it to newbies. I've also recommended some Jason Fung books, but seriously you can start there and stop fasting for free.