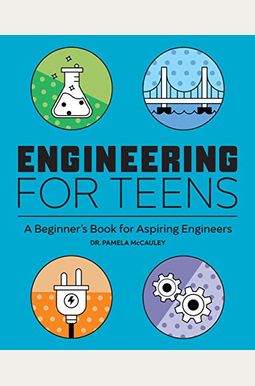 
 
La Rivoluzione Elettorale: L'italia Tra La Prima E La Seconda Repubblica
Book Overview
Explore engineering as a career with this introduction for ages 12 to 16
The job of an engineer is to solve all sorts of complex challenges facing the world while improving our lives through creative, innovative ideas. This engineering book for teens gives you a look into what engineers do and how they drive society forward through math and science.
From designing tablets and smartphones to reimagining the way we collect and store renewable energy, this engineering book for teens introduces you to the major engineering disciplines and their distinct specialties, famous engineers throughout history, and more.
Engineering for Teens offers:
Engineering fundamentals--Discover the four main branches of engineering and their different specialties.
Inspired inventions--Get examples of the incredible things that engineers have created, like fuel cells and medicines.
Inclusivity in engineering--Learn all about the diversity within the field of engineering.
Discover the wonders of engineering and prepare yourself for a life of scientific discovery with this engineering book for teens.
Frequently Asked Questions About La Rivoluzione Elettorale: L'italia Tra La Prima E La Seconda Repubblica
Book Reviews
(7)
Did you read La Rivoluzione Elettorale: L'italia Tra La Prima E La Seconda Repubblica? Please provide your feedback and rating to help other readers.
Shallow

Derived From Web

, Mar 12, 2022

However, it skips over robotics and gives mechatronics a mention. The author includes her extremely liberal bias on several irrelevant issues, along with putting Bill Nye the science guy alongside Archemedes as a serious engineer. She overlooked many worthy candidates to include a list of black women engineers on the same list. Their inclusion is not problematic, but the fact that vshe picked them on racial and gender lines instead of their accomplishments.
Too basic for Inspired Engineers

Derived From Web

, Dec 22, 2021

I bought this book for an intelligent teenager who shows talent in engineering. I find the correct content of this book is descriptive, but it is too skimpy. It does not fill a page beyond generalities, and there is much more to write about this topic and go much more than the less-than-200 pages in this book. The drawings are better suited for a book for toddlers. Fifteen dollars is not expensive, but is too much to pay for this book.
Doesn't really delve into any topic. More of a career primer.

Derived From Web

, Jul 25, 2021

This book is intended to spark interest in engineering potential careers. The basic concepts of engineering are quickly glossed, but are not addressed in a substantive way.
Don't waste your money!

Derived From Web

, Jun 17, 2021

This book is worthless!gives a complicated explanation of nothing!author doesn't teach or help a student learn,just rambles in thier own mind!waste of money!
Great book for kids interested in engineering

Derived From Web

, Mar 5, 2021

My son is only a few pages in, but really loves the book already. For any young person interested in engineering, excellent.
A great gift for the teenager in your life!

Derived From Web

, Mar 2, 2021

A book written by an expert in the field of STEM, who believed that she could be an engineer as a teenager. A great gift for teenagers interested in chemical engineering, mechanical engineering, electrical engineering and civil engineering. Dr. McCauley has been mentoring teens over the years and now she is helping more with writing this book. I love the testimonials from my fellow engineers included in this book. Simple language, but well written! I am donating a local high school with a copy each. Hopefully this book inspires their students to explore the exciting and ever changing world of STEM.
Great inspiration for teens!

Derived From Web

, Feb 14, 2021

This book contains background on engineering, great role models and examples to encourage students who are considering or who have a career in engineering. It also provides a helpful survey to help students discover which discipline may be the best fit for them. I suggest this book for current engineers and anyone who wants to understand engineering better and its positive effects on our world!