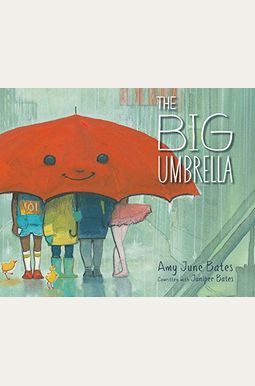 
 
La Sombrilla Grande (The Big Umbrella)
Book Overview
A subtle, deceptively simple book about inclusion, hospitality, and welcoming the 'other.' --Kirkus Reviews
A boundlessly inclusive spirit.This open-ended picture book creates a natural springboard for discussion. --Booklist
This sweet extended metaphor uses an umbrella to demonstrate how kindness and inclusion work.A lovely addition to any library collection, for classroom use or for sharing at home. --School Library Journal
In the tradition of Alison McGhee's
Someday
, beloved illustrator Amy June Bates makes her authorial debut alongside her eleven-year-old daughter with this timely and timeless picture book about acceptance. By the door there is an umbrella. It is big. It is so big that when it starts to rain there is room for
everyone
underneath. It doesn't matter if you are tall. Or plaid. Or hairy. It doesn't matter how many legs you have. Don't worry that there won't be enough room under the umbrella. Because there will always be room. Lush illustrations and simple, lyrical text subtly address themes of inclusion and tolerance in this sweet story that accomplished illustrator Amy June Bates cowrote with her daughter, Juniper, while walking to school together in the rain.
Frequently Asked Questions About La Sombrilla Grande (The Big Umbrella)
Books like La Sombrilla Grande (The Big Umbrella)
Book Reviews
(8)
Did you read La Sombrilla Grande (The Big Umbrella)? Please provide your feedback and rating to help other readers.
Short but sweet

Derived From Web

, Jan 27, 2022

I like the description of the umbrella the colors in this storybook are bright and bold, I like the fact that this book is showing in a way empathy for others and also show the kindness that people still have.
No idea why this has such high reviews

Derived From Web

, Jan 13, 2020

No wonder this book has such a poor reputation. The entire thing is there, and it can fit everyone, he said. I was looking for a story about inclusion and acceptance, but it doesn't say anything about that. It just says that there is a big red umbrella, and lots of people and creatures can fit under it, Sosa said. The Beatles' music "will live on." Not that interesting, no lesson, no real story. My 6 and 4 year olds were not impressed. Will be donating this one to charity.
Great message, important for kids!

Derived From Web

, Jul 6, 2019

Very cute book, important message of inclusions, sweet illustrations, said Gillian. Story is simple: The Beatles' music "was the soundtrack to my life." She said she would give it as a present.
Great message, but you may want to pass

Derived From Web

, Aug 8, 2018

The book is great, the message is great and the pictures are lovely, he said. I love that kindness, inclusion and diversity are addressed, but it's a very short read. I guess for such a large book, I expected it to take longer than 30 seconds to read, Mr. Rule told the judge. This book may be good for babies or little ones with short attention spans, but I don't imagine this would interest a toddler, Spink said. I think you will just need to make the decision if this very short story would be good for you and your family, Mrs. Rule told us. I really wanted to love this book, but it's just okay for me, Hachette said. I love the message, but I can't say I would recommend it to my friends. If you want a book on kindness, I would look to "Be Kind" by Pat Zietlow Miller since that book also discusses kindness and the characters are diverse, said Gammerman.
easy book about how to be an "includer"

Derived From Web

, Jul 16, 2018

It was a blast to the core, said my 6-year-old English language learner. It's great to have that extra length for 4 - 7 year olds, too.
Come in, Everyone!

Derived From Web

, Apr 23, 2018

The words are just enough for the story paired with the page-by-page delightful illustrations of those invited to shelter under that big umbrella, and everyone is invited. It's what I call a big smile of a book, one to read, enjoy and discuss with a child or a group of children, Raymond said. It reminds me of the concept of everyone having a seat at the table, and it's so good!
Delightful book about kindness, generosity, and inclusivity

Derived From Web

, Feb 7, 2018

I almost never buy a book before borrowing it from the library because my child loves umbrellas and the cover art was so inviting, she said. What a great chance I took, said Dr. Steve Smith, director of NASA's Ames Research Center in California. The umbrella is a sweet character that loves to help and be kind to others, he said. It's just that good." I doubt it. Such a sweet and uplifting storyline, Hart added. I am delighted that The Big Umbrella will be a welcome addition to my family's library of books that promote peace, and inclusive of all, Raymond said. The product is excellent, the customer service is great and the money is well spent. Check out more of my children's picture book reviews on my instagram.
The story behind this book is just as beautiful as the story inside this book

Derived From Web

, Feb 7, 2018

The story behind this book is just as beautiful as the story inside. A mother and daughter dreamt this up together, and I want to thank both of them for dreaming up and creating a book with such an important message the more you give, the more you get, the more you get, the more you eat. I also want to thank the publisher Simon and Schuster for publishing an ORIGINAL children's story--that's happening less and less--so BRAVO! A new book about the Beatles, "Reunion" by Simon & Schuster.