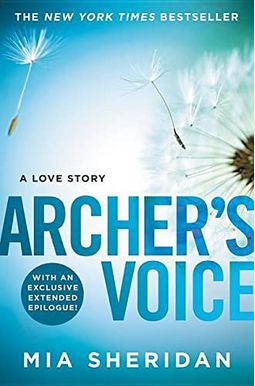  
La Voz De Archer (NarracióN En Castellano)
Book Overview
Fall in love with this emotional New York Times bestselling romance between two tortured souls who find their chance at happiness in the most unexpected way.
I wanted to lose myself in the small town of Pelion, Maine. To forget everything I had left behind. The sound of rain. The blood. The coldness of a gun against my skin. For six months, each breath has been a reminder that I survived -- and my dad didn't. I'm almost safe again. But the moment I meet Archer Hale, my entire world tilts on its axis . . . and never rights itself again. Until I trespass into his strange, silent, and isolated world, Archer communicates with no one. Yet in his whiskey-colored eyes, something intangible happens between us. There's so much more to him than just his beauty, his presence, or the ways his hands communicate with me.
On me
. But this town is mired in secrets and betrayals, and Archer is the explosive center of it all. So much passion. And so much hurt. But it's only in Archer's silence that we might just find what we need to heal . . . and
live
. Includes an exclusive extended epilogue from Archer's POV
Named one of the Top Romance Novels of All Time by Goodreads
A
New York Times
,
USA Today
, and
Wall Street Journal
bestseller
Frequently Asked Questions About La Voz De Archer (NarracióN En Castellano)
Books like La Voz De Archer (NarracióN En Castellano)

Book Reviews
(4)
Did you read La Voz De Archer (NarracióN En Castellano)? Please provide your feedback and rating to help other readers.
Love

Derived From Web

, Nov 12, 2021

It took me a long time to read this author. There is a person who is not welcome. People assume he is not able to hear and leave him alone. On multiple occasions, she runs intoArcher, as she escapes her past. The man is hesitant but lets her in. They begin to heal from past traumas and begin their own lives again. It is heartbreaking, emotional, and worthy.
Very little story... mostly just pages and pages of pure PORN. As the revoltingly detailed descriptions of throbbing, leaking genitalia filled page after page, and when they weren't actively going at it like dogs in heat, they were fantasizing about wha

Derived From Web

, Oct 3, 2018

This is a story? If you're targeting adolescents and immature adults, give them a clear warning to not read filthy things.
not worth the time........

Derived From Web

, Sep 10, 2018

ARCHERS VOICE is a short story that was long enough to be a full length novel but short enough to be a short book. For instance, what kind of dog was phoebe? I don't know the breed or color of the dog that the author talked about several times, but he rode the bike over to the archers house multiple times. The author never let me know her characters, I felt like I was outside of the book, instead of being immersed in the story. There was enough time for the author to make me believe what she had written because the page length was 338. I don't understand how this book got a good rating on Amazon. I'm giving it 2 stars because it was very boring. The premise was good but the writing couldn't make it work. Don't be fooled by this rating, I will not read anything else by this author. !
Pretty Good

Derived From Web

, Feb 22, 2017

I enjoyed reading this novel and liked the character of archer. He needs some help discovering who he is and what love is. If you want a story about a dominant male who takes what he wants, this isn't for you. This is a story about a guy who is nave to love and relationships and how he copes with all the new feelings and emotions he has never had before. His struggles with himself made this story interesting to me. There are a lot of explicit sex scenes here. It seems that once the characters start to have sex, it takes over the story more, but still a quick, fun read with depth.