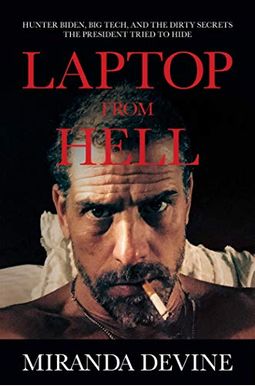  
Laptop From Hell: Hunter Biden, Big Tech, And The Dirty Secrets The President Tried To Hide
Frequently Asked Questions About Laptop From Hell: Hunter Biden, Big Tech, And The Dirty Secrets The President Tried To Hide
Book Reviews
(15)
Did you read Laptop From Hell: Hunter Biden, Big Tech, And The Dirty Secrets The President Tried To Hide? Please provide your feedback and rating to help other readers.
The Criminal Enterprise

Derived From Web

, Mar 14, 2022

The Biden family is a part of the criminal enterprise. They are corrupt. We have been sold to the highest bidder.
MY MY JOEY B'S PUNK SON IS STILL AT IT.

Derived From Web

, Jan 11, 2022

I liked this book. This book is a must read for anyone who wants to see the Babylonian family in action. Joe B has been at this gang for 50 years. The apple does not fall from the tree. !
It Was True All Along

Derived From Web

, Jan 5, 2022

I could not put it down. This book is a must read. The agencies that were supposed to protect America from criminal activity delivered us this new administration. I have faith and love for America, and I hope that what happened in 2020 is corrected. God bless America.
Astounding read

Derived From Web

, Jan 5, 2022

The son of the president has a lot of entitlement and corruption. It shows the crimes of the Biden Family that the media ignores. The mistake Americans made in voting for a 48+ Politician will be shown in history. Miranda Devine has documented and written about the Delaware Way and I applaud her courage to help us learn about it! It is a must read no matter your political beliefs. Biden is at the top of D.C. It's!
Pages missing

Derived From Web

, Dec 27, 2021

The book is over 200 pages long. There are two pages of character information in the copy that I received. The stoy is over 200 pages. Who edited that?
The death of our constitution will result if this book isn't a best seller. China and Russia will get even more active. Democracy is at its end if this isn't taken seriously.

Derived From Web

, Dec 13, 2021

Our government is full of people. I hope it will lead to the cleaning out of the scrum.
FAKE

Derived From Web

, Dec 9, 2021

The book is not the original one. The fake is a waste of money. I was very disappointed to have been on the receiving end of this BS. The original is printed by Simon and Schuster. This one has 120 pages and no references. I'm not sure how they can represent it by the original author.
Disgusting behavior

Derived From Web

, Dec 9, 2021

Biden family has had corruption and maneuvering for a long time. The family in the White House is not normal. What a mess. Must read to see how bad things have gotten.
Fast paced

Derived From Web

, Dec 6, 2021

If Hunter Biden's life is like this, he is going to need a lot of time. The USA is in turmoil, just a good ol' boy from SCRANTON, Mr. President? You have to give him one thing, he staged a most deceptive life. God knows!
I am 42% through my read of this book on Kindle. I am in tears.

Derived From Web

, Dec 3, 2021

Most of us know that Politicians can be dishonest. Hunter Biden's laptop shows that Joe Biden is anything but a good guy. Hunter's drug, prostitutes, and deviant behavior to his ex-wife and children don't matter to me. Hunter is a sick and depraved man. I don't cry for him. I am crying for Americans who were deceived into voting for Joe Biden. I am very sad.