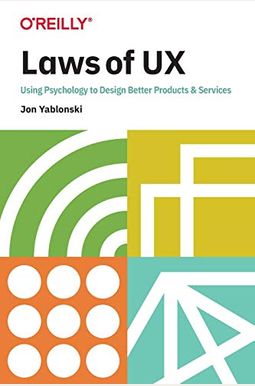 
 
Laws Of Ux: Using Psychology To Design Better Products & Services
Book Overview
An understanding of psychology--specifically the psychology behind how users behave and interact with digital interfaces--is perhaps the single most valuable nondesign skill a designer can have. The most elegant design can fail if it forces users to conform to the design rather than working within the blueprint of how humans perceive and process the world around them.
This practical guide explains how you can apply key principles in psychology to build products and experiences that are more intuitive and human-centered. Author Jon Yablonski deconstructs familiar apps and experiences to provide clear examples of how UX designers can build experiences that adapt to how users perceive and process digital interfaces.
You'll learn:
How aesthetically pleasing design creates positive responses
The principles from psychology most useful for designers
How these psychology principles relate to UX heuristics
Predictive models including Fitts's law, Jakob's law, and Hick's law
Ethical implications of using psychology in design
A framework for applying these principles
Frequently Asked Questions About Laws Of Ux: Using Psychology To Design Better Products & Services
Book Reviews
(8)
Did you read Laws Of Ux: Using Psychology To Design Better Products & Services? Please provide your feedback and rating to help other readers.
Key knowledge for designers, but lacking depth and breadth

Derived From Web

, Nov 3, 2021

This is a great book, but the devil lies within the details, Raymond said. The book brings together two masters of the universe: Alfred and Robert. The book includes about a dozen footnotes, an introduction and an overview of the relevant laws. The material, which is free, gives a cursory foundation for new designers and those looking to transition to web design. Product Managers and web developers will also find this book useful. Each law gets only a few pages of treatment and lacks any depth. The examples are obvious and we would benefit from a discussion with the designers of each. The book could also include additional volumes, Simon said. Most of the laws are based on research from the 1960s, but we should also include some recent usability research, even if it means using less famous laws, he said.
One of the BEST UX Book I Ever Read!

Derived From Web

, Jun 28, 2021

So, I try to read one UX book per week, when I finish the book, I would try to use the knowledge I picked up and implement it into my daily work. This book is definitely the talk of the book that I work with daily! I highly recommend this book to anyone. I post it on Linkedin about how great the book is and guess what? Super cool!
Great read, great value! If you're on the fence, buy

Derived From Web

, Apr 26, 2021

Really enjoyed the book format with little to no fluff, Michael. However, case studies are extremely short and to the point. Definitely recommend.
Any designers should read this...

Derived From Web

, Mar 2, 2021

It touches everything I experience in design. If you are an UX or not designer, this book is for you. Even if you're not a designer, there are some who would love to become one. Contribute to the research by contacting the Swedish Broadcasting Corp., "The Wall Street Journal" reported.
Excellent application of design principles to practical examples

Derived From Web

, Feb 9, 2021

The book is just the right length, easily digestible and covers the material well. There are three books left to read: "The Fall of the Roman Empire" by John Philip Sousa, "The Trial of Nuremberg" by Robert Hein and "Every Chapter is Worth Its Time."
Recommended for any designer interested in creating innovative products and customer experiences.

Derived From Web

, Dec 30, 2020

The concepts are great and easy to follow, Mr. Dhaliwal said. The structure of the book is easy to pull the high level concepts from each chapter, and the author compiled and presented them in a way that's easy to understand. I recommend this book to any designer or product developer interested in creating innovative products and customer experiences.
It's well worth the read!

Derived From Web

, Oct 20, 2020

Thanks to the books, I was able to teach my student how to use a web interface and reinforce the concepts with my staff. I think it's great, Mr. D'Antonio said. Two kids who played with Muhammad Ali were among those who pleaded guilty to weapons charges. In fact, none of us are superstitious, Hubach said. I'd love to read the books written and published by the very few haters who graced us with their amazing opinions.
Extremely valuable

Derived From Web

, Aug 23, 2020

This book is a great read, thought provoking and detailed, while easy to understand. I hope everyone in the industry has the opportunity to read this book. I think it will do more good for designers than most design courses. 0 3171616 3171578 It's great for students, I think it will do more good for designers than most design courses. 0 3171616 3171578 It's great for students, I think it will do more good for designers than most