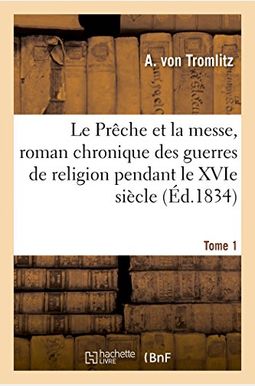 
 
Le PrêChe Et La Messe, Roman Chronique Des Guerres De Religion Pendant Le Xvie SièCle. Tome 1
Book Overview
This Description may be from another edition of this product.
Eight mighty island warriors battle to become king. The deciding factor? The one who comes last, of course
Eight islands represented by their best warriors must battle it out in a tournament to decide their king. To win this battle of endurance, it's not the last one standing but the last one coming that matters The tournament to choose the next king of the islands is about to begin. The rules are simple--whoever comes first loses Participating warriors protect their
mighty swords
with armor that grows larger and more elaborate with each tournament. But one warrior has returned from studying abroad with a technique certain to force a pleasurable eruption Is there a competitor alive able to withstand it? Or is this deft warrior destined to become king?
Frequently Asked Questions About Le PrêChe Et La Messe, Roman Chronique Des Guerres De Religion Pendant Le Xvie SièCle. Tome 1
Book Reviews
(9)
Did you read Le PrêChe Et La Messe, Roman Chronique Des Guerres De Religion Pendant Le Xvie SièCle. Tome 1? Please provide your feedback and rating to help other readers.
Not my typical type of BL, but enjoyed it

Derived From Web

, Mar 14, 2022

I normally go for more realistic looking BLs, but reviews sold me on this one. It's definitely raunchy, but I found myself laughing a lot. The story almost makes light of itself, Glover said. Like the writer, I knew it was a crazy idea and had fun with it. It's a good read, even if you're not a fiction writer.
Sweet pairs

Derived From Web

, Oct 16, 2021

The book itself was enjoyable, Morgenthau said. The book's cover features a rather old-school style of illustration. Very detailed and almost too narrow for comfort, Tunick said. The sad thing is that books always arrive from Amazon damaged. The writer of the letter, which arrived Thursday, said the company only sent the notes in envelopes. As a collector, I'm sad. I'm not buying a new item. I want it to look new again. It had a fold of 3 inches and was signed by Thomas.
Hilarious, sexy and heart warming!

Derived From Web

, May 29, 2021

I honestly thought that this would be just a pure muts, but I was pleasantly surprised by the cute romances in this story! It had me laughing so many times, Mr. Rule told me. I'd recommend it to anyone.
Ike Reibun doesn't disappoint!

Derived From Web

, May 25, 2021

I bought this because I've always loved Ike Reibun's works and this is the first one to be published in English. I really assumed Dick Island Fight would be smutty based on the title, but it wasn't. The story was really good, and the concept was also good, Morgenthau said. I highly recommend reading it and can't wait for volume 2.
Love it!

Derived From Web

, May 20, 2021

It's just so silly, and fun to be around. I've had a lot of admiration for Ike Reibun's work, so I was thrilled to be able to bring it home, said McCartney. If you enjoy fine art you will love this.
I absolutely LOVE THIS MANGA

Derived From Web

, May 17, 2021

It's just too good to be true. I was entertained by the book until the very last page. I am definitely buying more when other volumes come out, Mr. Dhaliwal said. It's a lot of fun, but it's also wholesome. I almost missed the tournament because it reminded me of the very real Turkish Oil Wrestling! NGL I bought it for the sexy men but then I stayed for the romance because it was so cute, she said. Buy it now! It's so good and so different, Christina said.
Can we say oh my

Derived From Web

, May 14, 2021

If u love boy manga u will love this one! i've been waiting for this manga FOREVER, and the name is exactly what happens! It's going to be a rematch of sorts, one that doesn't c**p win. Will be buying the next volume if there is one.
Wholesome & Well Drawn

Derived From Web

, May 12, 2021

Some friends and I ordered copies of the book after looking into it under the original name. It's just that I feel like it had a much harder advertisement for the English release. It's just that I thought it was better under the original name. It's just that we're not that far away. This kid is so wholesome, he could have p****d off in his pants. Not what I was expecting from the trailer. I'm not sure whether he was worried about it not selling well in the US market. I just want to let them know I thought it was great, too, said Blair. HBO said it would renew the contract after the tax man's demands are met.
Absurdly Easy to Read

Derived From Web

, May 12, 2021

A great game of catch-phrases, with an easy to access storyline. One shot, but makes a little room for a sequel.