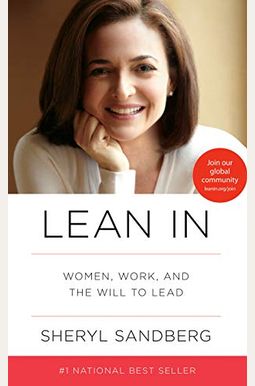  
Lean in: Women, Work, and the Will to Lead
Book Overview
The #1 international best seller

In Lean In, Sheryl Sandberg reignited the conversation around women in the workplace.
Sandberg is chief operating officer of Facebook and coauthor of
Option B
with Adam Grant. In 2010, she gave an electrifying TED talk in which she described how women unintentionally hold themselves back in their careers. Her talk, which has been viewed more than six million times, encouraged women to sit at the table, seek challenges, take risks, and pursue their goals with gusto.
Lean In
continues that conversation
,
combining personal anecdotes, hard data, and compelling research to change the conversation from what women can't do to what they can. Sandberg provides practical advice on negotiation techniques, mentorship, and building a satisfying career. She describes specific steps women can take to combine professional achievement with personal fulfillment, and demonstrates how men can benefit by supporting women both in the workplace and at home. Written with humor and wisdom
,
Lean In
is a revelatory, inspiring call to action and a blueprint for individual growth that will empower women around the world to achieve their full potential.
Frequently bought together
Frequently Asked Questions About Lean in: Women, Work, and the Will to Lead
Books like Lean in: Women, Work, and the Will to Lead
Book Reviews
(15)
Did you read Lean in: Women, Work, and the Will to Lead? Please provide your feedback and rating to help other readers.
Loved it!

Derived From Web

, Apr 20, 2022

As an educated female who has worked hard to overcome societal obstacles for minority women, I felt that this book spoke directly to me and the experiences I had. I could not put this book down at times. I chose this book for a book club I ran with our female grad students and the reviews were mostly positive. The only thing I note is that this book is probably not for those who are not aspiring to professional roles or leadership careers. A student commented that the book seems to suggest that not being high-minded is a failure. Thus, I imagine that stay-at-home moms could be offended by the way success is defined in this book. I do not think, however, that this is the intended audience.
A must-read for all women!

Derived From Web

, Apr 20, 2022

This is a great and original book! It is also very well written and researched. It game the inspiration to negotiate when I got a new job and now I feel more empowered to set high goals for myself and not write being a leader in the workplace. I thought I was a feminist inside and out, but the book made me realize how much of the negativity toward assertive women I had internalized. She tells the truth that sexism is still here, it is just harder to see and that strong and competent women are simply not liked unless they can smile and show themselves to be nurturing. This is the sad truth and makes us aware of it. I also teach parts of this book in the courses that I use! Thank you Sheryl for speaking the truth that no one wants to hear or acknowledge!
Leaning In

Derived From Web

, Apr 20, 2022

I love this book for exactly what it is - no it is not a feminist manifesto, but it is well written and inspires many women to take a hard look at their lives. She defends her claims with her research and the numbers can be very telling. I have heard many opinions on this book, but I will say that it is one where you should form your own. It is worth a read. I recommended it, and have given this book to many of my friends and coworkers. I've had many of my female friends read it and become angry. It makes me wonder what is it? For me, it was anger with myself for holding myself back and not realizing the opportunities that are already present. This is, anyway, a great conversation book, a great thinking book and very well written and executed. Recommendation highly recommended.
Worth reading

Derived From Web

, Apr 20, 2022

After all the publicity around this book, I expected to be clearly against this book. While there were a few parts that I thought were obvious or applicable to a small minority of women with means, I did like the parts of the book that encourages women to first dive into their careers and to worry about life changes as they come. The book is mostly anecdotal stories about mistakes she made in her career and mistakes she has seen from other women. Towards the end, her thesis is conflated, so that it takes some leaning to finish it. Overall, it is an interesting read that points out small ways in which women may undermine themselves or overthink variables in life that may or may not happen.
Honesty without malice, uplifting, excellent and practical advice

Derived From Web

, Apr 20, 2022

I am blown away by this book ''. Sandberg manages to be honest about gender issues in life and the workplace without making you feel doomed to simply hope for a better day in the future. She references both personal studies and scientific experiences in explaining the issues, giving her arguments a strong logical and emotional backing. In addition, her arguments are not man-bashing at all. She often talks about the negative effects these gender issues have on men, being sympathetic to both sides. Sandberg shares perhaps the most impressive and valuable part of this book is how Sandberg shares an abundance of excellent, practical advice on how to minimize the negative effects of gender issues in your own life and how to have a positive impact on the world around you. I can not recommend this book highly enough.
One of my favorite!

Derived From Web

, Apr 20, 2022

I found this to be such a fantastic read ''. Each chapter provided leadership with great points. Yes, this comes from a female perspective, but both men and women can benefit from the thoughts of a successful leader. It is important for all coworkers to look out for each other to improve the team environment. The majority of the workforce has positive intent, sometimes it is not always considered this way. The chapter on crossing jungle gyms really stuck out to me. I'm beginning to think how there may be opportunities to find career satisfaction in moves... more to come. I highlighted and folded pages all over the book. Instead of sharing, I had to buy my girlfriends their own versions of the book. In the future, I hope to be part of a Lean In Circle.
Thank You for the Inspiration, Encouragement, and Push!

Derived From Web

, Apr 20, 2022

I am deeply grateful for the courage, eloquence and drive of the wife Sheryl Sandberg! Reading this book felt like Sheryl and I were our best friends and she was writing about our shared secrets. I had no idea that another woman had seen these thoughts and feelings in the workplace, let alone most of us. The Not Speaking Up, the Fear of Sounding Unqualified to give my opinion on a topic, taking the corner seat away from the table, lowering accomplishments, inability to gracefully receive compliments, forcing a mentor relationship, and so on... that was me. The suggestions offered in this book are both timely and priceless. I sincerely thank Youryl for her transparency, her honesty and her vulnerability. Thank you for being bold! The book has certainly influenced my life. Danke, I love you! I could not lay the book down.
Some Great Reminders

Derived From Web

, Apr 20, 2022

My rating is based on what new stuff I learned that would help me in my career, which wasn 't much. As a primary and now sole breadwinner in my two-parent family, I have already lived most of this stuff. That said, there are great reminders here about why I do what I do and how to do it better. What I think is the most valuable are all the studies I believe can provide talking points when addressing these issues with people who may believe that women have already achieved equality or who don 't think that women need equality. I also think that this would be an excellent read for young women college or younger who just have experience in the business world. I give this to my 16-year-old daughter to read.
Does this author REALLY have our best interest?

Derived From Web

, Dec 18, 2019

At the time of reading, I felt like this was somehow groundbreaking. After continuing to read managerial books, it seems like the hype and attention she was able to gather through media attention really skewed my opinion in general. At the end of the day, this book is just okay. It provides the same generalized and anecdotal stories as everybody else. Since the writing of this book, it has become clear that Sandberg is out of touch with the rest of us. She has commoditized our private lives through Facebook, Inc. and developed a forum where she allows false information to penetrate freely and knowingly in an effort to rake in more money, all in the name of free speech ''. She brings up fair points, but it is like listening to a dictator discuss basketball. What they say makes sense... except at the end of the day, they are still a dictator. We should be concerned about the damage that Sandberg does more than the superficial benefits of this book.
Not the advice women should be receiving

Derived From Web

, Dec 6, 2018

What is so disappointing to me is her putting the onus on women to get ahead in corporate America. The author comes from a powerful background and has privileged men as mentors throughout her career. I don 't think that women should depend on finding male mentors, nor should they work hard to get a seat at the table in male-dominated businesses. Sheryl should be encouraging women to start their own businesses, more in step with female values, and using her clout to make this happen.