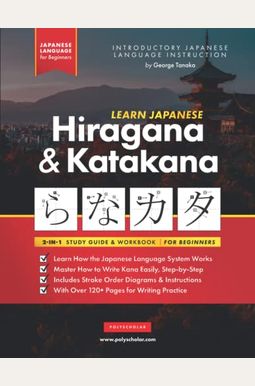 
 
Learn Japanese For Beginners - The Hiragana And Katakana Workbook: The Easy, Step-By-Step Study Guide And Writing Practice Book: Best Way To Learn Jap
Book Overview
Simply our best workbook for beginners learning Japanese Combining 2 of bestselling author George Tanaka's successful workbooks in one, it is packed with practical, useful information and step-by-step guides to make learning easier and faster:
Stroke Order Diagrams and Writing Instructions
Hiragana and Katakana Flashcards to cut-out and keep
Over 120+ Pages of Japanese Calligraphy Practice
Introduction to the Alphabet Systems of Japan
Perfect for Beginner, Elementary, and Improving Levels
This Japanese book is suitable for both adults and kids who want to learn Hiragana and Katakana, or those looking to improve their writing skills ready to learn Kanji. It has been designed with self-study exercises and how-to-write style practice pages. We have included sets of Hiragana and Katakana Flash Card pages that you can photocopy or cut out and keep too Your tutor, George Tanaka, will teach you everything you need to know about the Kana scripts, with just enough detail to get you started quickly
Whether living at home or abroad, teaching yourself or simply looking for a gift for a foreign language friend, this book is the best way to start learning Japanese.
Frequently Asked Questions About Learn Japanese For Beginners - The Hiragana And Katakana Workbook: The Easy, Step-By-Step Study Guide And Writing Practice Book: Best Way To Learn Jap
Book Reviews
(5)
Did you read Learn Japanese For Beginners - The Hiragana And Katakana Workbook: The Easy, Step-By-Step Study Guide And Writing Practice Book: Best Way To Learn Jap? Please provide your feedback and rating to help other readers.
Great beginner guide to Japanese writing

Derived From Web

, Apr 4, 2021

Great help with basic rules, handwriting guides, lots of pages to practice and comes with flash cards. 9.410 :
Calligraphy style

Derived From Web

, Mar 31, 2021

I like how there are discriptions for each character and I like how there is a page specific to each character that you learn with lots of space to practice. However, it is nice to learn more in a calligraphy style, so that it is almost like you are learning cursive before you learn to write. The writing style is just different from what I learned a while ago, but as it explains in the beginning of the book, there are different writing styles.
Great for beginners!

Derived From Web

, Jan 21, 2021

Over the quarantine I decided to learn Japanese and this workbook helped me quickly advance! I did not intend to learn to write because it seemed so intimidating, but this book made it very approachable and now I am much more confident about reading and writing! The flash cards helped me a lot more than just testing myself out of the book!
Great resource

Derived From Web

, Jan 20, 2021

This guide is everything that a beginner needs to start off!
Great overview of basic characters

Derived From Web

, Jan 18, 2021

I learned hiragana and Katakana 30 years ago when I lived in Japan, but had forgotten much of them from lack of use. This book has a great review and provides important instruction on how to write the characters in the correct order. As you transition to writing Kanji, this book is very important.