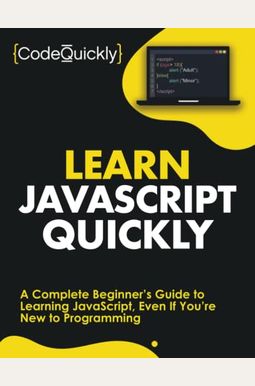 
 
Learn Javascript Quickly: A Complete Beginner's Guide To Learning Javascript, Even If You're New To Programming
Book Overview
Do you want to develop a skill that will ensure you never go jobless again?
Have you always wanted to learn how to program but could never afford those ridiculously expensive courses?
Developers and programmers are amongst the highest paid professions in the world, and according to the US Bureau of Labor Statistics, the number of jobs for software and app developers will increase by a shocking 24% in the next few years.
In 2019, the tech industry posted 4.6 million job openings in the US job market, and their direct economic output was estimated at 1.9 trillion dollars.
There's no doubt that the IT industry is the future, and software, web, and app developers are and will be the most coveted professionals for many years to come.
But here's the shock you may not have seen coming: the IT industry has a backdoor--you only need to know how to open it in order to jump straight on that cash wagon.
The key to that door is JavaScript, a programming language that has withstood the test of time and has become one of the most used languages.
You might have heard about some of the companies that use JavaScript: Netflix, Google, Microsoft, eBay, Facebook, Uber, PayPal. The list goes on and on.
Being proficient in JavaScript will basically Read More chevron_right
Frequently Asked Questions About Learn Javascript Quickly: A Complete Beginner's Guide To Learning Javascript, Even If You're New To Programming
Book Reviews
(10)
Did you read Learn Javascript Quickly: A Complete Beginner's Guide To Learning Javascript, Even If You're New To Programming? Please provide your feedback and rating to help other readers.
Outdated or wrong

Derived From Web

, Jan 4, 2022

Don 't waste your money with this book, right at the beginning of the pages the command is incorrect or simply outdated. What confused me for a beginner programmer. This book would not recommend.
Poorly assembled as a book.

Derived From Web

, Oct 8, 2021

I like the book with the odd page number on the right page. Plus, it is quite basic.
Great resource

Derived From Web

, Sep 12, 2021

I bought this book for my grandson, who is in college. Of course, I thought it would help. Far, he hasn't opened it once, but I did.
Information is decent, quality of production terrible

Derived From Web

, Aug 8, 2021

You will not learn JavaScript quickly, but you will learn. Good luck with the book before it falls apart thought. The binding is WORTHLESS on the book. Day 1 : When I open the book pages came loose from the binding. Now I have a book when every single page falls out as I turn pages. It is probably headed just for the trash.
Instructions are well understood for beginners.

Derived From Web

, Jun 27, 2021

The only minor change on the book would be that Variables Var is no longer used in coding, as it is replaced by the Let as a newer version of Var.
Great Beginners Book!

Derived From Web

, May 6, 2021

I read this as a supplement to a paid JavaScript course by @WellPaidGeek, a free web development course on Udemy by Colt Steele, and a free set of JavaScript exercises on JavaScript30. com. I read this book before bed and touched on some topics that the instructors missed. You'll need more than this book to learn JavaScript well, so look for other online courses and code, code and then code some more! I wish you well on your journey to becoming a developer!
Easy to read JavaScript guide. Excellent!

Derived From Web

, May 6, 2021

JavaScript - Programming Made Easy is an understatement for this book. It brings together all the complex information I have found on the Internet in order and it simplifies them. This book made my life much easier by a lot.
Used it with online resources

Derived From Web

, Apr 24, 2021

This book was easy to follow. I bought it after doing a few of the free courses on line, but still needing something in writing. I found it easy to follow and understand. I come from a totally different profession, and this has been helpful from page one.
Good when paired with other teaching

Derived From Web

, Apr 21, 2021

This is for my son that I bought it. It is well written and a good beginner guide, but I had to lead him in some sections and situations.
Great book

Derived From Web

, Jan 5, 2021

I was concerned about trying to understand this stuff on my own, but this book was really easy to learn. It is like having an instructor in the room right there.