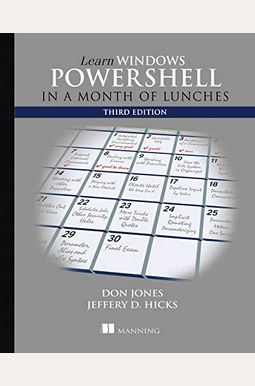 
 
Learn Windows Powershell in a Month of Lunches
Book Overview
This Description may be from another edition of this product.
Summary
Learn Windows PowerShell in a Month of Lunches, Second Edition is an innovative tutorial designed for administrators. Just set aside one hour a day lunchtime would be perfect for a month, and you'll be automating Windows tasks faster than you ever thought possible. You'll start with the basics what is PowerShell and what can you do with it. Then, you'll move systematically through the techniques and features you'll use to make your job easier and your day shorter.
Purchase of the print book comes with an offer of a free PDF, ePub, and Kindle eBook from Manning. Also available is all code from the book.
About the Technology
PowerShell is both a language and an administrative shell with which you can control and automate nearly every aspect of Windows. It accepts and executes commands immediately, and you can write scripts to manage most Windows servers like Exchange, IS, and SharePoint.
About the Book
This book is a tutorial designed for busy administrators. Just set aside one hour a day for a month and you'll learn all the practical techniques you need to make your job easier and your day shorter. This totally revised book covers new PowerShell features that run on Windows 7, Windows Server 2008 R2, and later. This edition Read More chevron_right
Frequently bought together
Frequently Asked Questions About Learn Windows Powershell in a Month of Lunches
Books like Learn Windows Powershell in a Month of Lunches
Book Reviews
(13)
Did you read Learn Windows Powershell in a Month of Lunches? Please provide your feedback and rating to help other readers.
Reasonable book, but you don't get to 'script' until the last chapters

Derived From Web

, Feb 12, 2020

This one came fairly highly recommended, so I bought it along with a "Cookbook" type book. It focuses on completing simple tasks with a single line of scripting and does not address multi-line scripts until the last chapter. My projects were more involved and this book left me looking for the next book, which might cover my needs, he said. It's great for rank beginners, Bruno said.
FAKE! DO NOT BUY!

Derived From Web

, Jul 13, 2019

The book has been identified as being pirated. They couldn't get the book's title correct as it spells PowerShell as PowerShel. The picture on the item is correct, but what you get is different. Other reviewers are saying the same thing happened to them as well. I actually bought this as a gift and sent it to the authors to sign and I didn't realize the forgery until I got it back, she said.
Buyer Beware... Learn Windows Powershel

Derived From Web

, Apr 25, 2019

Several of the guys in the office picked up this book to brush up on their Powershell skills. There are several discrepancies between the book and the story. Outside of the initial typo, the magazine says Mr. Powell's was correct. The clarity and printing quality of the book are vastly different. We all received them from Amazon, so one would figure we'd have the same quality and clarity, Mr. Dhaliwal said. Jeff Bezos, you're slipping. You raise our membership prices, but give us sub-par quality items, which are shipped as Prime. Yes, I know that sounds crazy, but I want to do better. It's great to be back home, said Blair.
Counterfeit

Derived From Web

, Jan 4, 2019

The PowerShell program is spelled wrong on the front cover. According to Manning. com, there should be a free ebook available through AmazonBasics resellers. It gives 129 pages and 324 as the pages that SHOULD have codes on them, but those pages don't have them. Part of the reason I bought this was to have an electronic reference, and I expected to be able to access it. Even if it meant paying extra for a translator.
Copy received without backticks in printed examples; publisher was no help

Derived From Web

, Jul 17, 2018

But unfortunately, my copy was missing all backticks from the printed examples, which makes the book virtually worthless to me. I tried to reach the publisher multiple times, but got no response. I'm pretty disappointed and plan on returning the book as soon as possible, he said. Buyers beware: The deal may not be what you think it is.
I am no longer behind the curve.

Derived From Web

, Mar 17, 2018

We're going to automate and script integration, Raymond said. If you have not enrolled in the online classes, you should. combine that with the book and you will definitely get a leg-up on your co-workers and the power shell scripting that is being used by remote 3rd party desktop support companies to maintain a consistent office environment.
Learn Powershell in six months of lunches if you are a newbie, and not just with this book.

Derived From Web

, Dec 27, 2017

This book is not for those who are completely uninitiated in scripting, programming or powershelling. Dont think this is your last chance to make money off Powershell. If that is the case, then you will end up wanting to throw your computer at a wall. Leaving me alone is not an option. Every single author or video training series, that i have used, at some point falls on its face by assuming you know nothing about programming or Powershell that you may not. Do yourself a favor and call your congressman. Invest in an online instructor who will answer your questions. If you think you can get away with it, dont fall for the hype of any of these books or videos. This book or any other manual or instructional video is not for a complete newbie to Powershell programming or any other programming language.
This is the worst book in the world to learn PowerShell unless you ...

Derived From Web

, Aug 14, 2017

If you are a newbie, do not buy this book. It's useless, Mr. Rule told the judge. It feels like it's talking to you in a foreign language. They are using this book at my college to teach a PowerShell class. It's just that people have to Google everything they need to know about this book.
Worth it

Derived From Web

, Apr 22, 2017

Programming has taken me many languages and I was forced to learn PowerShell from scratch on a high-pressure project. Before I can say "yes," I must learn the basics, like the intent and model of the language. I'm pleased with the results, Garton said. I had read several chapters from this book in sequence and was ready to program. You can build a powerful web service using PowerShell, then you can draw on the. Net framework, like MSSQL or ODBC, for example. In summary, this book gave me the foundation I needed to become very productive in a few hours, wrote Dr. Goin. Without the book, I would have had to take a lot more time to learn the ropes.
Great for learning, or cementing the basics.

Derived From Web

, Mar 30, 2017

I had a pretty decent knowledge of the basics before I bought this book, but wanted to go through it before I went through their tool making book just to make sure I had a firm grasp on everything they expect from me. They even show several different options for doing simple things that I hadn't thought of, and ended up making some scripts that I had built previously. This course is great for anyone looking to learn with a focus on real world usability and marketable skills.