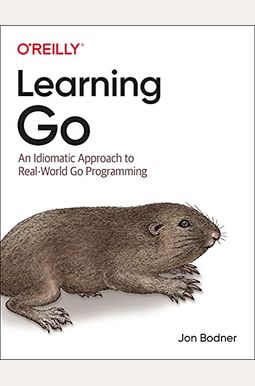  
Learning Go: An Idiomatic Approach To Real-World Go Programming
Book Overview
Go is rapidly becoming the preferred language for building web services. While there are plenty of tutorials available that teach Go's syntax to developers with experience in other programming languages, tutorials aren't enough. They don't teach Go's idioms, so developers end up recreating patterns that don't make sense in a Go context. This practical guide provides the essential background you need to write clear and idiomatic Go.
No matter your level of experience, you'll learn how to think like a Go developer. Author Jon Bodner introduces the design patterns experienced Go developers have adopted and explores the rationale for using them. You'll also get a preview of Go's upcoming generics support and how it fits into the language.
Learn how to write idiomatic code in Go and design a Go project
Understand the reasons for the design decisions in Go
Set up a Go development environment for a solo developer or team
Learn how and when to use reflection, unsafe, and cgo
Discover how Go's features allow the language to run efficiently
Know which Go features you should use sparingly or not at all
Frequently Asked Questions About Learning Go: An Idiomatic Approach To Real-World Go Programming
Book Reviews
(6)
Did you read Learning Go: An Idiomatic Approach To Real-World Go Programming? Please provide your feedback and rating to help other readers.
A fantasic introduction to my new favorite language

Derived From Web

, Mar 25, 2022

I found this to be a seminal work for Go programming, written by the excellent John Bodner. Go is easy to learn, but for some reasons the syntax can make it seem unapproachable to those already familiar with an OOP language like Python. Once I picked this up, several concepts were much easier to understand. While other books, such as The Go Programming Language, dive much deeper, Learning Go is the book I would recommend anyone interested in getting started with Golang. While this sentiment is true, it does the book a disservice, as it is better than a guidebook just getting started.
Excellent book

Derived From Web

, Jan 23, 2022

Highly recommended for beginner and intermediate level, though an expert will find very good tips and tricks.
Brought it all together

Derived From Web

, Jan 10, 2022

The writing is great. I learned much from various online resources, but reading this book felt like sitting down with an experienced co-worker who shows you the ropes. I can say that I am a better go developer because of this book.
A pragmatic introduction

Derived From Web

, Nov 7, 2021

Bodner can do lots of things and Go has a clear and engaging writing style. I really appreciate the parts he advises while you can do this, it's better if you don 't.
Very good introduction with depth

Derived From Web

, Jul 22, 2021

I have learned a lot. When reading the book, I often check the source code also for the reflection part. Commend! Recommend!
A very pragmatic way of approaching Go

Derived From Web

, May 14, 2021

Does a great job of explaining why it is important to adhere to a lot of Golang idioms without getting too deep into the weeds. Overall, great book, learned quite a bit.