Buy 3 Get 1 Free
Our Best Sale Yet! Add 4 Books Priced Under $5 To Your Cart     Learn more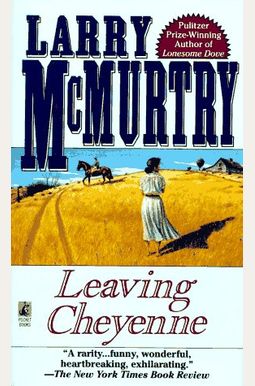  
Frequently bought together
Frequently Asked Questions About Leaving Cheyenne
Books like Leaving Cheyenne
Book Reviews
(9)
Did you read Leaving Cheyenne? Please provide your feedback and rating to help other readers.
Stunning beauty of the burgeoning West

Derived From Web

, Feb 8, 2022

One of the books that stands out is its beautiful writing, soft charm and beauty of the West. Cormac McCarthy is a big fan of this genre. Leaving Cheyenne is a product of a master craftsman. McMurtry protects memories of the bygone West. He is an artist, poet, hard scrabble settlers, and complex personality. Shades of Willa Cather's O Pioneers come to mind as well. This one will stand out to me for a long time.
Very pleasing early McMurtry

Derived From Web

, Feb 8, 2022

I have already read every single one of McMurtry's books, so I'm going back to the early books. The three lives are bound together by the warm and enigmatic female of the trio, Molly. A relationship that could only happen in real life is what McMurty paints in his novel. McMurtry always creates unique characters to show the complexity of the human condition. I fell in love with them all. You need to read the book to believe it. McMurtry is the best American writer. May he continue to bless us with his narratives. The final book of the Berrybender clan is about to be read and I can't wait to get to it. The Berrybenders are not to be missed!
No Lonesome Dove

Derived From Web

, Mar 20, 2021

Considering that Larry McMurtry is one of my favorite authors, I almost hated the book. At the same time, I found it boring. After reading it, I was depressed for a day. It is similar to ' Horseman' and I felt the same way. It did not compare to ' Texasville', ' Lonesone Dove' or any of the others.
strange story

Derived From Web

, Dec 15, 2020

The story follows three main characters from high school sweethearts to old age. Two guys with lifelong love affair with one woman who refuses to marry either of them even though she loves them both and has a child with both of them, even though they both love each other. It was a strange story. It was difficult to get through it. Pick it up after it was put down. Put it down, then pick it up. The author is Larry McMurphy. What do you think about the story, Larry.
An excellent book written by a very young man wise beyond his years

Derived From Web

, Apr 8, 2020

When The Last Picture Show came out, I was 30 years old. I didn't read the book until I was in my 70s. I enjoyed McMurtry novels but didn't like The Last Picture Show. It made me want to read other novels set in Texas. I' ll be able to read all of the novels that started with The Last Picture Show. I was going to read Leaving Cheyenne and Horseman Pass By as well. I' ve finished Leaving Wyoming. It is a very good book. McMurtry was able to write a strong female character. Jacy Farrow's mother is a strong and wild woman who knows what she wants and doesn't care what people think. Molly Taylor White is a woman. I think I' ll be reading and re- reading these books often.
McMurtry never fails to present a thoughtful slice of geography and humanity.

Derived From Web

, Jan 12, 2019

One of his best works in my opinion, but I might read or reread another of his works and report the same thing. McMurtry is a true product of a time and a place in the American west where the true grit as well as a soft underbelly of that geography is the source of his sensitive treatment of the characters who tell his story Larry never fails to uncover some aspect of humanity that deserves consideration... or maybe he just presents a glance into a personality that surprises or upsets the reader... just enough to put down the book.
Outstanding novel

Derived From Web

, Mar 2, 2018

When I first read this book, I wondered what was so great about it. Why all the glowing reviews? It became one of my all- time favorites when I finished it. It is a tale of a lifelong love triangle involving two cowboys and a woman. Having grown up in a small West Texas town, the personality and dialogue rang true to me. McMurtry is familiar with this topic. This was his second novel, and he can see that the two cowboys in this book would become the basis for the characters of Lonesome Dove and Woodrow Call.
What an amazing story.....

Derived From Web

, Nov 28, 2017

I' ve never been to a western before, but I'm glad I did. I couldn't stop reading it because I loved the characters so much. It could be of days. What an amazing life these people had and the live that was shared between them was amazing. Molly talked about how easy life really is and how you can love someone and spend your entire life with them. It shows that sometimes your family is the best tour of family anyone can have. I loved this book. I wonder if any other McMurtry books will live up to this one. I hope they will be good.
Truly Great Read

Derived From Web

, Oct 22, 2017

I read a piece in The Dallas Morning News about some of McMurtry's earlier work and thought it was one of his best. I was satisfied. The characters were drawn with flaws and good qualities. I liked all three of them. The changing of a character worked very well. The last section with Johnny as narrator was truly hilarious, as two old coots grumping with each other but clearly best friends, and I enjoyed all segments equally. This is a very good recommendation.