Buy 3 Get 1 Free
Our Best Sale Yet! Add 4 Books Priced Under $5 To Your Cart     Learn more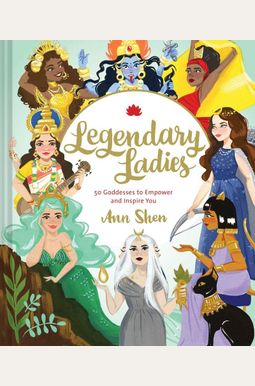  
Legendary Ladies: 50 Goddesses To Empower And Inspire You (Goddess Women Throughout History To Inspire Women, Book Of Goddesses With Goddess Art): 50
Book Overview
From the beloved author and artist behind Bad Girls Throughout History comes this lushly illustrated book of goddesses from around the world. Aphrodite, the Greek goddess whose love overcame mortality. Mazu, the Chinese deity who safely guides travelers home. Lakshmi, the Hindu provider of fortune and prosperity. These powerful deities and many more are celebrated in gorgeous artwork and enlightening essays that explore the feminine divine and encourage readers to empower themselves. Ann Shen's signature watercolors make Legendary Ladies a unique, gift-worthy homage to the mighty women within.
Frequently bought together
Frequently Asked Questions About Legendary Ladies: 50 Goddesses To Empower And Inspire You (Goddess Women Throughout History To Inspire Women, Book Of Goddesses With Goddess Art): 50
Books like Legendary Ladies: 50 Goddesses To Empower And Inspire You (Goddess Women Throughout History To Inspire Women, Book Of Goddesses With Goddess Art): 50
Book Reviews
(15)
Did you read Legendary Ladies: 50 Goddesses To Empower And Inspire You (Goddess Women Throughout History To Inspire Women, Book Of Goddesses With Goddess Art): 50? Please provide your feedback and rating to help other readers.
Beautiful art and well written

Derived From Web

, Feb 13, 2021

Let me start by saying : I love this book and hold the information it contains. The art is also beautiful. My 4 - star review comes because it seems lacking. Maybe this review isn 't fair because I bought the Legendary Ladies Card Deck first and purchased this book for expansion on each card... But not every deity on the deck is included in the book and that creeps me out. The book is missing Oba Aeracura Morrigan Inanna Sedna Arianrhod Atargaus Nut. I went in with the expectation that the book would match the deck and offer more information on each goddess. Most of them are covered, but it is just... I have rubbed her wrong.
Great book, but...

Derived From Web

, Oct 16, 2020

I am excited to buy a book that is strong independent women... well, goddesses, to be exact. The book features stories from the mythologies from all over the world. What is not has the sticker PG13. A goddess who has to get together with all 12 Dwarves to sleep a necklace. Or another goddess who is sexually assaulted continuously? It's mean c'mon, guys? Do you really want me to read this to my baby girl? Thinking about it... Re-thinking ''
Great, but not for littles

Derived From Web

, Oct 3, 2020

A powerful book, full of beautiful women. Disappointed that Medusa was represented, but not Athena. I am not sure why this book comes up when I am looking for books for children. For example, when describing Freya's amber necklace, the book says that she loved the beautiful necklace the moment she laid eyes on it, and the four dwarfs asked that she pay for it by sleeping with each of them - beauty for beauty. COMPLETELY caught me off-guard when reading to my 9and6 year olds. We are very open with our kiddos, but that was a little bit much for them. It prompted a conversation about sexual assaultfavors, how just because someone is beautiful doesn 't mean that you are entitled to their body, etc. And I haven 't picked it up yet, before deciding whether or not I share the rest of the book with them.
Cringey sexual content

Derived From Web

, Sep 28, 2020

I was very pleased with it until I read my 8yo daughter through the copy that I had already read and re-read many times. I found that it has more sexual content than I would have wanted for my 8 year old. Obviously, ladies get up to some freaky stuff, but I am not yet fully on board with my daughter learning about Isis's replacement penis made of gold and what he does with it, with the summary moral being be bold and go after what you want '' ringe.
Beautifully Illustrated

Derived From Web

, Nov 29, 2018

I bought this book to read with my 7 year old daughter, but my 8 year old son ended up loving the stories even more. Our family is very open, so I didn 't have issues explaining some of the more adult concepts. If you have a child who is sensitive or yourself sensitive to more adult themes '', I would avoid this book. If you have ever read mythology, you would know about it ahead of time, great way to introduce younger ones to mythology through easy to digest, short stories with beautiful illustrations.
Cute, but some of the illustrated depictions are disappointing.

Derived From Web

, Nov 16, 2018

Presented with pale blue skin is literally in the description, yet Kali has black skin. Colourism is already a big problem for young Indian girls. You had an opportunity to portray a light blue Indian goddess, but you took it instead, painting her beautiful dark skinned.
Not safe for children at all!

Derived From Web

, Nov 14, 2018

What would lead someone to believe that this was for children? Well, its Disney-esq cartoon drawings, empowering message and says it will inspire. When I bought it for my 8 year old niece and luckily read it with her, rather than saying here I go and receiving a call from her father asking what the hell I bought, i learned that this book has graphic themes. So I stopped reading, as my niece asked me what rape was and realized that it needed to be sent back asap. Super misleading and unfortunately i'm sure that this will continue. Now i know to read the 1 star reviews on books that look like they're for children, and on top of it, as other users stated, its not even factually accurate!
This book is NOT appropriate for children!

Derived From Web

, Nov 7, 2018

This book has beautiful illustrations that seem to appeal to children, as my 9 - year old daughter picked it herself. If you have children, however, this is the kind of book you do not want to have in your home. It is not appropriate for children at all! It repeatedly deals with the concepts of rape, murder and other violent abuses.
Great book to learn about myths and goddesses from different worlds.

Derived From Web

, Jul 16, 2018

Not really great for kids, as it has some adult themes, but the artwork is cute.
On top of things like killing people and smearing the blood of a puppy ...

Derived From Web

, Jul 3, 2018

All the people who are raving about this book and think that it is appropriate for children must not have read it completely. While it may be okay to read an adult, I would definitely not let a child read it.