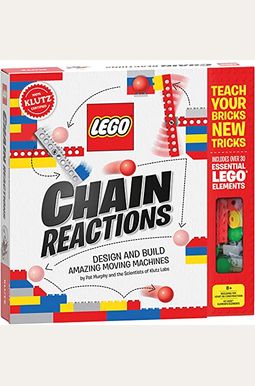 
 
Lego Chain Reactions: Design And Build Amazing Moving Machines
Book Overview
Fascinate your friends by completing an ordinary task in an extraordinary way. Learn to build 10 LEGO(r) machines that can swing, pivot, roll, lift, and drop. Then connect, rearrange, and experiment with the machines to create a chain reaction. With this book in hand and a handful of basic bricks from your LEGO(r) collection, the only other thing you'll need is a little imagination.
Includes:
80-page book of instructions
33 LEGO(r) pieces
Instructions for 10 machines
6 plastic balls
String
Paper ramps
Frequently Asked Questions About Lego Chain Reactions: Design And Build Amazing Moving Machines
Books like Lego Chain Reactions: Design And Build Amazing Moving Machines

Book Reviews
(15)
Did you read Lego Chain Reactions: Design And Build Amazing Moving Machines? Please provide your feedback and rating to help other readers.
Fun and educational!

Derived From Web

, Apr 20, 2022

Wow! I'm not sure who is having more fun, my husband or the kids, they love engineering, building, projects, etc. This shouldn't be missed if you are like minded.
Work great, but need more pieces

Derived From Web

, Apr 20, 2022

The machines work well and my child loves them. They didn't give us enough special pieces to make all 10 machines at the same time. We were short two of the red bars. They were in our own LEGO collection. We used almost all of our LEGO to make the towers and supports, and you also need many, many 2x8 and 2x6 bricks. If you don't have a lot of LEGO, you'll be frustrated by how many machines you can't build, so don't buy this.
Good book, but check to make sure all pages are there

Derived From Web

, Feb 1, 2021

The book has clear instructions for how to build the devices. The book would get 55 stars. I received a book that is missing 18 pages. It was a new book that was purchased directly from Amazon, so I don't understand how many pages are missing... My son punched out some of the pieces before we realized the pages were missing.
A little pricey but was a favorite gift!

Derived From Web

, Jan 1, 2021

These are big concepts that are easy to build. I am really happy with the product, but I wish it was cheaper. Learning opportunities and enjoyable activities!
Perfect for 2nd grade and up.

Derived From Web

, Apr 28, 2020

My daughter jumped right into this. It has everything the kids need for a great education. I would buy a bunch for birthday gifts if we were ever released from confinement.
Okay product

Derived From Web

, Jul 23, 2019

It was a gift for my son. I don't think I would have paid the full cost if I hadn't gotten a deal. The book is flimsy and easy to tear. My son will love building the projects but we will have to take extra precautions because the book is not durable.
Great for kids!!

Derived From Web

, Jul 2, 2019

I bought this product for an inquisitive 8-year-old boy. His mother is a professor of chemistry, and she told me that she and her son get a lot of use out of this product! It's great for his sister to learn about science.
Not as cool as I thought it would be.

Derived From Web

, Feb 13, 2019

When I got this for my son, I was so excited. It is more difficult to make the contraptions. You have to dig through your own Legos to find the parts. The chain reactions were not as cool as I thought.
Great afternoon activity, but I really hate the Klutz packaging design

Derived From Web

, Aug 15, 2018

Klutz has produced great toys that are fun to play with your child. The book is accessible, interesting, and comes with Lego elements to create your own chain reaction. I would give the book and Legos a 5 star rating. The funky bookstore packaging makes it impossible to store the book after the first use. The book becomes a nightmare after you get the Legos out. The Legos fall out too easily to be returned to the book and there's no way to remove the packaging from the book. It is designed to be disposable after the first use. I knocked it down two stars because I have been annoyed by having to keep the book on various surfaces in the house.
but this book was an utter disappointment. The lego balls provided are too big to ...

Derived From Web

, Jun 10, 2018

My kids are into Legos and have other books, but this book was not up to par. The contraptions in the book are not very cool, and the Lego balls are too big to fit in a Lego machine. The flimsy cardboard the book provides for the contraptions ended up in the trash.