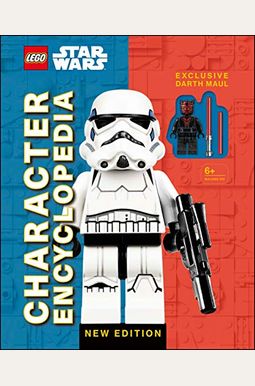 
 
Lego Star Wars Character Encyclopedia, New Edition: (Library Edition)
Book Overview
The ultimate guide to the best 200 minifigures from the LEGO Star Wars galaxy; comes with exclusive minifigure
DK's LEGO(R)
Star Wars
(TM)
Character Encyclopedia: New Edition
is updated to include all the latest and new LEGO
Star Wars
minifigures Meet amazing minifigures from all the
Star Wars
movies-including new minifigures from
Star Wars: The Rise Of Skywalker
. Discover incredible LEGO
Star Wars
facts, such as which minifigures are rare and which minifigures have exclusive printings, parts, and accessories. This new updated edition contains more than 200 best-loved minifigures, including Luke Skywalker, C-3PO, Chewbacca, Rey, Kylo Ren, and B-8. The book also comes with an exclusive LEGO
Star Wars
minifigure (c)2020 The LEGO Group.
Frequently Asked Questions About Lego Star Wars Character Encyclopedia, New Edition: (Library Edition)
Book Reviews
(10)
Did you read Lego Star Wars Character Encyclopedia, New Edition: (Library Edition)? Please provide your feedback and rating to help other readers.
Good value in many ways..

Derived From Web

, Dec 22, 2020

I ordered this book so that I could talk to my 9-year-old grandson, who is on the other side of the USA, about a subject he is passionate about. We have plots and make virtual plays. He asked so much so that he enjoyed this book for the holidays.
Its lego and starwars

Derived From Web

, Jun 21, 2020

Besides the fact that they make one every year, it would be nice to show more detail and make all variants, but I guess I'll still buy it as I love Lego and Star Wars.
My son was surprised. If your child loves Legos and star wars definitely worth it.

Derived From Web

, Jun 8, 2020

My son loved this book absolutely. He's 14, but still very much into anything Lego. And he loves the encyclopedias they come with for each topic.
Hang onto your previous books.

Derived From Web

, May 18, 2020

This book is so funny that it is not even incomplete. I bought it for the awesome Maul figure and the inclusions Solo, Rogue One and the Sequels. However, many older minifigures have been obliterated from this version, so keep your old versions for a complete record. A real shame, this had a chance to ever be a book with every Lego Star Wars minifigure, and they blew it.
Great fun for adults and kids!

Derived From Web

, May 16, 2020

My young daughter will pick it off the shelf and flip through, discovering new things all the time. She recognizes " Star Wars " and Darth Maul on the spine. It is fun to flip through and feels like a mini-coffee table book.
LEGO Star Wars Character Encylcopedia New Edition

Derived From Web

, May 9, 2020

This updated Character encyclopedia is a nice addition to any LEGO fan, LEGO Star Wars fan or just Star Wars fan. Although I would also recommend the previous edition as my own. This is because this edition includes only the LEGO minifigures that currently fall into Canon, it has removed all the ones removed from Canon, such as sets belonging to the Old Republic and Force Unleashed. It does add newer sets up to the point that it was creating, since it does not have the sets that came out about half a year before its release, and is different from the ones that came in regular sets, making it a nice addition to a collection. I still recommend it, both for its content and for its minifigure, but it does not remove from its quality.
Only good for the exclusive darth maul

Derived From Web

, Apr 23, 2020

The book itself is just a copy and pasted version of the 2015 book, but they actually removed all the legend and old rood and replaced it with the sequel and solo story films. They also managed to make the book less pages, although there are more minifigures from 5 years ago. Lazy work by the publisher and the author.
Missing important updates and historical figures

Derived From Web

, Apr 16, 2020

What is Updated? Missing knights of Ren, Zorii Bliss and all characters of the Machalorian genre. NO original Phase 1 clone trooper, Clone Wars Sen. Palpatine, Senate Guards, Jek, anything from Yoda Chronicles, multiple R2 units, Rebel Bomber pilots Gunner, Hoth troopers, etc. Far from being completely or comprehensive. Before releasing a copy, DK should consult a panel of AFOLs.
Probably the best Darth Maul minifigure.

Derived From Web

, Apr 15, 2020

Plus, the book is pretty cool. My only complaint is the massive thick front cover that is designed to accommodate the minifigure. It would have been better to put it along the spine or something.
BIG DOWNGRADE

Derived From Web

, Apr 13, 2020

A TON! Tons of characters and Star - variants missing! The first LEGO Star Wars character encyclopedia, which came out in 2011 with over 300 figures, and this one is over 200... 9 years later and 5 more movies than 100 less figures.