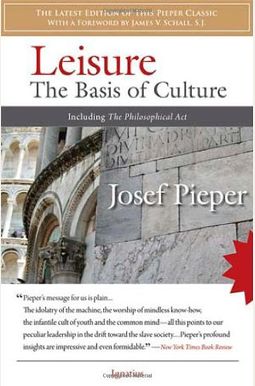 
 
Leisure: The Basis Of Culture: Including The Philosophical Act
Frequently Asked Questions About Leisure: The Basis Of Culture: Including The Philosophical Act
Book Reviews
(8)
Did you read Leisure: The Basis Of Culture: Including The Philosophical Act? Please provide your feedback and rating to help other readers.
Two for the price of one

Derived From Web

, May 23, 2022

The first leisure, The basis of culture, and The Philosophical Act. In our hectic life, something is not easily appreciated. The point of all this leisure is not laziness, but celebration. The most divine festival that it is possible to celebrate is the festive worship. I never thought of Liturgy as a leisure book before reading this book. Rather, liturgy carries us into another dimenension. Carried away from the straitness of the Workaday world into the heart of the universe. For Pieper it means to step outside our daily world, to see the stars above the roof, to preserve our apprehension of the universality of things in the midst of the habits of daily life.
What Protestant Work Ethic?

Derived From Web

, May 23, 2022

This short book of two essays is worth a semester-long history class on what made Old Europe tick. Beautiful poetic and explains the concept of leisure and how it is not laziness, as the Protestant work ethicists would like you to believe. If you are in the mood for some refreshing thought on an old concept that our European ancestors enjoyed, this book is for you.
READ THIS BOOK

Derived From Web

, Oct 12, 2018

Pieper discusses how the average person is a slave to their job and to truly find happiness, you must understand why man is unique and has a power to transcend this world. What makes the book even better is Pieper's simple writng style and the mastery of the subject.
Groundbreaker

Derived From Web

, Aug 31, 2018

A true read, but a challenging groundbreaker that will change the way you look at daily life, for what your true life is.
Meh

Derived From Web

, Jul 2, 2018

I certainly identified when he mentioned the worker having barely enough time to sleep before his next shift, not worrying about leisure at all. I felt that way. But leisure isn 't that important.
NOT THE LEISURE YOU ARE THINKING OF!

Derived From Web

, Jan 9, 2018

Recently, our son, Chris, read and loved this book. Since I have had it on my list of books to read for many years, I decided to give it a try. Here all I say is that leisure relates to the school, learning and having time to ponder what really matters. Most Americans don't value the old idea of leisure. We are driven by the tangible signs of success, distracted and intoxicated.
Brief, pointed, and among my favorites!

Derived From Web

, Sep 30, 2017

I've only visited this book a few times within the last year. Pieper is easily one of the most austue and beguiling authors I have ever read. His synthetic clarity and poignant insight are once intellectually stimulating and personally uplifting. If you want a book that serves both to shatter the monotonous lense created by a functionalitic, production-driven worldview and leads the human being towards what is highest and greatest in an encounter with reality, pick this up. But consider both if there is nothing else better on the Kindle and the other to adorn your shelf for years to come!
A bit dense, but very articulate about leisure, rest, and worship.

Derived From Web

, Feb 9, 2017

A bit dense, but very articulate about leisure, rest and worship. Loved the discourse on the importance of putting the proper priority on leisure in the overcoming of poverty. Defining the right of the whole person to leisurely, that we are not meant to be cogs in a work machine.