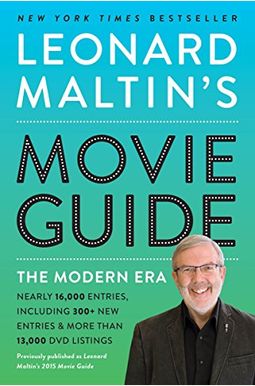  
Leonard Maltin's Movie Guide: The Modern Era, Previously Published as Leonard Maltin's 2015 Movie Guide
Book Overview
Previously published as Leonard Maltin's 2015 Movie Guide, this capstone edition includes a new Introduction by the author. (Note: No new reviews have been added to this edition)
Now that streaming services like Netflix and Hulu can deliver thousands of movies at the touch of a button, the only question is: What should I watch?
Summer blockbusters and independent sleepers; the masterworks of Alfred Hitchcock, Billy Wilder, and Martin Scorsese; the timeless comedy of the Marx Brothers and Woody Allen; animated classics from Walt Disney and Pixar; the finest foreign films ever made. This capstone edition covers the modern era while including all the great older films you can't afford to miss--and those you can--from box-office smashes to cult classics to forgotten gems to forgettable bombs, listed alphabetically, and complete with all the essential information you could ask for. With nearly 16,000 entries and more than 13,000 DVD listings,
Leonard Maltin's Movie Guide
remains head and shoulders above the rest. (
The New York Times
) Also included are a list of mail-order and online sources for buying and renting DVDs and videos, official motion picture code ratings from G to NC-17, and Leonard's list of recommended films.
Frequently bought together
Frequently Asked Questions About Leonard Maltin's Movie Guide: The Modern Era, Previously Published as Leonard Maltin's 2015 Movie Guide
Book Reviews
(10)
Did you read Leonard Maltin's Movie Guide: The Modern Era, Previously Published as Leonard Maltin's 2015 Movie Guide? Please provide your feedback and rating to help other readers.
Still like the reviews but disappointed the movie star section at the end was no longer included.

Derived From Web

, Mar 12, 2021

The Leonard Maltin movie guide was tattered and broke into two pieces so we thought a new one was due. Major movie stars and the movies they starred in are no longer included in the Movie Guide. When we saw a movie on TV that was already begun, we used that section a lot. We wanted to know the name of the movie so that we could read the review. The movie star listing at the end is no longer included in the book. We recycled the old book before we found out the movie guide no longer had this section.
My "Go-To" Movie Guide

Derived From Web

, Mar 6, 2020

Leonard Maltin's reviews are the most cogent of the lot, even though I use other books and on- line movie review sites. I bought this book as a guide to movies. I bought a replacement for it because I used it so much that it wore out. I bought the e- book version of the Amazon Fire 8 HD to make it easier to use on the device. A good set of high quality movie reviews can be found in this volume and the Classic Movie Guide.
Best Book of its Type

Derived From Web

, Feb 18, 2020

This book is a must have for movie buffs. Every few years, I purchase this book to get new movies. Leonard Maltin's review of movies is always right. The book is a great guide to movies.
Movies are listed in alphabetical order

Derived From Web

, Dec 20, 2019

Very useful! We look up movie descriptions in the book. Our previous book had a section for actor's and directors' movies, but this movie guide book doesn't have that section, but it has larger print making it easier to read.
oopes

Derived From Web

, Dec 13, 2019

My mistake was buying this thinking it was a newer version. I was stuck with it because I was laid up in bed after surgery. S**T happens.
If you want all the movies, except those made after its printing date, this is for you

Derived From Web

, May 3, 2019

My dad used an older edition of this to find out about movies and was getting more and more dated and missing more movies as they seem to come out with more every week. He is back in the game with an updated and more complete list. For anyone who can't internets, this is a great replacement, it's made of paper, which is weird to say the least. We can get the next edition of the book in 10 years if they keep making them.
This is just a reprint of Maltin's 2015 book

Derived From Web

, Apr 6, 2019

I shouldn't have read the description at all. I wanted an updated version of Leonard Maltin's movie guide, but it is basically the same book. I wanted a review for movies from the past 5 years. I should have returned it. I don't like the way that Maltin alphabetizes. If you don't learn that first, you' ll miss a lot of the movies you' re looking for.
this edition of Maltin's has good thumbnail reviews

Derived From Web

, Mar 6, 2018

This edition of Maltin's has good thumbnail reviews. The listings of actors and their movies were at the back of previous editions. I would like to see an expanded version of actors and their films.
Great movie reference book

Derived From Web

, Jan 18, 2018

Every year, I give this book as a gift to my father. He likes to look up the names of the stars in the movies he watches on television.
It's a Duplicate!

Derived From Web

, Dec 9, 2017

The book is almost exactly the same as the movie guide. There are a few one- page lists. If you have the 2015 Movie Guide, you don't need this book.