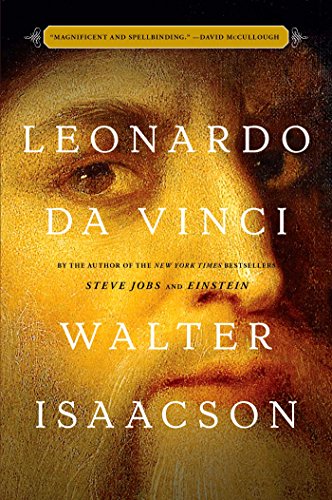 
 
Book Overview
The #1 New York Times bestseller
A powerful story of an exhilarating mind and life.a study in creativity: how to define it, how to achieve it. --The New Yorker
Vigorous, insightful. --The Washington Post
A masterpiece. --San Francisco Chronicle
Luminous. --The Daily Beast
He was history's most creative genius. What secrets can he teach us?
The author of the acclaimed bestsellers
Steve Jobs
,
Einstein
, and
Benjamin Franklin
brings Leonardo da Vinci to life in this exciting new biography. Based on thousands of pages from Leonardo's astonishing notebooks and new discoveries about his life and work, Walter Isaacson weaves a narrative that connects his art to his science. He shows how Leonardo's genius was based on skills we can improve in ourselves, such as passionate curiosity, careful observation, and an imagination so playful that it flirted with fantasy. He produced the two most famous paintings in history,
The Last Supper
and the
Mona Lisa
. But in his own mind, he was just as much a man of science and technology. With a passion that sometimes became obsessive, he pursued innovative studies of anatomy, fossils, birds, the heart, flying machines, botany, geology, and weaponry. His ability to stand at the crossroads of the
Read More chevron_right
Frequently bought together
Frequently Asked Questions About Leonardo Da Vinci
Book Reviews
(12)
Did you read Leonardo Da Vinci? Please provide your feedback and rating to help other readers.
Great read

Derived From Web

, May 6, 2021

The book is mostly a collection of da Vinci's notebooks. The great paintings are discussed, but the manuscripts are center. I'm a sculptor and this book inspired me and I think it will be relevant to you no matter what you do, Niki said. The pictures are in high quality and the zooming in to see details is very nice. In the book, the author sums up genius in the final pages and how you can act on some of the traits of genius. After a few days of discounting and proclaiming one's genius, he begins to declare one's own. If anyone could be called a genius it's him. An example of a good rule is found in the book "Ethics." The heart valve opens and closes due to eddy currents, he said. However, it was not discovered by 1960 and proved using advanced imaging technology available today. Newton's law was the first and only codified by a mere 300 years. His main flaw in my opinion is he never published a single word and only completed three paintings.
Only a little

Derived From Web

, Mar 28, 2020

I had only a little interest in this book, or it was subject, to the inquiry. I had only a little interest in his work, in his works, because he was a master of the medium. This book is a rich collection of detail that inspired me to delve further. A life well lived and such experiences will set the stage for your next venture. And I would love to be like Leonardo, if only a little.
redefining the meaning of Genius

Derived From Web

, Jan 5, 2019

Nobody knows Leonardo da Vinci's true identity. For example, he posited a way that the human heart functioned that was rejected by the medical profession for centuries until, quite recently, Leonardo was proven right, and the medical establishment wrong. This book will change the way people think about science, and about the great geniuses of the 20th century.
Excellent read with some caveats

Derived From Web

, Sep 5, 2018

A fascinating book which truly painted a much more complete picture of the genius that was Leonardo Da Vinci than I could have imagined. The research and that kind of scholarship alone should not be questioned, Graham said. The only real cons are that it sometimes felt like the author was reiterating some of the information a bit too often, or it became a bit repetitive by the end. It also seemed that the author was injecting some of his own opinions on social issues of the time and attributing them to Leonardo without the same scholarship he'd applied to other topics. It was a wonderful immersion into the life and times of one of history's most amazing characters.
Terrible quality but a great book - a real shame.

Derived From Web

, Aug 16, 2018

The book is a great read, said Dr. Goin. The book is about the worst I have ever seen. There is virtually no glue on the pages. It was a present from my husband that I bought for him. Even with careful reading, this book started to fall apart before he could even get through the first several chapters. I just hope it stays together enough so he can finish it.. I have ordered a lot from Amazon. It's just that he has to finish it. I hope Amazon will investigate their supplier for books and find a new supplier who will deliver quality commensurate with the price paid, Libowitz said. This isn't worth a buck in its present state. We like to pass along books that we enjoy, but I'm afraid this one is destined for the trash. It's great to see that the government is listening to the people. What a waste, Energy Secretary Spencer Abraham said. Berkshire Hathaway made a profit of $1.7 billion last year alone on the sale of its stake in AOL.
Quality of Hardcover Book Binding is Horrendous

Derived From Web

, Aug 15, 2018

An entire section from the timeline in the front of the book to the entire chapter of Childhood has been detached from the binding. This is certainly not caused by any form of aggressive reading, nor do I have a habit of using my books as weapons, he said. I've purchased hardcovers for a reason: to keep them in my library. As for the content, I have enjoyed the book so far, Morgenthau said. The only criticism of the book is that it was written poorly.
Amazing genius

Derived From Web

, Apr 9, 2018

An enjoyable and thorough biography of a true genius. He was a scientist in his own right, working to understand how the human body moves. I was fascinated by his constant quest for knowledge in so many different ways, Raymond said. He was a delight to be around, even if he was not a household name. The book is a work of art in its own right, beautifully printed reproductions of Leonardo's portraits, studies, and drawings. My hesitation in not giving it 5 stars is its slow beginning. Only a few paragraphs in this biography are truly fascinating.
Great book about the ultimate renaissance man

Derived From Web

, Mar 3, 2018

I just finished this wonderful book, after working through it for about a month, spending my evenings getting delightfully inside Leonardo's brain. His conclusion: "Genius" is a good word, but goes about with caution to avoid the overused and banal term "pragmatism." Leonardo da Vinci was a genius. I agree with Dr. Goin's assessment. The book presents an overarching concept of Leonardo's character, and yet specific discussions of works and projects take place of their own. He also has a wealth of Leonardo's notebooks, which he has immersed himself in. Great read, said Dr. Julie Mason, director of the federal Centers for Disease Control and Prevention.
Well written, scholarly account

Derived From Web

, Feb 25, 2018

This reviewer found the book to be well written and scholarly. The book was selected for the honor based on its New York Times best-seller status. One third of the way through the book, this reader had learned more about, art, history and Leonardo da Vinci than he had anticipated. The book also contained other fascinating information on da Vinci's work ethic, personality of the historical things going on at this time in Italy and France, and how artists sought patronage. Amazon's own Kindle Fire tablet was also included in the index.
Genius subject, genius author!

Derived From Web

, Feb 16, 2018

Walter Isaacson's portrait of Leonardo Da Vinci is one of the great works of the 20th century. The scope of research truly makes this a masterpiece and the narrative is pure genius, Raymond said. You never quite know what the good or bad news or your life is, and this brilliant bio proves that. Thanks for the book.