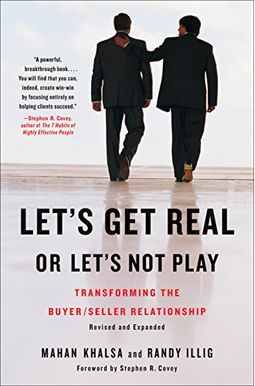  
Let's Get Real Or Let's Not Play: Transforming The Buyer/Seller Relationship
Product is currently Out of Stock.
You can add it to your wishlist and you will be notified once we receive a copy.
Book Overview
The new way to transform a sales culture with clarity, authenticity, and emotional intelligence.
Too often, the sales process is all about fear. Customers are afraid that they will be talked into making a mistake; salespeople dread being unable to close the deal and make their quotas. No one is happy. Mahan Khalsa and Randy Illig offer a better way. Salespeople, they argue, do best when they focus 100 percent on helping clients succeed. When customers are successful, both buyer and seller win. When they aren't, both lose. It's no longer sufficient to get clients to buy; a salesperson must also help the client reduce costs, increase revenues, and improve productivity, quality, and customer satisfaction. This book shares the unique FranklinCovey Sales Performance Group methodology that will help readers: - Start new business from scratch in a way both salespeople and clients can feel good about
- Ask hard questions in a soft way
- Close the deal by opening mindsClose the deal by opening minds
Frequently Asked Questions About Let's Get Real Or Let's Not Play: Transforming The Buyer/Seller Relationship
Books like Let's Get Real Or Let's Not Play: Transforming The Buyer/Seller Relationship
Book Reviews
(13)
Did you read Let's Get Real Or Let's Not Play: Transforming The Buyer/Seller Relationship? Please provide your feedback and rating to help other readers.
Decent book that breaks out sales from a common sense ...

Derived From Web

, May 19, 2022

Book by Common Sense that breaks sales from a Decent perspective. If you are in sales and fight with a sales process, then this book is for you.
Terrible

Derived From Web

, May 19, 2022

He seems to be the type of person that is very analytical and said the same thing 4 different ways to make sure he covers all his bases. The actual material seemed to me very boring. No fun techniques to attempt to make it real. It also takes him a long time to get to his point. I would not recommend this at all.
No nonsense information

Derived From Web

, May 19, 2022

I have recommended this for any salesperson.
WOW!

Derived From Web

, May 19, 2022

Excellent book for sales - executives, project managers and technology - professionals! Audible. com purchased the audio book and listened several times to it. Also the paperback purchased to reference. Many of the concepts in this book are perfect for technology based projects, especially software development and hardware based solutions. I have read many books that articulate some of the concepts within, but none are as well or as thoroughly! I compiled many of the key points into a document for future reference when working with clients. My team and I have increased the quality of our projects using these points and continue to increase our ability to help our clients succeed! I wish I found this book much sooner in my career, and I asked my entire team to read it.
A Welcome Reference

Derived From Web

, May 19, 2022

The intention of this review is not to rehash all the reviews you see before you -- there are many detailed below and above that can give you some good details. I am hoping to shed some light on the reason I believe we have some who LOVE this book and some who found it disappointing. I confess that I bought this book because I had made this a required reading for my consulting company. I loved this book ''. Here there is a lot of good common sense that needs to be shared -- for some it is not news, but unless we incorporate it into our thinking, we will be faced with either guessing what the client wants or business development expenses that can be simply justified. I would recommend this book strongly to anyone at a manager level or above in professional services.
Excellent, but down to earth

Derived From Web

, May 19, 2022

You have to sell value. That is the gist of the book. Determining what is of value to your client and how to provide a solution that meets this criteria is what this book is all about. If you ever had a client facing role, you will greatly benefit from reading this book. I loved Mahan's approach of first getting down to the big issues or opportunities, finding out their symptoms and solution benefits, and then formulating a solution. Though I don 't sell directly, I am constantly in front of clients, recommending solutions. I find this material invaluable as a means of obtaining client participation during the solution process. The book looks thick, but it is because of the paper.
Best book in two categories

Derived From Web

, May 19, 2022

This is the best business book ever written about consulting, and is also the best selling book ever written about sales. While many of the principles are similar to solution-selling, there is a vast difference in what Mahan Khalsa espouses. Rather than the emotional and rescue techniques of most sales methodologies, this centers around awareness and choice with a hearty dose of intent and trust. In my opinion, this book speaks to the most basic tenants of capitalism. Each and every trade must be a) freely beneficial and b) mutually basic. The overlining theme is similar to the Hippocratic Oath first ; do no harm. It is practical and the advice is well written. I recommend it highly.
A important read for complex selling

Derived From Web

, May 19, 2022

This book contains critical elements to a successful selling, namely in the enterprise software space.
Book delivered in timely manner

Derived From Web

, May 19, 2022

Right away, received the book and are anxious to read it. As promised, delivered and packaging was good. Should be an easy and helpful read for our sales people.
Too much of an academic approach

Derived From Web

, May 19, 2022

This book would probably be used the best as a text book for engineers who are planning to become sales engineers. I prefer books on sales that have been written by people who actually sell products and services. This approach was too experienced for academic sales people.