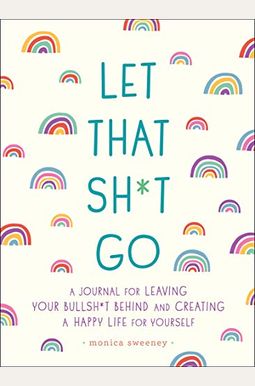 
 
Let That Sh*T Go: A Journal For Leaving Your Bullsh*T Behind And Creating A Happy Life
Book Overview
From the author of bestselling journal Zen as F*ck, Monica Sweeney gives the gift of letting go with this journal for leaving your bullsh*t behind and creating a happy life.
Harboring grudges and plotting revenge takes a lot of energy. While the wait for one true moment of schadenfreude sounds oh so sweet, true bliss can be found in simply not giving a f*ck. With
Let That Sh*t Go
, you'll find moments of profanity-laced catharsis and joy through journaling activities and inspirations that are positive as f*ck. Within these truly charming pages, you'll find ways to let go of the bullsh*t and lift your spirit a little f*cking higher.
Frequently bought together
Frequently Asked Questions About Let That Sh*T Go: A Journal For Leaving Your Bullsh*T Behind And Creating A Happy Life
Books like Let That Sh*T Go: A Journal For Leaving Your Bullsh*T Behind And Creating A Happy Life
Book Reviews
(17)
Did you read Let That Sh*T Go: A Journal For Leaving Your Bullsh*T Behind And Creating A Happy Life? Please provide your feedback and rating to help other readers.
Just a notebook.

Derived From Web

, Feb 28, 2022

I got a blank notebook, but I don't know what happened. The cover page was the same, but there were no suggestions. There is a line on a page. I returned it.
Uhhmmm is this how the book is designed orrrr what ?

Derived From Web

, Dec 9, 2021

The media couldn't be loaded. I ordered this in time so I can return it and find another gift. Disappointed.
Will lift you out of your funk!!

Derived From Web

, Jun 5, 2021

It's perfect for those of us who are not in a bubble. It's a fun way to keep track of all the things you shouldn't say. Therapy for people with a twisted sense of humor. It's the perfect gift for a friend who's not very active. You can also buy one for yourself. It pairs well with a wine.
LOVE IT

Derived From Web

, May 8, 2021

I was surprised to see a lot of quotes and funny stuff in the journal, I love it. It is small for a notebook. I would like it to be a little bit bigger in width, but otherwise I would recommend it. This is a recovering addiction and should be used daily. It's!
One size does not fit all.

Derived From Web

, Mar 2, 2021

As a medical professional. The book is amazing. It doesn't mean it won't help someone else. If this journal can pull your perspective onto some of your negative toughts, then why not give it a try? I will be filling out a couple pages a night as I take a break. Sometimes I just write thoughts from the day and then turn the page. It's up to you to write what you please in your journal. Would I take it to church? I wouldn't take any other journal to church. Depression and anxiety are not one size fits all. You can Heal the way you choose. Let it go and own your bullshit.
Great concept

Derived From Web

, Feb 26, 2021

I expected a lot more cursing in it. I was giving the gift to my daughter. The journal is a concept that I love. There are pages with quotes, stories, questions, and of course space to just write.
Love these journals

Derived From Web

, Feb 26, 2021

I gave this to my daughter as a gift. It's wonderful, has good writing, and is funny. The quotes are enjoyable. This is a light reading that will get you out of your bad moods.
Perfect lil "collect yo self" journal

Derived From Web

, Jan 22, 2021

The media couldn't load. I have seen that this wouldn't be good for someone with chronic depression, although there are a few pages that could be touchy, but a majority of them are great. It's great to pay attention to your inner self and focus on the things that need attention. I have to wait til I get my new computer desk to use this.
This isnt for people who have real mental illness, it can't help you at all

Derived From Web

, Oct 19, 2020

This is not for someone who has chronic depression or anxiety. If you have chronic issues, this will probably piss you off, even if you just feel a little negative at the present time. You can't answer most of these questions when you're depressed. Like the ones I took. How am I supposed to think of being grateful if I'm depressed? How am I supposed to be a bird of change? Glad it wasn't too expensive. It is still a waste of money. I'm adding that the author is just an author. She doesn't have a right to publish books like this because she has zero qualifications. She should get sued.
So much f***king fun!

Derived From Web

, Mar 31, 2020

It's much smaller than I thought, but it's still very large. There are 60 days of fun journal prompts and space to carry out each activity. It's too small for my big handwriting and personal preferences, but I can pass it on to a friend when I'm done. I can't wait to read the other books in this series. It is well worth the price.