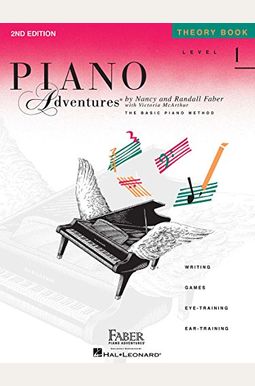 
 
Level 1 - Theory Book: Piano Adventures
Frequently Asked Questions About Level 1 - Theory Book: Piano Adventures
Book Reviews
(22)
Did you read Level 1 - Theory Book: Piano Adventures? Please provide your feedback and rating to help other readers.
One of the best piano method books

Derived From Web

, Apr 20, 2022

I have been teaching piano lessons for over twenty years and the Faber and Faber method has been my favorite since college. The Faber's cover everything from technique to ear training, sight reading, theory and artistry. The duets are the best I've heard from any method series, and my students are always happy with the song selection. Highly recommended.
piano book

Derived From Web

, Apr 20, 2022

Thank you very much. We got it quickly. My daughter enjoys playing the piano and learning more.
Overpriced!!! Buy from a store!!

Derived From Web

, Apr 20, 2022

This book and all the Piano adventures are great. I don't understand why they feel the need to charge more than the book retails for. Surely it's not going to cover the cost of shipping. Many of the other books are inexpensive. It was very disappointing. (
Pages all out of order and multiple copies of same page with other pages missing entirely.

Derived From Web

, Apr 20, 2022

I have never had a problem with the Piano Adventure books, but this one is messed up. It has been over 90 days since I bought it, and we are realizing it now. It has many duplicate pages and is missing several sets of pages. My daughter is upset and can't use this book. Buyer beware! It's!
I am very disappointed with this purchase

Derived From Web

, Apr 20, 2022

Why wouldn't anyone ever sell a completely filled in workbook? It's the same price as a new book. I am not happy with this purchase. A complete waste of time and money.
Meets students needs for the most part

Derived From Web

, Apr 20, 2022

Over the last 10 years, I've found that it's too hard to become a proficient piano player in this generation, despite the fact that I love the John Schaum books. You need to supplement with other music if you have switched to Faber books. Sometimes they will have the same song later on in the series that is a harder version of a song that a student did years back. This is not a perfect teaching book, but if you know that you will have to add music and expound on concepts to help round out the students, then this is the book for you. If you have a student that learns that way, you will have to supplement this book with other music.
Working out fine

Derived From Web

, Apr 20, 2022

The book was selected by our piano teacher, so we didn't have much input. It was inexpensive and easy to find on Amazon.
A Wonderful Method book

Derived From Web

, Apr 20, 2022

This is my favorite method book for teaching piano. New concepts are taught in a fun way. The book allows students to play the piano.
Thank you I need this for my student!

Derived From Web

, Oct 26, 2021

I asked my student if she had this book and she didn't, so this will be great for her as she learns and we refresh on material.
You're supposed to use the Primer level first

Derived From Web

, Oct 7, 2021

This isn't for beginners and the negative reviews have a point. The second book in the series is meant to be used after the Primer level. A review of the primer book is what it begins with. The levels of many piano methods have confusing names. It would be great if teachers and students could just look for the first book. The book's contents are good. There is some effort made to keep students from thinking in positions. The music is good.