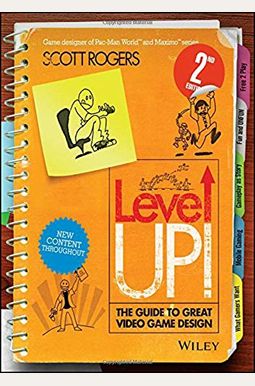 
 
Level Up! The Guide To Great Video Game Design
Book Overview
Want to design your own video games? Let expert Scott Rogersshow you how

If you want to design and build cutting-edge video games butaren't sure where to start, then the SECOND EDITION of theacclaimed Level Up is for you Written by leading videogame expert Scott Rogers, who has designed the hits Pac ManWorld, Maximo and SpongeBob Squarepants, thisupdated edition provides clear and well-thought out examples thatforgo theoretical gobbledygook with charmingly illustrated conceptsand solutions based on years of professional experience.

Level Up 2nd Edition has been NEWLYEXPANDED to teach you how to develop marketable ideas, learn whatperils and pitfalls await during a game's pre-production, production and post-production stages, and provide even morecreative ideas to serve as fuel for your own projectsincluding:
Developing your game design from the spark of inspiration allthe way to production
Learning how to design the most exciting levels, the mostprecise controls, and the fiercest foes that will keep your playerschallenged
Creating games for mobile and console systems - includingdetailed rules for touch and motion controls
Monetizing your game from the design up
Writing effective and professional design documents with thehelp of brand new Read More chevron_right
Frequently bought together
Frequently Asked Questions About Level Up! The Guide To Great Video Game Design
Book Reviews
(11)
Did you read Level Up! The Guide To Great Video Game Design? Please provide your feedback and rating to help other readers.
Level Up your Game Design Skills

Derived From Web

, Jun 3, 2022

It is over 500 pages covering a variety of topics including history, game genres, level design, story telling, controls, beat charts, and pitches to name a few. There are several thorough lists breaking down all types of enemies, mechanisms, hazards, weapons, power ups, puzzles, themes, places and more. Throughout the book he gives first-hand knowledge of his experiences and learnings and references various examples of games to communicate the message, and remains fun to read to the last page with personal stories, humor and simple illustrations.
"New" book arrived with heavy crease down back cover and warping.

Derived From Web

, Feb 16, 2022

The book is otherwise in great condition, but the back is creased and the book is warped. Not enough of a stickler himself to return it in quality, but if you're expecting something pristine for your shelf, this would be a no-go. I keep the book under some other heavy books to remove the warping.
My son LOVES this book ... the first book he's ever read for fun

Derived From Web

, Dec 25, 2021

He reads, though, and avoids it unless he has to read a book for school. I gave him Level Up for Christmas and read for the first time ever out of his own interest and motivation. I have never written a book review before, but I am beside myself! Thank you, Scott Rogers, for sharing your insights in a way that keeps my son engaged.
Great book for any game dev.

Derived From Web

, Jul 25, 2021

I was looking for resources to help me on my journey of becoming a GTA clone in Dreams ps4. I highly recommend this to anyone interested in playing games.
My teen loved it

Derived From Web

, Apr 3, 2021

My 15 yr old is your general unmotivated type, but from childhood he wanted to be a game designer. I wanted to order a book that would give him some real info about game design that would still be engaging enough to keep his attention. Maybe the stars aligned or this book is amazing, but he read the WHOLE THING from cover to cover! Which is really something, considering it is over 500 pages. So much thanks for writing this book! I wish there were more like it ''.
Fun read to broaden your love of games.

Derived From Web

, Feb 15, 2021

Is this book going to make me quit my job to start playing game design... nope... but it is a lot of fun to read. I have this in my truck and will take a moment to read a few pages when I get a moment while waiting for my son from school, I enjoy it and will continue to enjoy it as I play with learning unity.
Great for beginners!

Derived From Web

, Jan 19, 2019

This book is a good read and offers a light overview of the entire process of game design. It helped me to comprehend the overwhelming task of creating a game and by laying things on the table in a plain and orderly fashion made the endeavor a little less intimidating. It is a very useful book and offers some very practical tips. That is, it is built around designing a platformer and while it offers tips that are relevant for other genres, it is relatively thin in game design theory. So, in my opinion, should have been replaced ''. Great book for beginning game designers and enthusiasts less so for experienced game designers and enthusiasts who want to hone and deepen their skill as game creators and experienced fabricators.
Excellent Resource. Well designed. Indispensable.

Derived From Web

, Jan 11, 2019

Outstanding resource that checks all boxes. I was looking for an in-depth breakdown of workflow and best practices, and this book delivers. Highly recommended. Great job, John!
An absolutely wonderful book on game design

Derived From Web

, Jun 20, 2018

If you read the book Making Comics by Scott McCloud, you will feel right at home reading this book. It is really kind of excellent. It is kind of funny to see how many suggestions aren't incorporated by some developers in the book. Good starting point for people new to game design and a great guide for looking at games differently for reviewers.
Good Info on making a Game Design Document.

Derived From Web

, Jul 13, 2017

For me, the strongest aspect of this book is the information about creating design documents. It is easy to read. I would call it casual reading ''. But the information on design documents in the appendix makes this book worth the money I spent on it.