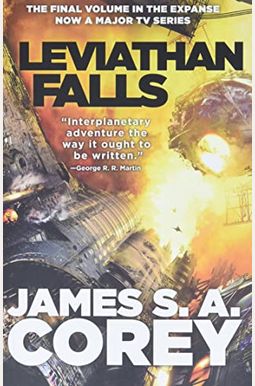 
 
Frequently Asked Questions About Leviathan Falls
Book Reviews
(5)
Did you read Leviathan Falls? Please provide your feedback and rating to help other readers.
Is someone else writing these now?

Derived From Web

, Dec 3, 2021

The scfi- fispace opera was a young adult romance novel. I'm 200 pages in and I'm sick to my stomach of every single character having the same personality and humor. The authors seem to be more interested in taking every opportunity to build relationships between strong diverse females and their emotional and weak male counterparts. If you haven't liked the change in TV and movies in the last 10 years, this is the same. If you only need entertainment that checks the right boxes of pushing the message, then you' ll really like this half baked crap.
Underwhelming and disappointing end to an otherwise excellent series

Derived From Web

, Dec 2, 2021

The previous books in the series were not as shadowed. The sidelines did not add much to the plot. Kit and his family's chapters were meaningless and didn't add anything to the story. I fell in love with the major characters, but if this book was the only one about them, I wouldn't care. Amos and the dog were the only interesting characters in the whole book.
Lacks the depth of previous volumes

Derived From Web

, Dec 1, 2021

This is a fairly predictable end to the series. There are still a lot of unanswered questions. There is a lack of a true sense of wonder and breadth present in the earlier volumes. The series is ending, so that is expected. There are only a few knots left to tie. Yes, definitely. The political and social complexity elements of earlier volumes are missing from the storyline. It would not succeed if the authors released a separate volume of this quality.
Released: 11/30, Read 100%: 12/1. AMAZEBALLS AS PREDICTED

Derived From Web

, Dec 1, 2021

The Leviathan Falls was released in the year 11302021. I pre- ordered my edition for a long time. I' ve read the cover to cover and still want to read more. Even though this one's dedication was made to us fans, I can honestly say that it makes it feel even better. I'm trying to find the right words to keep this review from being in the news. It's clear that the authors care about their fans and that they want to produce solid gold reads.
Sticks the landing.

Derived From Web

, Nov 30, 2021

I will only say that at this point. If you' ve been following the series, you' ll know that no Stephen King is going to be pulled. You wish there were more stories.