Buy 3 Get 1 Free
Our Best Sale Yet! Add 4 Books Priced Under $5 To Your Cart     Learn more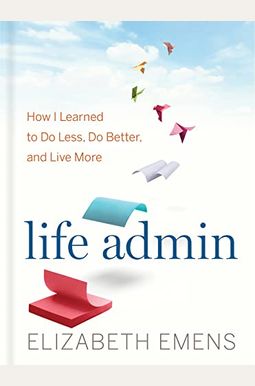 
 
Life Admin: How I Learned To Do Less, Do Better, And Live More
Book Overview
Reading this book should be at the top of your To Do list. Life Admin will give you many hours of your life back.

Every day an unseen form of labor creeps into our lives--stealing precious moments of free time, placing a strain on our schedules and our relationships, and earning neither appreciation nor compensation in return. This labor is life admin: the kind of secretarial and managerial work necessary to run a life and a household.

Elizabeth Emens was a working mother with two young children, swamped like so many of us, when she realized that this invisible labor was consuming her. Desperate to survive and to help others along the way, she conducted interviews and focus groups to gather favorite tips and tricks, admin confessions, and the secrets of admin-happy households.

Life Admin tackles the problem of admin in all its forms, from everyday tasks like scheduling doctors appointments and paying bills, to life-cycle events like planning a wedding, a birth, a funeral. Emens explores how this labor is created, how it affects our lives, and how we might avoid, reduce, and redistribute admin whenever possible--as individuals and as a society.

Life Admin is the book that will teach us all how to do less of it, and to do it better.
Frequently Asked Questions About Life Admin: How I Learned To Do Less, Do Better, And Live More
Books like Life Admin: How I Learned To Do Less, Do Better, And Live More
Book Reviews
(7)
Did you read Life Admin: How I Learned To Do Less, Do Better, And Live More? Please provide your feedback and rating to help other readers.
Good Companion to 7 Habits of Highly Effective People

Derived From Web

, May 9, 2021

I read this book at the same time as I read the book 7 Habits by Stephen Covey and found it quite complementary. Emens references Covey's work maybe once or twice, but I found many of her strategies helpful in working through the 7 Habits. After the acknowledgments, her section Ideas to Try '' is not to be missed, so keep reading even after the epilogue. Good advice on where the rubber meets the road ''!
Look Elsewhere for Practical Advice

Derived From Web

, Dec 22, 2020

The first book in a long while I'm deleting without finishing. I wish I spent my time reading some life admin instead of completing this ugh.
Wish there were more practical tips

Derived From Web

, Oct 14, 2020

In the end, this book was light on the talk and heavy on the strategies. I also couldn 't help, but felt that the book was a little sour. It seemed like a story after story of a person in a relationship being screwed by the other, admin - wise.
Know what you're getting into...not a book on executing admin.

Derived From Web

, Feb 29, 2020

I bought this book because I thought it was about identifying admin and strategies to deal with it. It is actually a scientific commentary on admin, with a series of anecdotes from what reads like a group of the authors'friends and acquaintances, rather than a social study. If that's what you are looking for, you will probably enjoy the book, as the author's style is particularly engaging considering the theme. If not, a Google search or a skim of the four appendix on admin tips is sufficient over buying the book.
Great book on successfully coping with life's administrative challenges...

Derived From Web

, Jun 27, 2019

This is an enjoyable and enlightening read about how daily tasks affect us in our little administrative lives and how to deal with them more successfully. I had been pondering how to prioritize and potentially outsource some of my personal and semi-business-related administrative tasks, and this book gave me just the motivation I needed to take that step.
This book is for EVERYONE!

Derived From Web

, Feb 22, 2019

This book is for EVERYONE - the stay at home momdad, who is defined by life admin, the working parent who does the second shift of life admin every day or the single person who wants to develop the skills to manage life admin before the house, kids and dog exponentially increase it! Elizabeth Emens identifies Life Administration as all the unpaid labor that goes into running a house, caring for children, owning a pet, organizing vacations... and the list goes on and on! Emens with humor and brilliance teaches us how to be more efficient and effective in managing this awesome burden of our lives and how we can bring about change in our society as well with a ripple effect!
this book really spoke to me

Derived From Web

, Feb 16, 2019

Reading this book made me feel like a friend is helping me through the mountains of admin in my life after a death in the family. I also found it interesting to take the quiz back and learn in this area about my personality. That and the humor helped add a lightness to what has been really heavy for me.