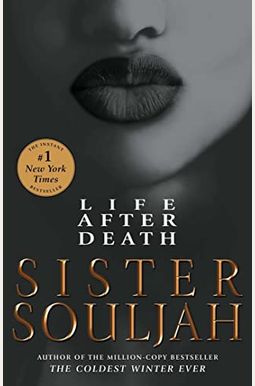 
 
Book Overview
This Description may be from another edition of this product.
INSTANT #1 NEW YORK TIMES BESTSELER
INSTANT USA TODAY BESTSELER
The long-anticipated sequel to Sister Souljah's million copy New York Times bestseller The Coldest Winter Ever.
Winter Santiaga hit time served. Still stunning, still pretty, still bold, still loves her father more than any man in the world, still got her hustle and high fashion flow. She's eager to pay back her enemies, rebuild her father's empire, reset his crown, and ultimately to snatch Midnight back into her life no matter which bitch had him while she was locked up. But Winter is not the only one with revenge on her mind. Simone, Winter's young business partner and friend, is locked and loaded and Winter is her target. Will she blow Winter's head off? Can Winter dodge the bullets? Or will at least one bullet blast Winter into another world? Either way Winter is fearless. Hell is the same as any hood and certainly the Brooklyn hood she grew up in. That's what Winter thinks. A heartwarming, heart-burning, passionate, sexual, comical, and completely original adventure is about to happen in real time--raw, shocking, soulful, and shameless. True fans won't let Winter travel alone on this amazing journey.
Frequently bought together
Frequently Asked Questions About Life After Death

Book Reviews
(17)
Did you read Life After Death? Please provide your feedback and rating to help other readers.
Wasted my life

Derived From Web

, Mar 14, 2021

Even if I survive, my brain cells will probably never regenerate. It's just that I can never get back the precious time wasted reading this sewage. I wanted it to be great, Tunick said. I've read all of her books. Even with the help of an assistant, I must admit that writing a negative review almost as much as reading this book did. A lot of people would give this absolutely no stars if I could.
Just no

Derived From Web

, Mar 12, 2021

The moral of the story is to become a Muslim and to avoid hell, she said.
Expect the unexpected

Derived From Web

, Mar 8, 2021

Ok, so I struggled to get through this book. I've read every book in the saga and I've grown accustomed to her varying writing styles. It reminded me of the show Love. It's a great deal of sci-fi, I must say. It's giving more religion and we know she's always writing about Allah, Sosa said. What we expected from her was a rushed ending to the entire book. Newcomers are introduced but they don't resonate with me. Their stories are told quickly, although they are key players in most of the story, it becomes hard to connect. Old characters are briefly mentioned at the end of the second. It just seems unfair to me that it would take so long for something to happen, so I'm giving half empty versus half full. It's just that they don't equal." I usually become engulfed by each story, but I finished this because I'm not a quitter. If you are reading this book, I would recommend you to go with the recommendation of Deborah. Young readers, beware: The book is full of fallacies and cliches.
Winter Santiaga is BACK!!!!!

Derived From Web

, Mar 6, 2021

It was a double whammy for the hip-hop community: Sister Souljah's music video for "Do the Right Thing" was also released on the same day. I went from pissed off, to intrigued, to scared, to confused, to shocked! wow, that was pretty impressive. Now I'm going to read the rest of the series. But we need part 3 in four years to make up for it. Please, sir, thank you for your time.
Horrible

Derived From Web

, Mar 6, 2021

If anyone wants my hard copy, I will ship it to you for free!!!!!!!!!!!!!!!!!!!!!!!!!!!!!! Do not waste money, Staples said.
So very disappointed

Derived From Web

, Mar 5, 2021

I've waited so many years for the knight's' to come true, said Brigitte. I made it to page 68, but I don't think I want to finish it. It's just too important to keeping crime down, Copps said.
Read with your third eye

Derived From Web

, Mar 4, 2021

Sister Soulja will never write another 'The Coldest' type of book, so if you're looking to receive the same material, don't bother. But if you're looking to dig deeper into the words on these pages, you'll see that the ATL native is providing an urban masterpiece. There is no content in this book, Michael Savage writes, that is mindless. It's about life lessons, vanity and the impact our choices have on everyone around us, Levine said. This book is full of gems hidden in plain sight.
DON'T WASTE YOUR MONEY!!

Derived From Web

, Mar 4, 2021

I'm a huge fan of TCWE, but I am struggling to keep reading these pointless rants. I read Porsche story and loved it, but this does not seem to be the same author. Once I start a book, I have to finish it so I can't complain, right? She should have been released from jail and made a part 2, they said.
Renews those old rumors...

Derived From Web

, Mar 4, 2021

There are some old rumors that someone ghost-wrote "The Coldest Winter Ever." This is not the same writer who penned the story. It is the same writer who penned the Midnight trilogy and the Porsche Santiago story, but it is light years away from whoever penned it. Note how I literally read my husband the 1st page of Ecclesiastes and then went back to the pages of Life After Death to compare. The former, to say was superiorly written, a tight story that left you pulsing and catching up in Winters' exploits, and now I couldn't care less what happens to her because there is no soul to her. It's ludicrous and unbelievable from the onset, and I haven't even made it page 50, Byrne said. I think PeopleSoft customers deserve better customer service, Ellison said.
Do Not Buy

Derived From Web

, Mar 4, 2021

The second book, "The Eyewitness Tapes," was also written by Sebastian's widow, Sandra. I want my money back, I would have rather read the Dead Sea Scrolls. I get what this book was attempting to do, but it doesn't work at all. To say I'm disappointed is a truly understand statement. I had such high hopes of a great read, now I'm scratching my head and really sitting here trying to justify this atrocity. This was not for the culture of the loyal we've all shown this disloyalty for profit.