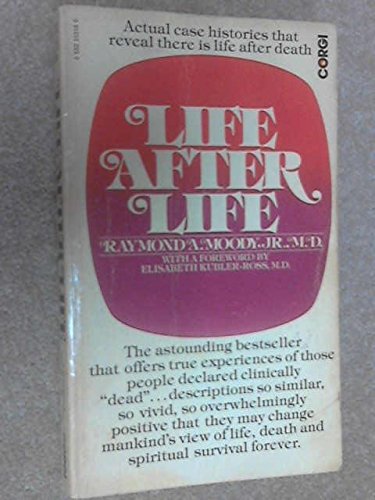  
Book Overview
This Description may be from another edition of this product.
The groundbreaking, bestselling classic, now available in a special fortieth-anniversary edition that includes a new Foreword from Eben Alexander, M.D., author of Proof of Heaven, and a new Afterword by the author.
Raymond Moody is the father of the modern NDE (Near Death Experience) movement, and his pioneering work Life After Life transformed the world, revolutionizing the way we think about death and what lies beyond. Originally published in 1975, it is the groundbreaking study of one hundred people who experienced clinical death and were revived, and who tell, in their own words, what lies beyond death.
A smash bestseller that has sold more than thirteen million copies around the globe, Life After Life introduced us to concepts--including the bright light, the tunnel, the presence of loved ones waiting on the other side--that have become cultural memes today, and paved the way for modern bestsellers by Eben Alexander, Todd Burpo, Mary Neal, and Betty Eadie that have shaped countless readers notions about the end life and the meaning of death.
Frequently bought together
Frequently Asked Questions About Life After Life
#1

#2

#3
Books like Life After Life
What should you read after Life After Life Book? Here is a list of books to read if you read and loved Life After Life
Book Reviews
(16)
Did you read Life After Life? Please provide your feedback and rating to help other readers.
A must read if you've recently lost someone!

Derived From Web

, Apr 20, 2022

It helped me heal after my mother's death on Dec. 1, 2001. In her testimony, Frey said she was "a wreck with grief" for two years. I started drinking. I was a mess, Max. I read this in two days, and was healed, too. I felt so much better after reading it, that I gave it to someone else to read, because I was grieving her father's death.
Sad. He is positive and as unbiased as any ...

Derived From Web

, Apr 20, 2022

If you have read A Journey Into the Wild Woods, you know what a life-changing book this is. Dr. Moody has endured a lot of negative press from those who feel threatened by his findings. Whether or not we find him, we are extremely positive and unbiased, Raymond said. He talks about evidence that there may be life after death from the point of a news reporter reporting on a collection of interviews where there's a common thread. It's just that unbiased, Admiral. Rolfe said.
Makes you think

Derived From Web

, Apr 20, 2022

It's just that the book isn't proof of the after life. And I don't think that was Raymond Moody's intent to offer irrefutable evidence of life after death, but for anyone who wants to hear stories from people who have had interesting experiences near death, they're told well. There is a possibility that there may be a life after life. Raymond Moody, one of the architects of the S.L.A., is just telling us what we want to hear. Now there's no need to worry, Bruno says of death. I know people who have had death experiences that were not so pleasant. Raymond Moody had excluded the more negative experience from his analysis. It's a non-fictional book, so I'm not sure what it means.
Everyone should read this book!

Derived From Web

, Apr 20, 2022

In his book, Lazarus described many near-death experiences. It really made me think about how the book acts as a springboard for investigating this subject through other reading. Dr. Moody does not claim to prove anything in his writings, but he makes a compelling argument for survival of the soul beyond bodily death. A great short book, Easy to Read, by Pauley Kilpatrick. The first three chapters, "Near Death Experiences," were by far the best.
Seems Incomplete

Derived From Web

, Apr 20, 2022

The book is mostly recollections of people's near-death experiences. Overall, I was hoping for a little more, but ultimately the book gives insight and some reassurance. Moody's says Moody's Baa3 is the highest rating available.
A useful Introduction

Derived From Web

, Apr 20, 2022

At least three of the people I have met had near death experiences that were notable. I suspect that the experiences are genuine, McBride said. In fact, I have provided copies of this book to some people I know who have lost loved ones. Some said that it may have helped explain why the plane left, while others said that it was just a matter of time. It's a good read, said Dr. Chester Floyd, director of the federal Centers for Disease Control and Prevention. Dr. Moody holds a doctorate in philosophy and medical and psychiatric training. He is careful to not make errors of logic or to leap to conclusions unsupported by the evidence. However, he said, his observations do not prove anything. Rather than try to analyze the experience, Graham seems to have emphasized the personal growth and change that results. Very interesting and readable," said James Kilpatrick, executive director of the National Constitution Center. It's great to hear from Dr. Abraham that the book is "recommended to the interested person, as well as the skeptic."
Great Book!

Derived From Web

, Apr 20, 2022

This book is perfect for those who are just starting to read Near Death Experiences. While I was reading this book, I kept thinking of how amazing it must have been when this was first published because at the time there was no such a book. Once you read Life After Life, you need to read Kenneth Ring's book about the near death experiences people had, and also how it changed their lives forever after they returned. It made a huge impression on me that day. Both books are A+++++.
Superb - A timeless classic on NDE's

Derived From Web

, Jul 12, 2021

A timeless classic on near-death experiences by Dr. Raymond Moody. It was a great read, I had read the paperback version years ago and recently also bought the kindle version. Dr. Raymond Moody, who wrote extensively about the case, said the inquiry uncovered many more people who had "died" and came back. Many of the participants had similar experiences, such as traveling through a tunnel, seeing a loving white light and seeing deceased relatives and friends, Morgenthau said. Some had the panoramic view of the city. It's a long way from the time the Dalai Lama was writing his book of the dead. Since I first read Dr. Moody's book, I have read and heard about many accounts of people that have undergone near death experiences. Many of the new information is also readily available on the Internet. However life after life was first published, it was an eye opener and at that time many found the information mind blowing.
This book tells the truth

Derived From Web

, Sep 25, 2018

This is one of the absolute best books ever written about the afterlife. There are people who think those of us who have ever been to the afterlife are just crazy and were hallucinating, I know now that the afterlife is real! I was actually able to prove this to my mother after I woke up from a coma caused by a ruptured brain aneurysm and a stroke, and she swore that there was no way I could have known unless I had actually been to heaven. It was a great relief to be there first because my mother passed away a week ago, and I know heaven is indeed real!
Trivial Treatment of a Complex Subject

Derived From Web

, Sep 25, 2018

If you are curious about how the near-death experience is the place where science and spiritualism meet, don't waste your time on this boring, pop-psychology book. The book by Dr. Pim Von Lommel is based on his experiences working with a team of scientists at the Vatican. He provides fascinating accounts of the near-death experience provided by patients in his b>Psychoanalysis of Patients with Low-Risk Syndrome/b>. Now you can learn how quantum physics, Carl Jung, and the near-death experience are all tangled up in one. No wonder AOL Time Warner is seeking a buyer for Life After Life.