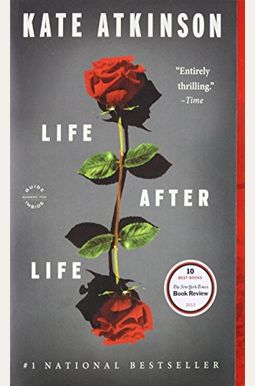 
 
Book Overview
One of the best novels I've read this century. Kate Atkinson is a marvel. There aren't enough breathless adjectives to describe LIFE AFTER LIFE: Dazzling, witty, moving, joyful, mournful, profound.--Gillian Flynn, author of Gone Girl What if you could live again and again, until you got it right?
On a cold and snowy night in 1910, Ursula Todd is born, the third child of a wealthy English banker and his wife. She dies before she can draw her first breath. On that same cold and snowy night, Ursula Todd is born, lets out a lusty wail, and embarks upon a life that will be, to say the least, unusual. For as she grows, she also dies, repeatedly, in any number of ways. Ursula's world is in turmoil, facing the unspeakable evil of the two greatest wars in history. What power and force can one woman exert over the fate of civilization -- if only she has the chance? Wildly inventive, darkly comic, startlingly poignant -- this is Kate Atkinson at her absolute best.
Frequently bought together
Frequently Asked Questions About Life After Life

Books like Life After Life
Book Reviews
(7)
Did you read Life After Life? Please provide your feedback and rating to help other readers.
and the basic premise of the book is one that I felt was not able to engage me the way I like. I like when a get wrapped up in .

Derived From Web

, May 28, 2022

This was a book club selection by a friend I admire, but after this second selection of hers I realized that our tastes in books vary dramatically. Life After Life flies too much to make it enjoyable, and the basic premise of the book is one that I felt not able to engage me in the way I like. I like when I get caught up in the lives of the characters of the book and feel as though I live their story with them. I don 't like when reviews are spoilers, so I do not want to dig into what I did not like, but even after hearing that someone was surprised by the ending, I got to the end and said, Huh!! is that there is all that is? The one thing that allowed me to give it a 3 star instead than a 2 star I did not like is the fact that it was interesting enough that I could finish it. There are times when I feel like I can not get through a book and put it down in the middle.
Good Writing But Tedious Plot

Derived From Web

, May 28, 2022

The writing was excellent and the plot kept me engaged in the beginning, but after a few years it became tedious. I think I stopped enjoying it after Ursula became an adult and I was no longer with her family. I felt like the author rewrote a chapter, changed her mind and wrote it. I never felt like I got to know any of the characters other than her family. Finally, they would disappear in the next version. I really lost interest in the chapters that took place during the war. I kept thinking that reading about life after life was tedious, I couldn 't remember who was who and I no longer cared what happened to Ursula. In the end, I did not know the point of the book. For awhile, I thought it was reincarnation, but it really wasn 't. I just couldn 't wait for the book to end.
Beautiful but enigmatic ending

Derived From Web

, May 28, 2022

This was a beautifully written novel and it was an interesting exercise in what if ''. If a person is reborn over and over again, or if there were a multitude of parallels strings, each representing a possible life path for a person, what would be the same and what would be the same? As said before, an interesting exercise and the author does a great job of drawing full characters and a world gone by. But in the end, the reader is left with a bunch of threads going nowhere. Because if there is no real life that one lives out, there is no definitive value in the relationships with people you love and lose? I don 't need a happy ending, but was left a bit unsatisfied after being drawn into all these characters'lives.
Mind Bending

Derived From Web

, May 28, 2022

I expected a novel involving reincarnation. After a few chapters, I realized that it was not the plot that would carry this book through 500+ pages. I can not fully explain why the main character Ursula Todd was put over and over again to relive the sequences of her life, with each being a variation of what she had just been through. I doubt that few authors could pull this off as smoothly as Kate Atkinson has done here. Book is fabulous!
Repetitive, confusingly paced and filled with a lack of finality

Derived From Web

, Jan 22, 2020

I bought the second book, A God in Ruins, for $5 and when I found out it was supposed to be a companion novel, I went ahead and bought this one to read. It has a fantastic idea when it comes to exploring death and the multiple trivialities that might make a different outcome of the events, but is written very haphazardly. By this, I mean that the time jumps are so frequent that it comes off as a merry-go-round out of control. If you are a die hard fan of the author, then pick this up. If you were looking for something new to read, you would look in a different direction.
Boring

Derived From Web

, Sep 22, 2019

The book is jumpy, which is the point of the story. Great idea, but didn 't feel like the author has pulled it off. I felt the end was anticlimactic and the book was more boring than not. I ordered it based on a daily beast summer read list. Out of the five books I bought from this list, this was by far the worst.
NOT FOR ME

Derived From Web

, Feb 22, 2018

The unusual concept was, however, impossible to slog through for me. I love great family stories, excellent writing, and all the rest, and Kate Atkinson has certainly a multitude of talent. I had to give it to the thrift store before finishing.