Buy 3 Get 1 Free
Our Best Sale Yet! Add 4 Books Priced Under $5 To Your Cart     Learn more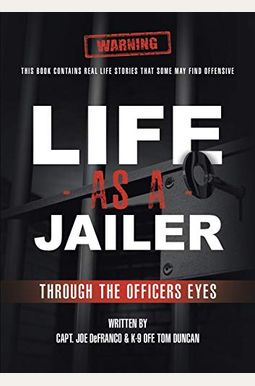 
 
Life As A Jailer: Through The Officers Eyes
Book Overview
Life as a Jailer is a book that is long overdue, and is NOT FOR THE FAINT OF HEART. Have you ever wonder what REALY goes on behind the walls of a Prison or Jail. If so, you just found the right book. We (Ret.) Capt. Joe DeFranco & (Ret.) K-9 Off. Tom Duncan hold NOTHING BACK in this mind blowing account of both our careers as Correctional Officers. We've both seen things & dealt with things that you're not going to believe and WE TEL IT AL. Life as a Jailer is a TRUE factual account of the daily on goings inside the walls like: Murders, Escapes, Fights (assaults where Officers have had fingers bitten off and Inmates have been stabbed/shanked, ) Cell Fires, Rapes & so many other mind blowing stories. But it's not all bad, there are many funny stories too and (if you can believe) GREAT times. Looking back we are thankful for those days because it's the good times that got us through the bad days.
Frequently Asked Questions About Life As A Jailer: Through The Officers Eyes
Book Reviews
(15)
Did you read Life As A Jailer: Through The Officers Eyes? Please provide your feedback and rating to help other readers.
Review for Life as a Jailor

Derived From Web

, Jan 17, 2020

The writing, wording, and punctuation was terrible. I am a retired correction officer from a maximum security prison and this book is a joke, it made correction officers look so snapid.
Very well said.

Derived From Web

, Jan 11, 2020

As a FEMALE correctional officer of nearly 11 years, with 10 spent in a maximum security prison, I applaud this book. I agree with so much of it, if not ALL. I have said for years that the public does not see us until there is a negative in the news. I think it is a good read for both new and old officers. In agreement with what both authors said, I shake my head with so many things.
Good read for potential CO's if you can get over grammatical errors

Derived From Web

, Dec 7, 2019

The books give a lot of information if you have zero idea of what happens in a jail. My husband is a correctional officer, so I felt like I knew a lot of material in there. I appreciated the honesty and the real stories. The spelling and grammatical errors, however, made me cringe. There are so many that it makes me wonder if it was published before it was proofread.
Don't waste your money

Derived From Web

, Oct 20, 2019

The Dumbest Book Ever! It was a HUGE disappointment, as this seemingly only purpose in this book was to allow the writers to complain about others. WASTE YOUR MONEY DO NOT.
Book lacks direction

Derived From Web

, Sep 25, 2019

The first thing I noticed when reading was the very numerous misspellings and grammatical errors. The second problem I had was going ahead in the book trying to find some meat in this. If this was a high school essay, I would give it a C+, no plot, no structure... what a mess!
Somewhat informative, but poorly written.

Derived From Web

, Jul 11, 2019

This book is written by a poor grammer and could be informative to people outside the prison system, but for anyone working in corrections there are really no surprises.
Could use another proof reading

Derived From Web

, Mar 4, 2019

The book was... okay. It needed another editing. The multiple negatives and the double if I could tell you just one thing '' stories took away from what they were trying to say. I laughed when a key point they made was writing precise write-ups ''. It is a valid tip for folks, but loses its authority when typos abound the rest of the work. Read for content, not for polished work.
Poorly written

Derived From Web

, Dec 26, 2018

These authors may be bad correction officers, but they are great authors. Apart from the frequent misspellings and poor grammar, much of the book is taken with non-specific complaints about the lack of support that COs receive from their political leaders. I think most of these complaints are harmless, but if they want to expose their frustration with their bosses, filling up the space in this book is not the best way, and are very much underrated in their charge. Too bad that there is little in this book that will change it.
A book society/the public needs to wrap their head around.

Derived From Web

, Jul 21, 2017

I had this book read within three hours! I like the book overall, but my favorite chapters are chapter 4 and chapter 10. Chapter 4 : I am a big believer when it comes to respect and also because the image in this chapter refers to the team I am on at work. Chapter 10 because I am very sarcastic and get a kick out of dedicating a few pages to the sarcasm put towards proving a point. Define '' is another large symn.
It was like I was reliving my years with every chapter I ...

Derived From Web

, Jul 20, 2017

It was like I lived my years with every chapter I read. Great job, brothers! Anyone reading it should be read in corrections.