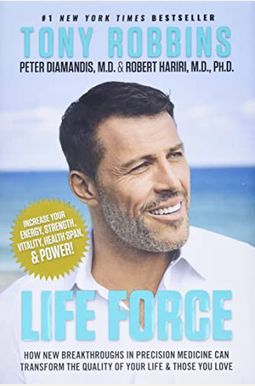 
 
Life Force: How New Breakthroughs In Precision Medicine Can Transform The Quality Of Your Life & Those You Love
Frequently Asked Questions About Life Force: How New Breakthroughs In Precision Medicine Can Transform The Quality Of Your Life & Those You Love
Book Reviews
(10)
Did you read Life Force: How New Breakthroughs In Precision Medicine Can Transform The Quality Of Your Life & Those You Love? Please provide your feedback and rating to help other readers.
Fabulous book w/ important health solutions W/ new scientific and well researched treatments

Derived From Web

, Mar 16, 2022

I was an alternative health practitioners and I loved this book. One hope is that people can take their Heslth into their own hands.
a gift of hope

Derived From Web

, Mar 16, 2022

Hope has been driving life all the time, and this books give us a way to develop a great view of life instead of fear, great reading, and lots of life changing tools.
Don't buy unless you are rich

Derived From Web

, Feb 12, 2022

I didn't get help out of the book. Most of the things are for rich people. I couldn't afford it. I might change my diet and exercise regimen. Save your money.
If you want to hear someone talk about himself then go for it .

Derived From Web

, Feb 11, 2022

If you have a lot of money to spend, then this guy is for you, otherwise you can find better self help books.
Not much useful Information unless you have a lot of money.

Derived From Web

, Feb 11, 2022

About 75% of the book has been read by me. It's mostly an advertisement for medical gadgets, subscriptions and procedures offered by companies that Tony Robbins has a financial interest in. It's informative, but not much can be done by people without a lot of money. The reader is always advised to consult medical professionals. Most doctors don't know about the high tech, specialized medicine that he presents.
Fails Biology 101

Derived From Web

, Feb 10, 2022

I am a huge fan of Tony Robbins and this is not a review of his work overall. I got a pre-ordered copy of Life Force and was flipping through it when I read that someone with XY chromosomes is female. What else does the book get wrong if it gets that basic biological fact wrong? I'm very disappointed.
Ok but lot of plugs for paid services

Derived From Web

, Feb 9, 2022

The book has some good information but also a lot of plugs to gadgets and services that Tony is an investor in so you can understand there is bias. I would like it 888-282-0465 888-282-0465 888-282-0465 888-282-0465 888-282-0465 888-282-0465 without all the plugs and promotions.
A priceless gift of health and quality of life

Derived From Web

, Feb 9, 2022

There is a table of contents in both the digital and hard copy. Tony Robbins has all the connections to the top experts on every facet of life, but no one else understands all aspects of health. Tony has created an amazing gift that I am excited to receive. The information in this book will help you and your family. We have nothing without health. A person with many wishes. A sick person only has one. Find the inside information to improve and reverse health conditions. Everyone I know will get a copy of this book and it will be a collector's item for anyone who values their quality of life. Health is wealth. Let's get rich together.
Table of contents Missing from digital!

Derived From Web

, Feb 8, 2022

I'm looking forward to this book. The digital version does not have a table of contents. I wonder if this is a problem with the book. It is justified if it is a fiction book. Many people will use this book as a reference and want to move around from chapter to chapter based on their interest. The problem is not the content. Once the table of contents is added to the digital version, I will be happy to change my review to many more stars. This is a warning before you buy the digital version or the physical copy.
This is the breakthrough book of the decade!

Derived From Web

, Feb 8, 2022

I have been in the health, hormone, regenerative medicine space for over a decade and this book is the most up to date information I have ever learned. This book is a must read. Excellent and informative!