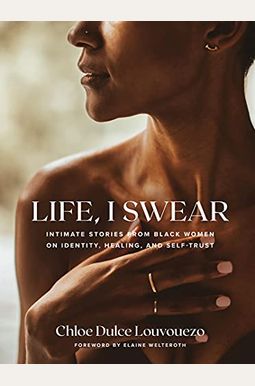 
 
Life, I Swear: Intimate Stories from Black Women on Identity, Healing, and Self-Trust
Frequently Asked Questions About Life, I Swear: Intimate Stories from Black Women on Identity, Healing, and Self-Trust
Book Reviews
(11)
Did you read Life, I Swear: Intimate Stories from Black Women on Identity, Healing, and Self-Trust? Please provide your feedback and rating to help other readers.
Great book

Derived From Web

, Nov 28, 2021

This was not exactly what I was looking for, but I couldn t put it down. In many ways, I could relate to them. Great read, in many ways.
So disappointed ☹️

Derived From Web

, Nov 25, 2021

I was so excited to read this book and then discovered that the font is too small in the hard cover version. So disappointed ''.
A beautiful collection of our truths

Derived From Web

, Nov 5, 2021

It is rare to find a compilation of stories that share the complexity of all that is experienced by black women in all our intersectionality. I found myself relating to story after story aspects of each. It is amazingly validating and confirming to see yourself and your own experiences in that of other black women. Reading these stories brought so much in me that I had to share it with myself, I had to read, I had to get out what I had bottled so very long.
Buy one for yourself and a friend, this is a must-have in anyone's library!

Derived From Web

, Nov 5, 2021

This book is beautiful written and done, and is one that I spent combing through hungry for the next story. Chloe is a master at weaving these stories and carefully curating them for the reader to immerse themselves in. I trust you and spend some time saving yourself, buy one for yourself and a friend!
A must read and a great holiday gift!

Derived From Web

, Nov 5, 2021

Life, I Swear is a powerful collection of short stories by black women who bare their souls in a relatable and authentic way. Partnered with images of stunning black women, this book allowed me to see myself and feel support from the trauma I have experienced.
Beautiful book with

Derived From Web

, Nov 4, 2021

First, Life, I Swear is a beautiful book that would be an asset to any coffee table, but beyond its surface appeal it provides stories of women who know themselves, working through struggles and finding power on the journey. The contributors share their experiences in a way that is genuine, vulnerable, and authentic, giving readers insights into their experiences and quite possibly a little more perspective on their own experiences. If you are looking for a gift for someone that builds their understanding, empathy and celebration of women from the African diaspora, this is it. If you're looking for a book that celebrates black women, empowered women, or the value of stories, this is the book for you.
Men Should Own a Copy and Read It, Too!

Derived From Web

, Nov 4, 2021

This beautifully-designed and immaculately-curated publication is not only a must-read for women, but also a must-have for men. Absorbing the stories of the dynamic, female women around identity, healing and self-awareness resonated more than I imagined it would as a male reader. Indeed, I've found the true power of life, This book aims to uplift all who are called to use its pages, regardless of gender or race, while poignantly focusing the focus on black women. In Chloe Dulce Louvouezo's first turn as an author, she scores a literary home run and will undoubtedly be encouraged to write and release more. The healing she seeks to inspire within her readers and the greater global community is now more than ever needed!
He(art)fully Curated MUST READ!

Derived From Web

, Nov 3, 2021

For women who love women, this book is a must read for anyone who has ever wondered if they are alone in a situation, a feeling, a curiosity, a loss, a failure. For anyone looking for a familiarity, an embrace from others who get it, see you, hear you and can acknowledge your soul-stance... And that's what can be found in and through the words that speak literally to the reader as if you were sitting across from your soulmate. This book is a window and a mirror simultaneously. It is gentle and blunt. The photographs are artfully complementary to each contribution. Chloe has truly curated a he piece, partnering with all boldly brilliant and beautiful women sharing their stories on these pages.
A Divine Collision of Sisterhood and Spirit

Derived From Web

, Nov 3, 2021

This book is a visual delight, filled with all the conversations we have with our closest friends, our sisters. The many things we share in confidence, in hopes of healing, and all the other things we say in solitude or just hold in our spirits, waiting for the right moment to confront and investigate. From the covert epiphanies to the boisterous whispers and everything in between. This is a LIVING WORD that serves to grow those who had enough courage to put their feelings, breakthroughs and observations of this life thus far. But it also serves as an everlasting reference for those of us who are looking for kindred spirits, connection and love from one sister to another.
These stories are so touching!

Derived From Web

, Nov 3, 2021

I was so excited to read this book and I am so glad that I did! Sometimes, as a black woman, we don 't talk about our traumas, because it is a sign of weakness. I am connected wholeheartedly with the vulnerability and healing of these women. Chole has done a great job!