Buy 3 Get 1 Free
Our Best Sale Yet! Add 4 Books Priced Under $5 To Your Cart Learn more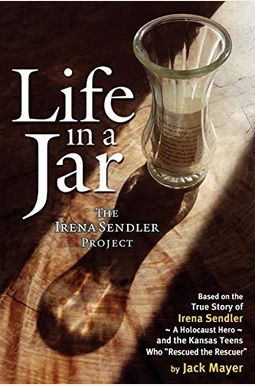 
 
Life In A Jar: The Irena Sendler Project
Book Overview
During World War I, Irena Sendler, a Polish Catholic social worker, organized a rescue network of fellow social workers to save 2,500 Jewish children from certain death in the Warsaw ghetto. Incredibly, after the war her heroism, like that of many others, was suppressed by communist Poland and remained virtually unknown for 60 years. Unknown, that is, until three high school girls from an economically depressed, rural school district in southeast Kansas stumbled upon a tantalizing reference to Sendler's rescues, which they fashioned into a history project, a play they called Life in a Jar. Their innocent drama was first seen in Kansas, then the Midwest, then New York, Los Angeles, Montreal, and finally Poland, where they elevated Irena Sendler to a national hero, championing her legacy of tolerance and respect for all people. Life in a Jar: The Irena Sendler Project is a Holocaust history and more. It is the inspirational story of Protestant students from Kansas, each carrying her own painful burden, each called in her own complex way to the history of a Catholic woman who knocked on Jewish doors in the Warsaw ghetto and, in Sendler's own words, tried to talk the mothers out of their children. Inspired by Irena Sendler, they are living examples of the power of one person to change the world and models for young people everywhere. * * * * * 60% of the sales of this book are Read More chevron_right
Frequently Asked Questions About Life In A Jar: The Irena Sendler Project
Books like Life In A Jar: The Irena Sendler Project
Book Reviews
(18)
Did you read Life In A Jar: The Irena Sendler Project? Please provide your feedback and rating to help other readers.
She should have won the Nobel Peace Prize!

Derived From Web

, May 27, 2022

All you need to know is that Irena Sendler was the runner-up for the Nobel Peace Prize in the last decade. This book is all about people helping people no matter their age, their background or their faith. The book has 3 parts-the-first about the Kansas teenagers who responded to a National History Day challenge by looking into the little known information about Irena. It is simply incredible what this lady accomplished in building a network that saved over 2,000 children from certain death. The 3rd part of the book comes back to the Kansas teenagers who travel to Poland several times to meet Irena, who lived until 2008. This book is an inspiration for all of us to see what a single, or small number of people can achieve.
heart wrenching, but worth the tears

Derived From Web

, May 27, 2022

Book Breathtaking. I have read so many books on the Holocaust and never heard anything about Irena Sandler. Irena saved over 2500 children, but we never heard of them. Thanks to a research project by some American high school students, Irena finally gets the recognition she deserves. One of those books that you will read will have a hard time putting down. If you do not want to read it for yourself, read it for the over 2500 children she saved and what they and their families went through for these children to be rescued.
life affirming

Derived From Web

, May 27, 2022

I started reading it in the afternoon and bought it. After I went to sleep, I woke up at 330 and had to finish it. I always think that truth is an amazing commodity. The truths spoken in this book make me aware of how easily we can change for good or evil as a people. I would like to think that I would have shown courage, but wonder if I might not have been one to turn a blind eye. Old I have the courage of mothers to place their children in the care of others. For several years, I worked with mother, who had placed for adoption. They also save the lives of their infants. They love them enough to sacrifice their own feelings. This experience made this in my mind and my emotions so real. We need many heroes, many remain unsung. May God bless Christian and Jewish goodness and May God bless mothers.
Beyond words!

Derived From Web

, May 27, 2022

I don 't really know how to describe my feelings. What these students from a small town in Kansas did is beyond words and that they were able to meet Irena Sendler and become friends with it. Irena Sendler was the icing on the cake. I was not sure how everything would come together since this is the story of the students and Irena Sendler, but it all came together beautifully and I did not want to put the book down!
History and How It Changes Lives

Derived From Web

, May 27, 2022

One remarkable story, that of a Catholic woman who saves over 2500 Jewish children during the Holocaust, is brought to light thanks to a small town history project that will soon become a huge agent of change.
Irene Sendler Project

Derived From Web

, May 27, 2022

I recommend it highly to those interested in learning about the Holocaust. This book definitely put a different spin on the subject, as it was told from the perspective of the young student group who took the story as a class project. The world needs to hear more people like Irena Sendler and the work she did to help victims of the Holocaust. Bravo!
A must read!!

Derived From Web

, May 27, 2022

A must read for young adults and adults simply. The story of the high school girls and their project on the project Irena Sendler should be an inspiration for every teacher and student today. Finally to make the contacts and not travel to Poland once, but three times was incredible. Every reader will learn a lot more about the Jewish Polish situation, even if they thought they knew a lot. Most interesting to learn about the treatment of Jews after the war, when they attempted to resume their lives under the Russian Commnist rule.
Life in a Jar: The Irena Sendler Project

Derived From Web

, May 27, 2022

Book is excellent. I read a lot about WWII and the extermination of the Jews, since my mother's family perished in these concentration camps. The book was well written, easy reading and a must read if you want to read about an amazing woman and amazing high school students. Be prepared to do a lot of crying! Warning :
Amazing

Derived From Web

, May 27, 2022

It is a piece of history that should now be revealed eloquently should not be forgotten. What an articulate manner of the portrayal of history is. I have never heard the most fascinating and courageous woman! The work of such powerful drive for so many is so many. This should be part of the history of all!
So Interesting!

Derived From Web

, Feb 12, 2022

The true story of the three high schoolers who discovered a " hidden " hero of the Holocaust in Poland. I know that I am a history buff and the Holocaust is one I have studied for years. To end one's life for 2500 Jewish children, right under the nose of Nazi guards, was quite an endeavor over time. The most amazing, together with Irenas beyond imagination rescues, are the three young women who have done hours, days, weeks, months of research to find the unsung heroine and write her story.