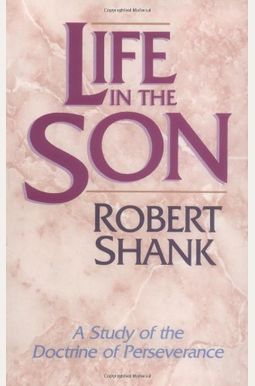 
 
Book Overview
Seldom is a book published that reflects such bold independence of thought, such freedom from the fetters of tradition, and such complete objectivity in the study of the Scriptures. It is a book to be reckoned with by all serious students of the Bible.--from the Introduction by Dr. William W. Adams of the Southern Baptist Theological Seminary



Internationally known among Bible scholars for his significant books in the field of biblical theology, Dr. Robert Shank here offers a penetrating study of all the pertinent New Testament Scriptures on the doctrine of perseverance. In doing so, he calls into question the popular doctrine of eternal unconditional] security.Are the proof passages used to support eternal security possibly misconstrued? Dr. Shank convincingly argues that the question confronting us is not, Is the believer secure? but rather, What does it mean to be a believer? If apostasy is an actual peril for every Christian, the Scriptural warning passages must be frankly accepted rather than interpreted into irrelevance or circumvented by theological hypothesis.
Frequently Asked Questions About Life In The Son
Books like Life In The Son

Book Reviews
(9)
Did you read Life In The Son? Please provide your feedback and rating to help other readers.
A True Academic Study of Free Willed believers

Derived From Web

, Feb 14, 2022

The idea that our Wills are our own to do as we please has always been maintained by Christians. There is an absurd idea that God forces our will down our throats. One can be either Calvinistic orArmenian, but very little. The amount of sin is against God's own ideas and functions according to Scripture, but the Holy Spirit doesn't care how one can continue to sin. Everyone must read this side of Dr. Stark's work no matter which side they are on. This book is recommended to everyone.
A fantastic defense of Arminianism

Derived From Web

, Feb 14, 2022

This is the beginning of his critique of Calvinism, but he never finished it. He has an expertise in the koine Greek language of the NT as well as familiarity with Calvin's monumental work The Institutes, which he interacts with nearly all Calvinistic proof texts.
An excellent treatment of the doctrine of eternal security

Derived From Web

, Feb 14, 2022

The doctrine of eternal security is so tightly bound up in the tenets of strict reformed theology that Dr. Shank gives a compelling treatment of it. The book's beauty is that he relies on scripture to back his points up. He rejects the doctrine in a lot of ways. You need to read it to find out why. If you don't know why his conclusion is wrong, you should not say that you know why. Proponents and opponents of the doctrine should consider it highly recommended.
SOUND AND BIBLICAL TO THE CORE!

Derived From Web

, Feb 14, 2022

A book that gives an exceptional biblical intrepertation of the doctrine of perseverance is a great delight to finally read. The issue at hand is, what is the scriptures? It's not surprising that some may find issues with this study, since Dr. Shank only treats this doctrine with a focus on scriptual text. I challenge anyone to read the scriptures, without commentaries, and without the backdrop of today's hermenuetical arguements, and see what the scriptures say. The end result looked like the work of this book, I' ve done that before. A liberating truth that challenge all who call themselves Christian to examine themselves, as to whether they are in the FAITH. 2 Romans 135
Written Well, Easy to Understand (for a theology book)

Derived From Web

, Feb 14, 2022

I believe this is the best way to understand the teaching on perseverance of the saints. The point is always to the scripture. Robert Shank has a balanced personality. The most important of all goals is to see what scripture teaches on this subject.
Excellent!! Explains eternal security well

Derived From Web

, Feb 14, 2022

It was an excellent book. It's useful for people with incorrect ideas about security. It's a good idea to get one for yourself or friends.
Best so far

Derived From Web

, Feb 14, 2022

I' ve read both sides of the eternal security doctrine over the past few years. I like this book. The only book that has lasted as a reference book is this one, and I often look at what Shank has to say about the verse.
Five Stars

Derived From Web

, Jun 19, 2018

The risk the writer took to communicate God's truth to others should be taken into account when reading this book.
GREAT book! Robert tackles a heavy subject and gives ...

Derived From Web

, Jul 27, 2017

The book is great. Robert tackles a heavy subject and gives a simple, but well thought out dissertation of understanding Eternal Security in Christ.