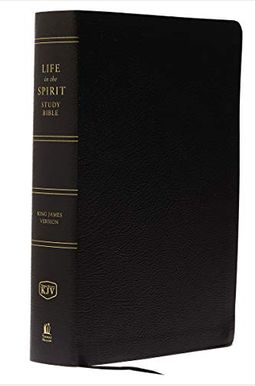 
 
Life In The Spirit Study Bible-Kjv
Frequently Asked Questions About Life In The Spirit Study Bible-Kjv
Book Reviews
(12)
Did you read Life In The Spirit Study Bible-Kjv? Please provide your feedback and rating to help other readers.
This is the best Bible out there for foundational and fundamental commentary that ...

Derived From Web

, May 31, 2022

I don 't agree with every word of commentary, but far more than any other commentary I have ever read. Forget those steeped in denominational hangups... there will be no denominations in Heaven - just Christians. I recommend this Bible highly. My wife wanted to be bound hard, but I recommend leather.
Well organized and insightful!

Derived From Web

, May 31, 2022

I found this Bible to be very pointy and insightful ''. This Bible has offered more study notes and commentary than any other Bible I have come across and is very detailed and organized. What I like is that it is presented by scholars and theologians with a popular viewpoint and not today's Pentecostal preachers, like a few of the other Pentecostal versions I have come across. Some other reviewers commented on the commentary as one sided, but I think they don 't realize it is written from the Pentecostal perspective, but I like it being a Pentecostal. I will say that when I study it is never with one Bible, but several different translations and I test each before becoming firm in a certain position. It may sound exhausting, but I like to be thorough. This Bible has become one of my favorites and I recommend it for everyone.
Love it! 3rd copy bought

Derived From Web

, May 31, 2022

I LOVE it! You will not believe that this is actually the 3rd copy I bought, so I thought I would leave a rating this time. The first was for my mom, then I was looking for a Bible study and really liked it, so I bought one for her last year and then got one for my father for Christmas. Orginally, my mom loved the Rinbow '' KJV Bibles, but she saw this in the bookstore and wanted it. Great for a beginner or a scholar.
I am enjoying my life in the spirit study bible ...

Derived From Web

, May 31, 2022

I enjoy my life in the Spirit - Study - Bible. It breaks the thing really if you can understand it more successfully.
Truely a blessing!

Derived From Web

, May 31, 2022

The book was advertised to be like new, but when we received it it was actually brand new! Not only was it in immaculate condition, but we could see the price label on the box it was in, and we could see that we had saved a tremendous amount of money on the Bible. It was truly a blessing to us! I have actually bought the Bible for my husband, but now I want one. It has great footnotes and lots of great study help, such as graphs, timelines, maps, etc. It is truly an exceptional Bible, and I recommend it to anyone who wants to know more about the Bible, God, or anything else.
Study Bible

Derived From Web

, Dec 2, 2021

About this book there is not much to say. It is a study Bible with a little more information and explanation than many other Bibles. One might say that it is an updated simplified book that almost verse for verse describes the Bible. It defines, however, not only the Bible, but also the words and their origins. I definitely recommend this book! ''
Superb Study Bible!

Derived From Web

, Oct 6, 2021

This Bible study is perhaps the best Bible I have encountered and read since being saved. It helped me tremendously with my growth in Christ! I've owned it both in KJV and in NIV. I love that the commentary is Holy Spirit-led and the articles are helpful in adding to one's understanding of commonly misunderstood or undertaught topics within Christianity. I recommend this Bible highly to new and mature believers alike.
🔥 Boldly Informed Believers Living Exalted 🔥

Derived From Web

, Sep 22, 2021

This Bible study will separate you as '' eat from those on milk . I began my new spiritual journey in 2002 firmly on John 1426 and John 227, calling the Holy Spirit to teach you an old version called the Full Life Study Bible. It is my 4th time purchasing the Bible, which has great study, intrigues critical thinking, and makes you the King - Prince God created you to be. This is the spiritual journey that God intended for you to be built on His unadulterated TRUTH. Come partner with the Holy Spirit to discover his place in the story of the king, his royal family and his kingdom! ''
Jesus comes right off the pages!!

Derived From Web

, Mar 26, 2019

I enjoy thoroughly this book and it gives so much more insight into the scriptures. This book is called as the right book. It is truly the Holy Spirit that used this book to reveal Jesus more to me! We are proud of it!
I Love this Bible

Derived From Web

, Nov 7, 2017

I love this Bible study. Though I have other Bibles in my collection and love them all because each has its own unique teaching technique. This is very easy to understand, has many extras, ie. Study notes : I love the articles on very important topics, I highly recommend it. We must now live more and study by the Word of God more than ever.