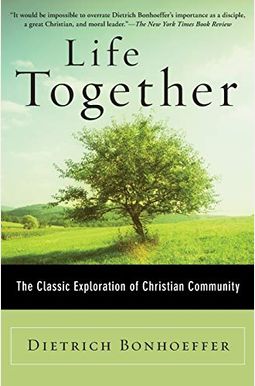 
 
Life Together: The Classic Explorations Of Faith In Community
Book Overview
This Description may be from another edition of this product.
Dietrich Bonhoeffer, one of the most influential Christian martyrs in history, bequeathed to humanity a legacy of theological creativity and spirituality that continues to intrigue people from a variety of backgrounds. Dietrich Bonhoeffer Works, a sixteen volume series, offers a fresh, critical translation of Bonhoeffer's writings, with introductions, annotations, and interpretations.
The stimulus for the writing of Life Together was the closing of the preacher's seminary at Finkenwalde. The treatise contains Bonhoeffer's thoughts about the nature of Christian community based on the common life that he and his seminarians experienced at the seminary and in the Brother's House there. Bonhoeffer completed the writing of Life Together in 1938.
Prayerbook of the Bible is a classic of Christian spirituality. In this theological interpretation of the Psalms, Bonhoeffer describes the moods of an individual's relationship with God and also the turns of love and heartbreak, of joy and sorrow, that are themselves the Christian community's path to God.
Frequently Asked Questions About Life Together: The Classic Explorations Of Faith In Community
Books like Life Together: The Classic Explorations Of Faith In Community
Book Reviews
(10)
Did you read Life Together: The Classic Explorations Of Faith In Community? Please provide your feedback and rating to help other readers.
and love. This is given that many churches find themselves ...

Derived From Web

, Apr 20, 2022

In this book, one of the most important Christian thought, invites Christians into a contemplative life of meditation, work, and love. Rather than point a person away from church and sinners, Bonhoeffer encouraged us toward church and sinners. We may not even have the chance to love until we have lived in community, sinned against a brother, and have been forgiven, he said. One is given an opportunity to read what Christianity would be in context for living in community, a book that asks more of us all, and for those who also want to order their lives with mediation, scripture, and sharing a common life.
Humility of Christian Fellowship

Derived From Web

, Apr 20, 2022

In this book, we will learn how to properly apply the Christian faith to the problems of the world, while at the same time showing how to build a strong Christian community. One can roughly divide the book into two conceptual halves - individual fellowship with God and corporate fellowship with the Body of Christ, a humility which has, sadly, been lost in our Greek-based culture of self-actualization. Indeed, taking to heart can prove to be a formidable challenge to the believer who desires to know God, but who has experienced difficulty in coming into His presence, whether alone or in the presence of other believers.
Christ Centered Community

Derived From Web

, Apr 20, 2022

In this concise and challenging work, Bonhoeffer presents a Christ-centered view of Christian community. Some may view certain points of the book as overly specific and dogmatic, but all points are made with a clear eye for the Scriptures and focus on Christ, he said.
Quick but deep read.

Derived From Web

, Apr 20, 2022

The Lord's Prayer is very inspiring for taking on the philosophy of community in our Christian bubble culture. Great book, easy to read, Michael. Thanks for the tip! I will probably be reading again some time soon!
Jesus Communities

Derived From Web

, Feb 17, 2022

Though Bonhoeffer's volume is less popular, it's one of my favorites. His writing contrasts a lot of Western cultures, and I'm sure that makes this particular volume less popular in those cultures. He says that a lot of his insights about Christian community can help followers of Jesus contrast the cultures in which they find themselves that people who aren't followers of Jesus would actually see Jesus through those communities. This book is a present.
A classic, practical guide for those who thirst for true community

Derived From Web

, Nov 8, 2021

Community, The Day with Others, The Day Alone, Ministry, Confession and Communion—these are the topics that define how Christians live together in fellowship. A classic, practical guide to true community. Christianity means community through Jesus Christ and in Jesus Christ, he said. No Christian community is more or less broken. Whether it's a brief, single encounter or the daily fellowship of years, Christian community is only this. We belong to one another only through and through Jesus Christ, the Lord our God.
Life Together - living with other Christians

Derived From Web

, Apr 30, 2020

It's a little tough to read at first. However, this was written before the end of World War II, so it flows differently than we are used to today. Had some good concepts, too, he said.
Awesome concepts for spirituality

Derived From Web

, Jan 19, 2019

I think we are going to have some tough times, he said. I did have to keep remembering this was written in a different time and mostly to men, he said.
Very Good, But Didn't Live Up to the Hype

Derived From Web

, Sep 30, 2017

It has been quoted and in so many other books, sermons, and articles on Christian community. It's packed with tons of sweet truths to suck on for hours like a good cough drop. It's great to see that people are still talking about it, but it just didn't quite live up to all the hype. The expectations were too high, Bruno told the judge. However, it is too short and brief to be a definitive book on Christian fellowship. I liked it a lot and will use this book to train up people in our church because it is short and sweet, said Jennette.
An incredibly well written (and I assume well translated) explanation ...

Derived From Web

, Apr 18, 2017

He offers an incredibly well written explanation of our need of other believers for life to function the way it was designed. His insight into what makes the church important to us day to day walk with God is what makes this book stand out among in spite of the waves of church bettering books that have over-saturated the market in the last few decades. Before anyone reads a book on how to make their church more effective, they ought to read this. In my opinion, it is a quintessential read for anyone aspiring to the position of elder or deacon in the church and maybe just about everybody else who considers themselves a believer in Jesus Christ.