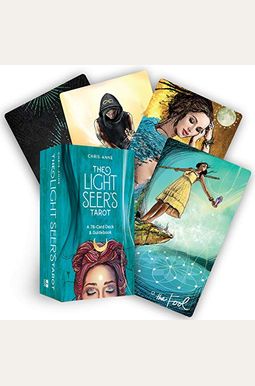  
Light Seer's Tarot: A 78-Card Deck & Guidebook
Product is currently Out of Stock.
You can add it to your wishlist and you will be notified once we receive a copy.
Book Overview
This 78-card tarot deck and guidebook is a healing tool and guide to explore both the light and shadow sides of our nature.
By reimagining the traditional tarot archetypes and symbols in a contemporary, boho, and intuitive style,
The Light Seer's Tarot
expresses the light and shadow sides of our natures and explores the lessons that can be learned from both. The expressive characters who live within the landscapes of the cards tell stories, ask questions, and provide guidance. This deck is an ideal companion as you seek to uncover the places in your life-and in yourself-that are most in need of illumination.
Frequently Asked Questions About Light Seer's Tarot: A 78-Card Deck & Guidebook
Books like Light Seer's Tarot: A 78-Card Deck & Guidebook
Book Reviews
(14)
Did you read Light Seer's Tarot: A 78-Card Deck & Guidebook? Please provide your feedback and rating to help other readers.
Beautiful artwork! BUT not good card stock..

Derived From Web

, Jan 2, 2022

I bought these for myself. The artwork is gorgeous. These cards are easy to understand and I want to love them. The cards are small at the edges and not all of them are even. It is like they were printed on a sheet of paper and separated. They don't shuffle well and get stuck on the sides of the cards. These could have been my favorite cards.
Stunning images, spot on for readings!

Derived From Web

, Dec 27, 2021

I have several other Tarot decks, including Motherpeace and Aquarian, but I decided to treat myself to a new one. I like the pictures. They told me to think about the card, draw me in, and help me understand their significance. I like the diversity portrayed in age, race, and ethnicity. The colors are beautiful. The box they come in is study, and the card stock is thick enough to fit in it. I usually switch cards to a nicer container but with these, the box they came with is perfect. The little book interpreting each card is good. Jessica Dore's Tarot for Change has these cards. They map on that book very well.
Love this deck but missing a card

Derived From Web

, Nov 19, 2021

You should count the cards before you use them. I returned the cups that were missing from my deck because I was hoping the next one would come out of a different printing run. This item is a 5 star item. Some tarot are mystical and open to interpretation, but this deck is straight forward and practical. The artwork tells the story of the card. It matches the meaning of the card better than any other deck. I bought this flawed deck as a present and I love it. It's good for beginners or long-time readers. It's one of my top 5 decks, and it's saying a lot since each deck has its own style presentation method. This deck is a good friend.
Beautiful deck!

Derived From Web

, Jun 3, 2020

The deck is gorgeous. It was one of the first decks I had. I was learning about the card meanings while using a different deck. I came across the Light Seer's Tarot website while doing research. It's a great resource. If you haven't checked it out yet, you should. I fell in love with the website and found out that they have their own tarot deck. I put it on my wish list to buy. I bought it at the end of April for a friend. I ordered one for myself a few weeks later. I'm happy to have added it to my collection.
So Beautiful!!!!!!!

Derived From Web

, May 21, 2020

It was a long wait. It's totally worth it! The first reviews were terrible, so I was hesitant to buy them. I am certain that the first batches of decks were fixed. The cards that I received are amazing. Even though the back of the cards is ok, the art and colors are amazing. I wouldn't bend the cards to shuffle. I shuffle them so they don't have any damage. They have a weird smell, but I left them outside of the box during the night, and the smell disappeared completely. In person, they are much more beautiful than the people I saw using them on Youtube. I will buy another deck to keep in case. Buy them, believe me. You will not regret it.
These cards are so pretty and positive.

Derived From Web

, May 9, 2020

These are acceptable, although I do prefer a wee bit thicker card. After reading the older reviews and seeing that this is an improved version, I'm more interested in this. The use of multi-ethnicity figures is great. I can't deny that I felt a vibration when I looked at the cards for reviewquality purposes, but I haven't worked with them yet. I'll probably start meeting cards in the next few days.
My new favorite deck (and cards arrived in good condition)

Derived From Web

, Dec 10, 2019

I am still in awe of how beautiful this deck is, and it instantly became my new favorite deck, so I was sad to see it had a low rating. Chris-Anne did a great job. Some people have had their decks arrive in poor condition. Though I agree the stock of the cards could be better, my cards seem sturdy enough with gentle use, and I expect I'll have this deck for a long time before I need to replace it! Chris-Anne, thank you for your work!
Still worth buying but overall a HORRIBLE production by Hay House

Derived From Web

, Dec 9, 2019

The artwork is great. It's beautifully done, colors are intense but not too much, images are full of symbolism and contemporary and diverse so it's easy to relate and read. It makes no sense but that's how it is. The deck is so thick that it's hard to shuffle. I have never seen a piece of paper like mine. I will not complain or return it because others have had it worse. The backs look cheap.
I was lucky, got a good deck.

Derived From Web

, Dec 6, 2019

When I read reviews that people got messed up cards, I was very worried. I didn't. I can see that some people think the cards are flimsy and not a good quality. It is easier to shuffle my cards. I have so many decks that it is hard to shuffle. I am in love with the artwork on these cards. I will make them my main to use. I can see myself over them. I am very sorry for people who got a bad batches and don't like how they are made. The Hay house is so large that they might help those who lost out with a new deck. Otherwise, love your friends! Love them!
Beautiful Art. Sadly, horrible card stock in the initial run. See UPDATE 1/23/20.

Derived From Web

, Dec 4, 2019

Update! The new deck was received by Hay House today. It is excellent! There was no bend, cut perfectly, and much stiffer card stock. Quality issues with the first run have been fixed and it is a gorgeous deck. The cards are original and I am keeping them despite the flimsy stock. I will have to be very gentle. I will not return them because I love them already. I would have rejected this one if I were the person who made it, as the deck is cut larger by a slight margin. Chris Anne was excited and rightfully expecting better from Hay House, but it was disappointing for those of us who adore the artwork. She should have signed on with a publisher that would consistently produce the deck she deserves.